Man guilty of manslaughter of Fox executive who was beaten and buried in the desert
A Los Angeles jury convicted a drug dealer Monday of voluntary manslaughter in the beating death of his wife's lover — a 20th Century Fox executive whose body was found in the desert more than two years after he disappeared.
The jury, however, found John Creech not guilty of more serious charges, including first- and second-degree murder.
Prosecutors say Creech beat Gavin Smith to death after catching him in a romantic tryst with Creech's wife. Smith and Chandrika Cade began an on-and-off affair in 2008 when, prosecutors, say they met at a drug rehab facility.
Creech, 44, stashed Smith's bloody car in a self-storage unit in Simi Valley and buried Smith's body in a shallow grave outside Palmdale. Hikers stumbled upon his bones more than two years after he disappeared on May 1, 2012.
The night of the killing, Smith and Cade had rendezvoused in a secret spot in West Hills and settled into the passenger seat of Smith's black Mercedes-Benz. Before long, a man approached the car. It was Creech. He had tracked Cade using an iPhone app that locates phones on the same payment plan.
Deputy Dist. Atty. Bobby Grace told jurors that Smith, 57, died of blunt craniofacial trauma. The killing, he said, was an act of brutal revenge.
"He deliberately, viciously, intently delivered murderous blows," Grace said.
But Deputy Public Defender Irene Nuñez argued that her client acted in self-defense, protecting himself from Smith, who choked him, gouged at his eyes and threatened him with a tool that resembled a hammer and an ice pick.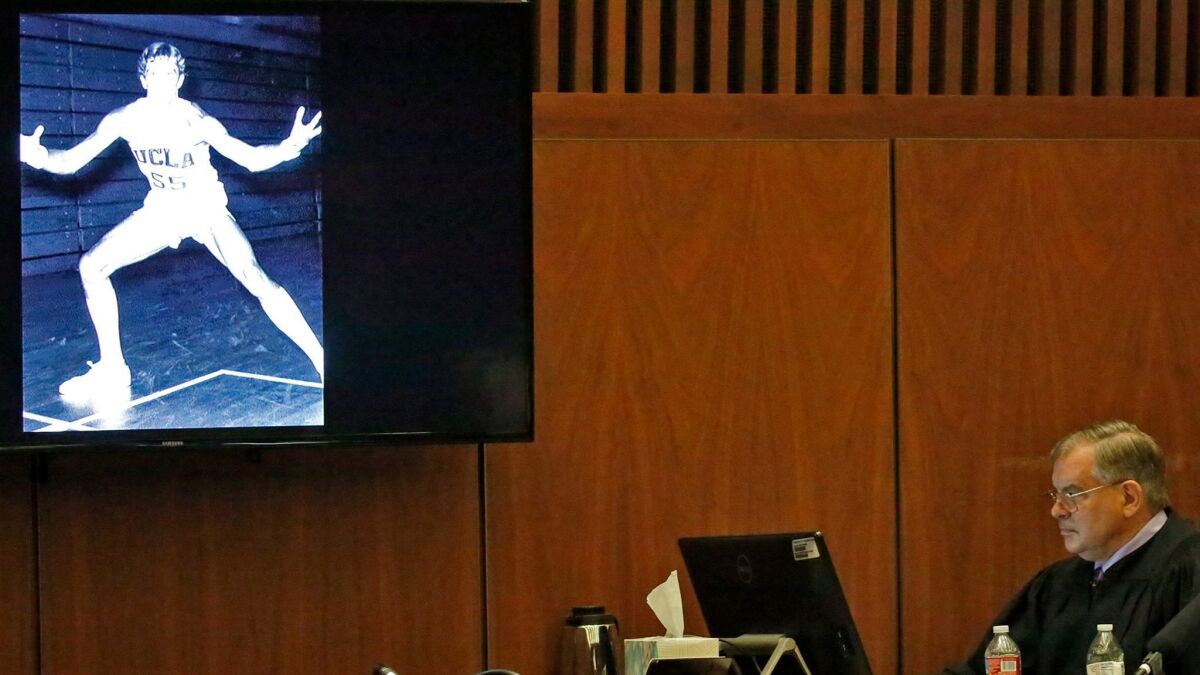 During his closing argument, Grace displayed a picture of a collegiate Smith posing in his No. 55 jersey from his days as a UCLA basketball player under Coach John Wooden.
"He was a human being," the prosecutor said. "He was a father, he was a husband, he was a valued co-worker."
A former colleague of Smith's from Fox seated in the crowd nodded.
The killing came after "a countdown to murder," Grace said, taking jurors back to Dec. 8, 2010, when two of Smith's sons visited Creech to apologize for their father's affair.
"You saved your father's life by coming here," Creech said, according to previous testimony in the case from one of the sons.
The prosecutor also showed jurors a photo of the passenger seat of Smith's Mercedes smeared with dried blood. DNA tests, the prosecutor said, showed it came from Smith.
"Whose blood wasn't found in the car?" Grace asked rhetorically. "The defendant, John Creech."
But Nuñez argued that the ways Smith attacked her client — choking and eye-gouging — wouldn't have drawn blood. Her closing arguments focused, at times, on Smith, and his addiction and infidelity.
"And, John," she said, turning to look at her client, "you're not perfect either."
She reminded jurors that Creech had a previous conviction for selling drugs, but stressed that this didn't mean he had forfeited his right to defend himself.
"Gavin was trying to kill John," she said.
Creech took the stand at his trial, telling jurors that Smith punched him in the face during the altercation and also cursed at him using slurs often used against women. At one point, Creech testified, Smith hoisted a weapon in his left hand.
"I defended myself," Creech said.
Creech — who said he was taking growth hormones at the time of the fight — testified that he left the scene, but returned soon afterward and saw Smith hadn't moved in the car. His head was slumped backward and his mouth was open.
Creech said he pointed a flashlight at Smith's mouth to check for breathing and held his fingers to Smith's neck, checking for a pulse. When he didn't feel anything, he switched frantically to his own neck for a comparison. Although he wasn't positive at that point, he said he "had a strong suspicion" Smith was dead.
"And you never called 911?" the prosecutor asked.
"If I could change it, I would," Creech said, later adding that he had said a little prayer for Smith while burying his body.
Smith's wife, Lisa, listened to the testimony from the audience, fidgeting with a black hair band around her wrist and staring at the ground.
"My heart was just racing through the roof ... you're in fog."
— John Creech
Creech said he hadn't contacted police right away because of his previous criminal history — he had a conviction for possession for sale of cocaine, he said — but he'd still taken steps to preserve the evidence, including putting Smith's car in a storage locker. Asked by a prosecutor why he'd burned his bloody clothes from that night, Creech said he had panicked.
A few minutes later, Nuñez asked her client to describe how he'd felt in the hours after the attack.
"My heart was just racing through the roof," Creech said. "It's weird until you go through it — it's one of those times you're in fog."
Several prosecution witnesses, including Cade and a friend who briefly let Creech store the Mercedes in his garage, were granted immunity from an accessory-after-the-fact charge in exchange for their testimony.
Among them was Reina Lim, who helped care for Cade's elderly grandmother. She testified that she was home when Creech returned after the altercation in 2012. Creech told her that he'd caught Cade cheating on him and that Smith had hit him first, so he had hit him back.
Lim also testified that she recalled Creech saying he wanted to return to the scene and take Smith to the hospital. Lim, who rented the storage unit where Creech stashed the car, testified that the defendant told her he needed it to store a motorcycle.
Creech's friend, Jorge Valles, testified that he'd met with the defendant in the hours after the fight and said he'd watched as Creech wiped down Smith's car.
The prosecutor asked him if the defendant scared him that night.
"I'm still afraid," Valles said.
The defendant furrowed his brow and shook his head.
In court Monday, the audience quieted as the clerk walked to the microphone. As she read the jury's verdict for the first-degree murder charge — "not guilty" — one of the victim's family members gasped. As for the second-degree charge, the clerk read, "Not guilty." Lisa Smith dropped her head and began to cry.
Nuñez gave only a brief comment after the verdict, saying, "It was a sad and tragic case." Her client faces up to 11 years behind bars and will be sentenced on Sept. 19.
Grace told reporters that although he was unhappy with the outcome on the higher charges, he respected the jury's decision.
"The takeaway is that a jury says, 'Yes, John Creech was guilty of Gavin Smith's death,'" Grace said, adding that infidelity sometimes adds a complicated wrinkle to jury trials.
A juror who spoke with The Times outside the courthouse said he did consider Smith's infidelity a factor in deliberating, saying he viewed the victim's actions — especially his decision to rekindle the affair with Cade after getting caught — as "playing with fire."
The juror, who asked to be identified only as a 70-year-old mechanic from Los Angeles, said it was helpful to hear testimony directly from Creech.
"It made him believable," the juror said, adding that he did not agree with the prosecution's theory of a countdown to murder.
"I don't think he plotted," the juror said of Creech.
A few minutes later, the juror dropped his head in his hands, as if overwhelmed. The faces of everyone involved in the case — Gavin and Lisa Smith, John Creech, the witnesses — will forever be etched in his mind, he said.
"This was a terrible thing that happened," the juror said. "It ruined lives."
Twitter: @marisagerber
---
UPDATES:
1:55 p.m.:This article was updated with additional comments from the prosecutor and a juror.
This article was originally published at 11:35 a.m.
---
The stories shaping California
Get up to speed with our Essential California newsletter, sent six days a week.
You may occasionally receive promotional content from the Los Angeles Times.