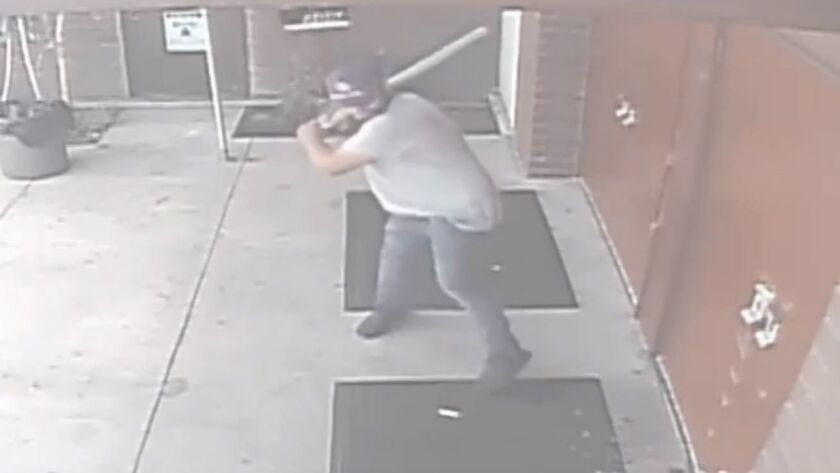 Police are looking for a man who was captured on surveillance video wielding a metal pipe to break into a historic church in Santa Ana on Tuesday.
The incident occurred about 8:30 a.m. at the Johnson Chapel AME Church in the 1300 block of West 3rd Street, according to a news release from the Santa Ana Police Department.
In a nearly three-minute video released by police, the man can be seen repeatedly swinging the pipe like a baseball bat against the church's front doors before breaking a lock and wedging one of the doors open.
He then enters the reception area, where he damaged a set of interior doors in the same manner before fleeing without taking anything, police said.
"At this point, we don't know the motive," Santa Ana police spokesman Anthony Bertagna said Tuesday afternoon. "We don't know if he was high on narcotics or whether he has mental health issues."
He said that police do not currently believe the incident was a hate crime, as the church hadn't received any threats and its staffers did not recognize the suspect.
Johnson Chapel has been serving the the community for 86 years and is the second-oldest black church in Orange County.
Initial estimates put the damage to the doors and locks at several thousand dollars, pastor Delman Howard said.
Still, the church remains open for worship.
"We welcome everyone, and we're praying for this individual, that he will get the help that he needs," Howard said. "We forgive him."
Before he broke open the front door, the suspect also damaged a side exterior door and tried to break into a utility shed behind the church, police said.
Anyone with information was asked to contact Santa Ana Police Det. S. Lim at 714-245-8417.
---