Judge may halt Sriracha sauce production because of odor gripes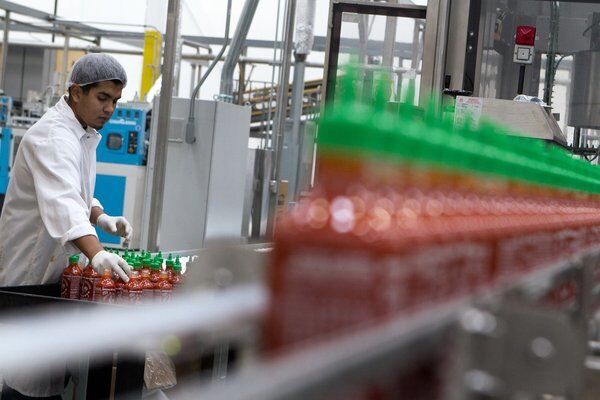 Jostein Reyes works in the packaging area at Huy Fong Foods Inc. in Irwindale. Huy Fong Foods Inc. is known for its Sriracha hot sauce.
(Cheryl A. Guerrero / Los Angeles Times)
Texas state Rep. Jason Villalba, right, tours the Huy Fong Foods plant, maker of Sriracha hot sauce, with founder and Chief Executive David Tran in Irwindale.
(Leo Jarzomb / Associated Press)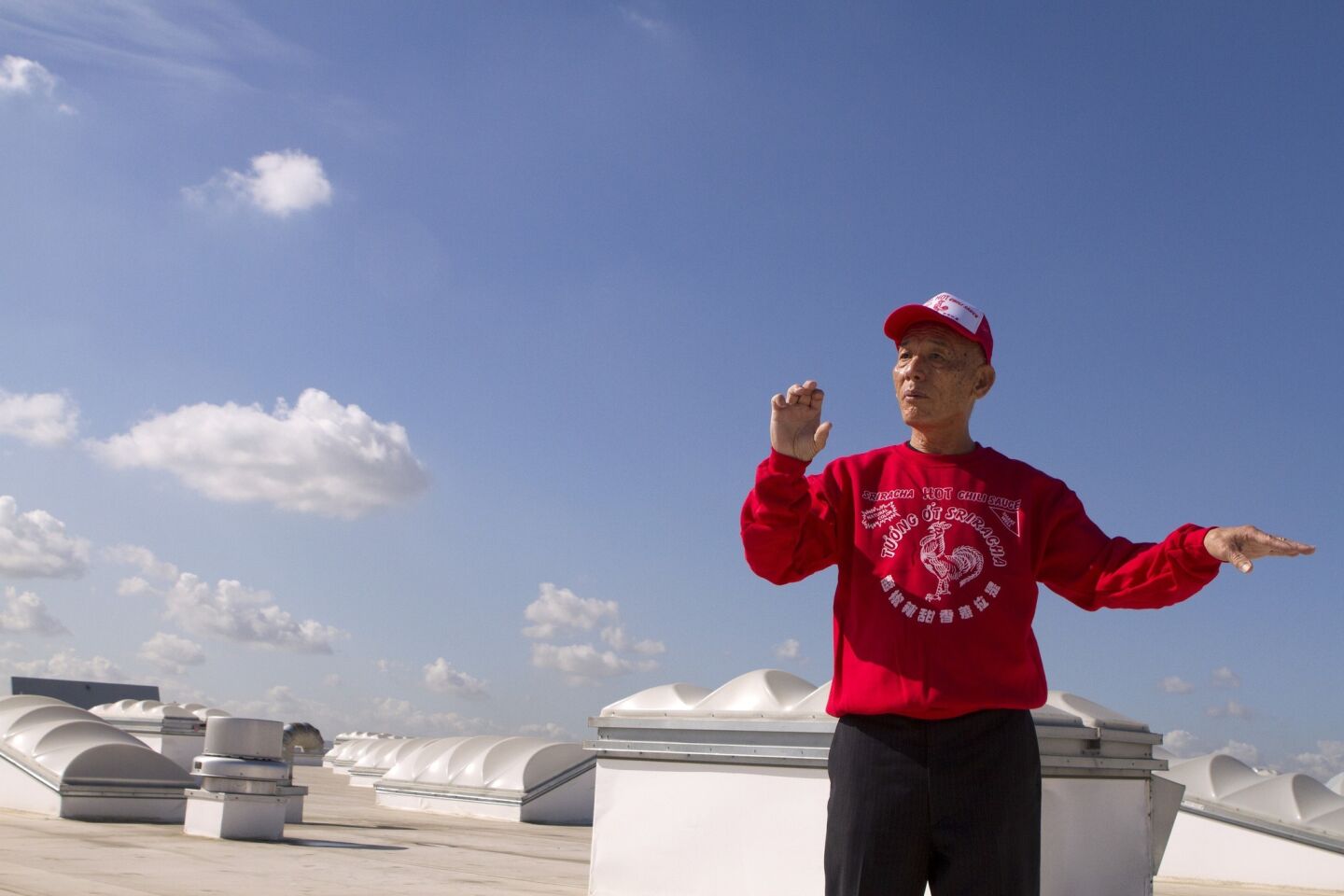 David Tran, chief executive and founder of Huy Fong Foods Inc., gives a tour of his facility in Irwindale. Nearby residents have complained about burning eyes, irritated throats and headaches.
(Cheryl A. Guerrero / Los Angeles Times)
Salvador Segura oversees hybrid jalapenos unloaded from a truck at Huy Fong Foods Inc. in Irwindale.
(Cheryl A. Guerrero / Los Angeles Times)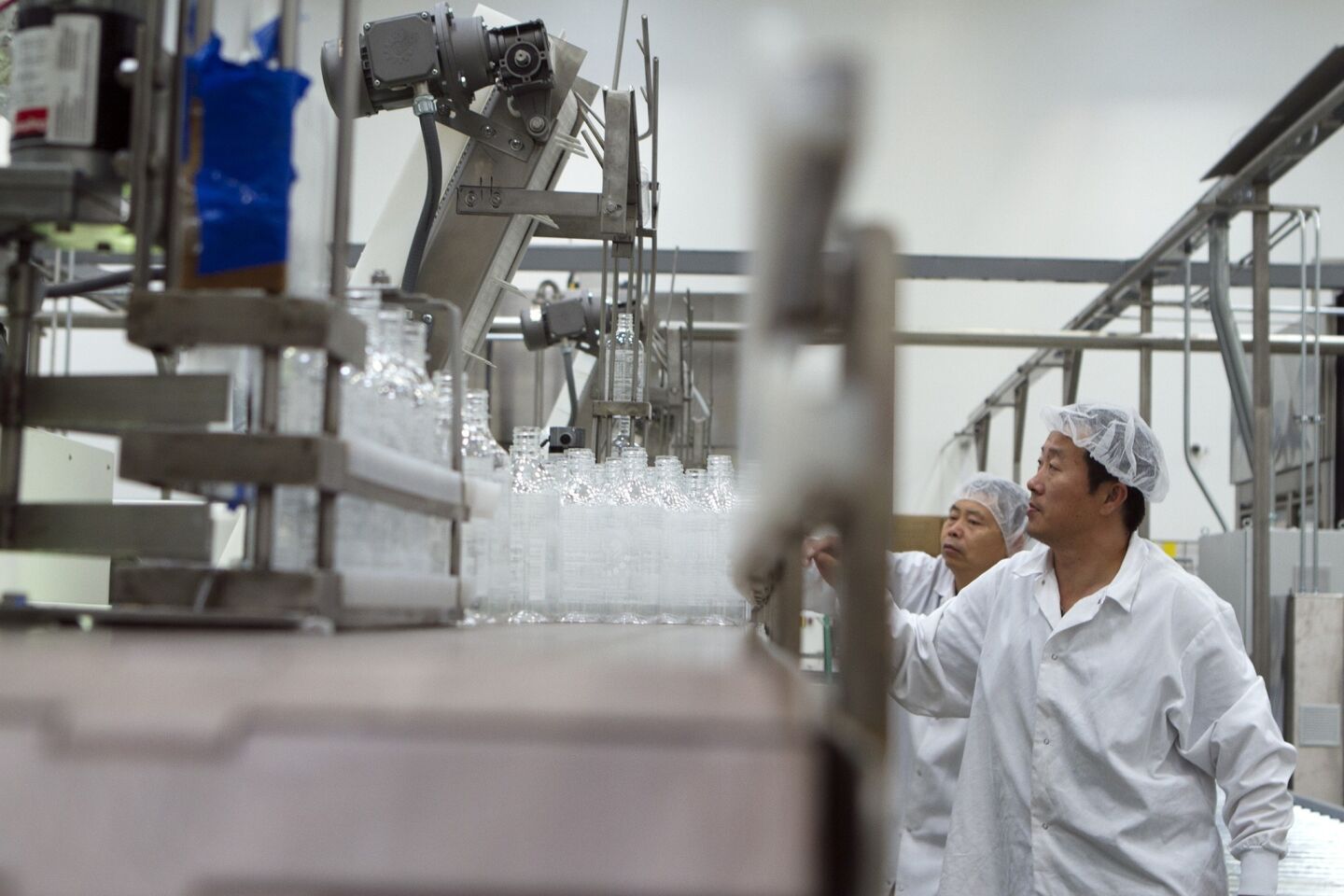 Wei Wang and Wei Zhang work in the packaging area at Huy Fong Foods Inc. in Irwindale.
(Cheryl A. Guerrero / Los Angeles Times)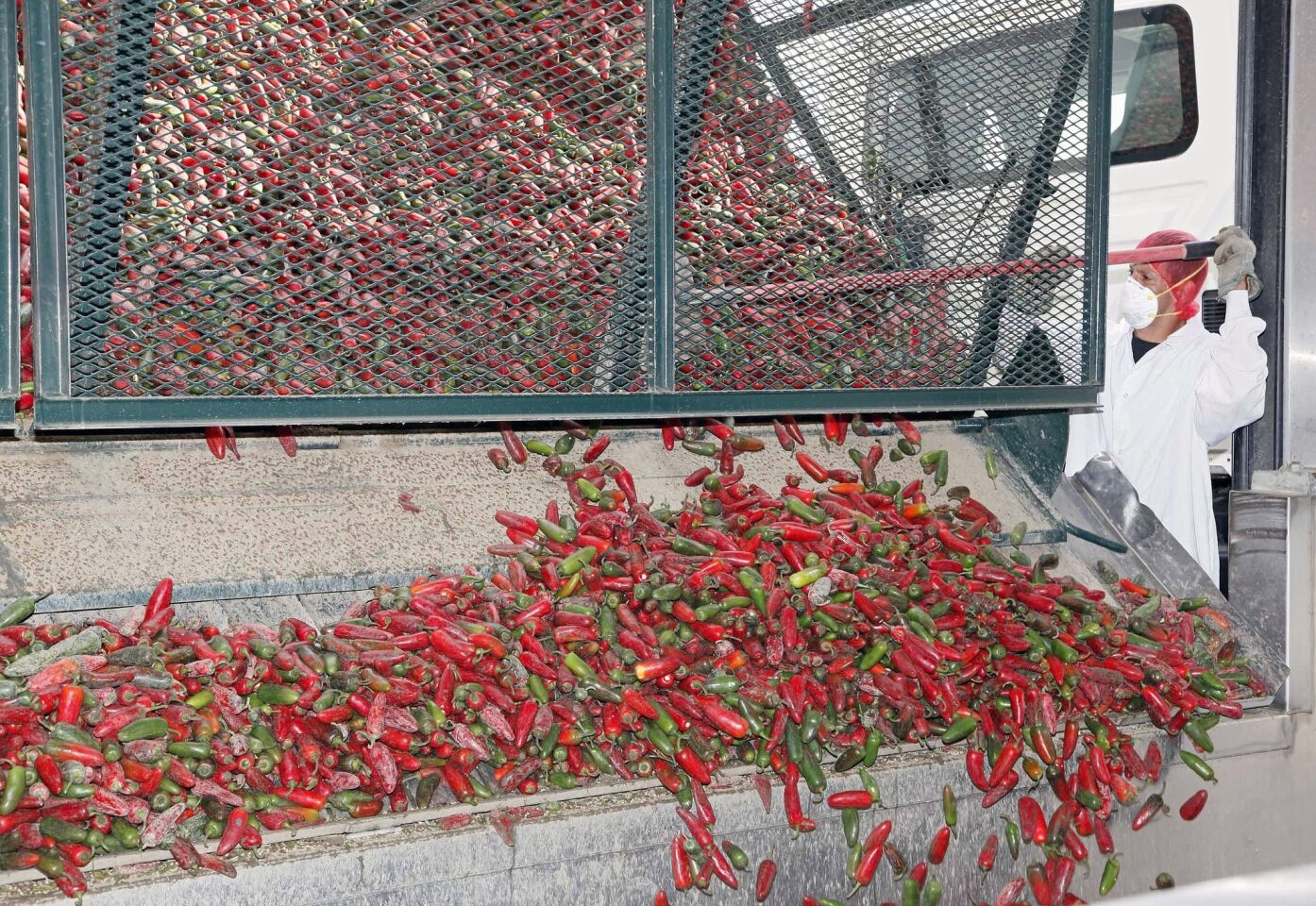 Sriracha chili sauce is produced at the Huy Fong Foods factory in Irwindale.
(Nick Ut / Associated Press)
William Barrios sweeps the floor while hybrid jalapenos are washed at Huy Fong Foods Inc. in Irwindale.
(Cheryl A. Guerrero / Los Angeles Times)
A judge is expected to decide Friday whether to grant Irwindale's request to temporarily halt operations at the Sriracha hot sauce plant to address odor complaints.
The city filed a lawsuit against Sriracha maker Huy Fong Foods after several residents complained of an odor they said was coming from the Irwindale plant. A judge denied the city's request for a temporary restraining order on Oct. 31, which would have immediately stopped operations at the plant in the middle of chile harvest season.
The city, in addition to Friday's request for a preliminary injunction, has also asked the Los Angeles County Superior Court judge to grant a permanent injunction.
New court filings have detailed many ailments that residents said were caused by the Sriracha odor.
Multiple residents complained of searing red dust and particles in the air and compared the sensation to pepper spray. One woman claimed that she noticed a greater frequency of nosebleeds in her children. Others complained of swollen glands, and another said that he was forced to ingest heartburn medication when he encountered the smell while jogging.
At least 18 households have filed complaints with the city, according to court records.
The city also claimed, based on advice from Santa Monica environmental consulting firm SWAPE, that the odors are more prevalent at night because the temperature is lower. The odor travels only a few feet up into the colder evening air, where it's spread by local wind patterns, according to Gustavo Romo, the city's community development director.
Meanwhile, the South Coast Air Quality Management District has yet to issue the Sriracha plant a notice of violation. Inspectors were able to verify the existence of smells after responding to residential complaints on three occasions on three days, according to agency spokesman Sam Atwood.
But there's a high bar for issuing a violation, Atwood said. Inspectors must be able to verify several smell complaints from private property owners within the space of a day in order to issue a violation. They also have to be able to track the odor back to its source.
New court filings also detail the increasingly impatient interactions between the city and Huy Fong officials.
After a tour of the plant on Oct. 1, city officials asked Huy Fong to submit an action plan. The next day, citing a new wave of complaints, the city again called for action.
Huy Fong officials asked for time to consult with officials from the South Coast Air Quality Management District, but city officials said the city needed to report on what had become an "urgent and critical" issue at an upcoming council meeting.
"I no longer oversee those activities but would URGE you to follow suit ... rather than spend time unnecessarily on other alternatives...," wrote Ken Lee, who was a contract development director with the city of Irwindale at the time. "If this issue becomes a major topic at next week's council meeting and staff cannot report out that mitigation is being expeditiously pursued, there could be a large public outcry."
Over the next few weeks, the city repeatedly asked for an action plan while the company emailed them about their efforts. Huy Fong officials said they were not capable of moving as quickly as the city demanded.
But according to Romo's declaration, Huy Fong Chief Executive David Tran insisted that there was no smell, and that "any press from complaints would further help him sell more chili sauce since his sauces are known worldwide."
Following an Oct. 23 council meeting where more residents complained about the smell, the city filed suit on Oct. 28.
ALSO:
Man missing after dog returns home alone with bloody leash
Two busy Amtrak train lines set ridership records in California
Third senior Navy officer suspended during bribery investigation
Twitter: @frankshyong
---
The stories shaping California
Get up to speed with our Essential California newsletter, sent six days a week.
You may occasionally receive promotional content from the Los Angeles Times.