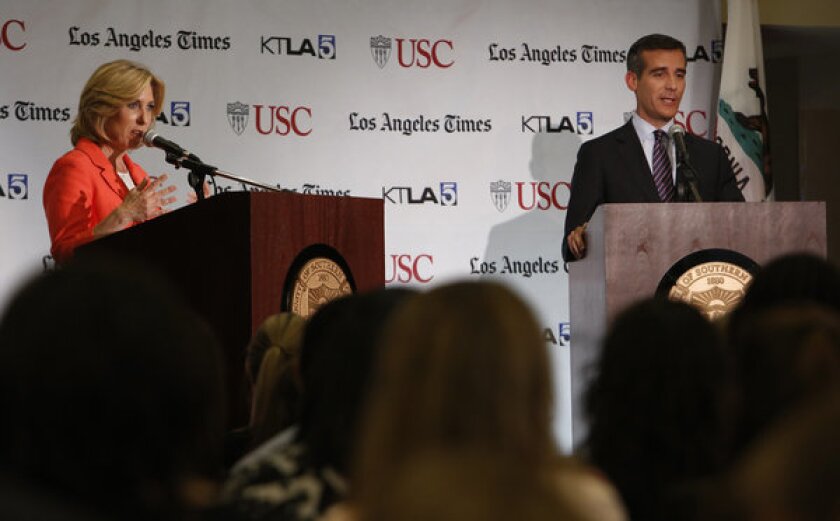 A proposal to raise the minimum wage for hotel workers to $15 per hour became an issue in the mayoral contest over the weekend, with Wendy Greuel supporting it as labor activists backing her used the proposal to urge voters to support her. Rival Eric Garcetti declined to take a position on the proposal.
Greuel, whose campaign reported having little money for the final stretch of the campaign, called on Garcetti to stop all negative advertising in the last days of the Los Angeles mayor's race during a debate Friday. Garcetti dismissed the proposal as "disingenuous" for a candidate whose campaign is effectively "bankrupt."
The union that represents Department of Water and Power employees has pumped an additional $300,000 into an independent committee backing Greuel's bid, cementing its status as the largest single contributor in the Los Angeles mayor's race.
FULL COVERAGE: L.A.'s race for mayor
The Times examines the economic revitalization of Hollywood and surrounding neighborhoods, which Garcetti has touted as a major accomplishment in his mayoral bid. While the community has thrived during Garcetti's City Council tenure, the growth also has brought worries about rising rents and traffic-choked streets. Greuel has warned that Los Angeles could become "a new Manhattan" under a Garcetti administration.
In the city attorney's race, incumbent Carmen Trutanich is urging voters to judge his record, while challenger Mike Feuer is arguing that he can work with city leaders and avoid the squabbles that have marked Trutanich's tenure.
In the race to replace termed-out Councilwoman Jan Perry, special interests across the state are spending heavily. Labor unions, businesses, billboard companies, healthcare interests and others have spent $900,000 backing state Sen. Curren Price (D-Los Angeles), the most of any candidate in this year's nine council races.
L.A. ELECTIONS 2013: Sign up for our email newsletter
Voters planning to cast ballots by mail in the May 21 election need to ensure that their applications are received at the city clerk's office by 5 p.m. Tuesday, or can apply in person until May 20.
Comments, questions or tips on city elections? Tweet me at @LATSeema
ALSO:
High temperatures set records, more heat on the way
Three-acre brush fire in Culver City under control, officials say
---