Union declares impasse in contract talks with L.A. County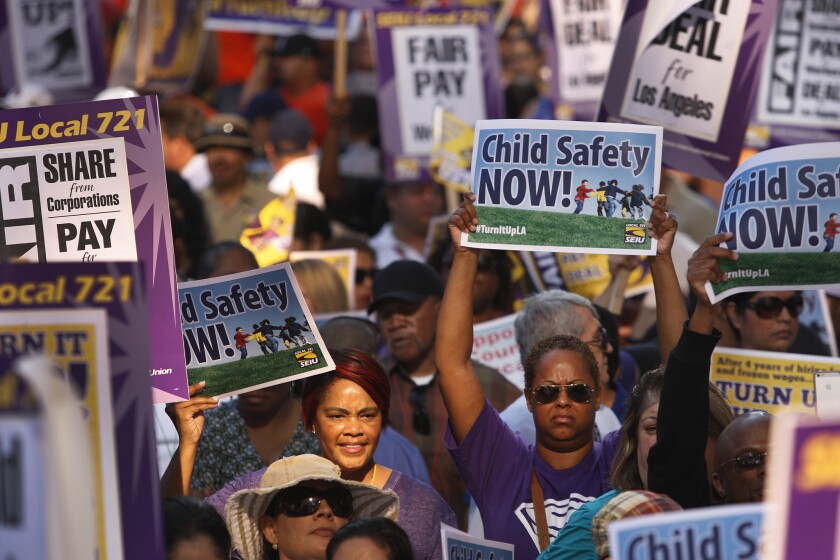 Contract negotiations between Los Angeles County and its largest public employee union hit new lows, with the union declaring an impasse and county leaders preparing for a possible strike by social workers Thursday.
Hundreds of administrators in the county's Department of Children and Family Services are preparing to fill in for social workers in the event that as many as 4,000 strike on Thursday, said county spokesman David Sommers. Chief Executive Officer William T Fujioka also sent a memo to all department heads reminding them about pay and discipline policies for employee strikes or sick-outs.
"County management is aware of the potential for targeted, isolated work actions in response to these latest developments," Sommers said. "Employees are legally entitled to engage in work actions, but they are not entitled to pay during their participation."
Service Employees International Union, Local 721, which represents 55,000 county employees including the social workers, also declared an impasse in contract talks Tuesday night, an escalation of tensions. Union members have been working without a contract for more than two months, and members voted to authorize a possible strike last month.
Marathon negotiations have produced several agreements, including a 6% raise, increasing health premiums and a $500 bonus in 2014. But two main obstacles remain -- the union's desire to reduce social worker caseloads and the timing of the raise.
Labor leaders would like to see the same amount of money in raises as if they had settled before their contract expired Sept. 30. County officials say this would violate a long-held policy against retroactivity.
County officials are depriving union members "out of at least two months' salary increase," the union wrote to its members Tuesday night.
Social worker caseloads have been a long-standing controversy, and were the subject of a protest Tuesday afternoon outside the county Board of Supervisors' weekly meeting.
"We're asking the Board of Supervisors to do the right thing," said union Regional Director Michael Green, standing in front of a pile of stuffed teddy bears and scores of social workers holding signs that read "Child Safety Now!"
"Their voices have been ignored," Green said. "Now we're at a tipping point."
Negotiators were meeting feverishly Wednesday afternoon, with news about whether the strike would occur expected by this evening.
ALSO:
PETA to stage protest over SeaWorld float in Rose Parade
7-year-old boy wounded in Mid-City shooting dies, police say
O.C. residents ordered to remove Christmas lights may get reprieve
Twitter: @LATSeema
---
The stories shaping California
Get up to speed with our Essential California newsletter, sent six days a week.
You may occasionally receive promotional content from the Los Angeles Times.