L.A. County officials look for connections after fifth dog burned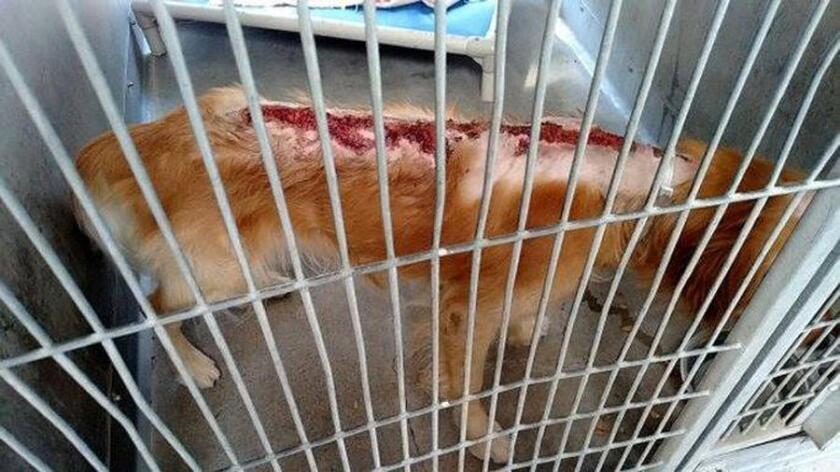 The Los Angeles County Department of Animal Care and Control is investigating whether a series of attacks on dogs are connected after a fifth incident was reported this week, officials said.
On Monday, a woman in Lancaster called the agency and reported that she found a stray pit bull June 6 that was burned, but alive. Though she took the dog to a veterinarian to be treated, she didn't think to alert authorities until media coverage revealed that other dogs in the area were also being burned, said Derek Brown, deputy director of L.A. County animal control.
Over the past two months, five dogs — four pit bulls and a golden retriever — have been found burned. Four of those have been in the Lancaster area, and one was in Kern County, Brown said.
The injuries were of similar size and occurred in similar areas, leading authorities to consider it may be the same person attacking the animals. County veterinarians could not determine what kind of burns the dogs were suffering, from but two of the canines were so severely injured they had to be euthanized.
While animal control officers occasionally encounter stray animal abuse cases, it's "not anything with this number of animals in a short period of time. It's not something we see regularly at all," Brown said.
A $4,500 reward, a portion of which came from People for the Ethical Treatment of Animals, is being offered for information leading to an arrest.
County Supervisor Michael D. Antonovich said in a statement last week that he will ask his colleagues to offer an additional $10,000 reward at their next meeting Sept. 1.
Antonovich said several burned dogs have been brought to the Lancaster shelter, which is in his district, over the past month. He called the burnings "depraved acts of cruelty."
Fergus, a 1- to 2-year-old stray, was found in Lancaster last week with deep burns down his back and was taken to a shelter, according to the Southern California Golden Retriever Rescue.
Veterinarians who work with the rescue group believe someone poured gasoline or lighter fluid on the golden retriever's back and set him on fire.
The dog was treated at the Animal Medical Center of Southern California in West Los Angeles for third-degree burns, which caused nerve damage, the group said.
Volunteers named the dog Fergus, which is Irish for strong and powerful, they said.
Fergus, like all golden retrievers, is loving and "just wanted to be held," the rescue group said.
The group has set up a Go Fund Me page for anyone interested in donating money to help pay for Fergus' treatment.
County officials are asking anyone with information on the cases to call (661) 940-4191.
------------
FOR THE RECORD
Aug. 26, 10:27 a.m.: An earlier version of this article incorrectly listed the phone numbers to call with information about the attacks. The correct number to call is (661) 940-4191.
------------
"We're really trying to figure out who's doing this, and hopefully we can get some leads from the community," Brown said.
Staff writer Veronica Rocha contributed to this report.
For breaking California news, follow @JosephSerna.
---
Get breaking news, investigations, analysis and more signature journalism from the Los Angeles Times in your inbox.
You may occasionally receive promotional content from the Los Angeles Times.