LAPD want to crack down on civilian drones after police station incident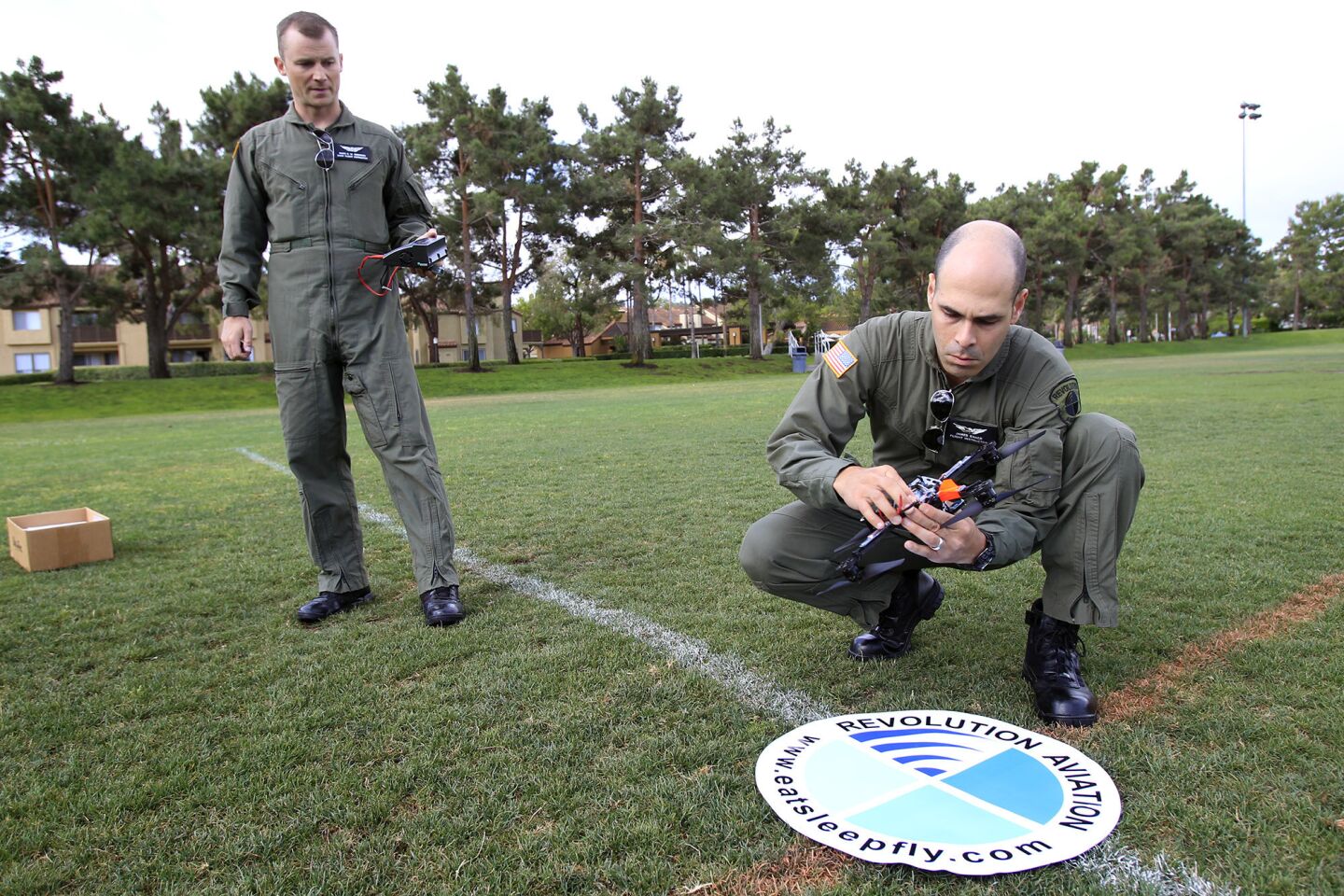 Flight instructor James Baker, right, and chief flight instructor Mark C. W. Robinson, both with Revolution Aviation, demonstrate the AscTec Hummingbird at Bonita Creek Park in Newport Beach.
(Kevin Chang / Daily Pilot)
Technology journalist Tim Stenovec controls a Parrot Minidrone "Rolling Spider" during a demonstration June 10 in New York. The small consumer drone will fly like a helicopter and is controlled by a smartphone.
(Stan Honda / AFP / Getty Images)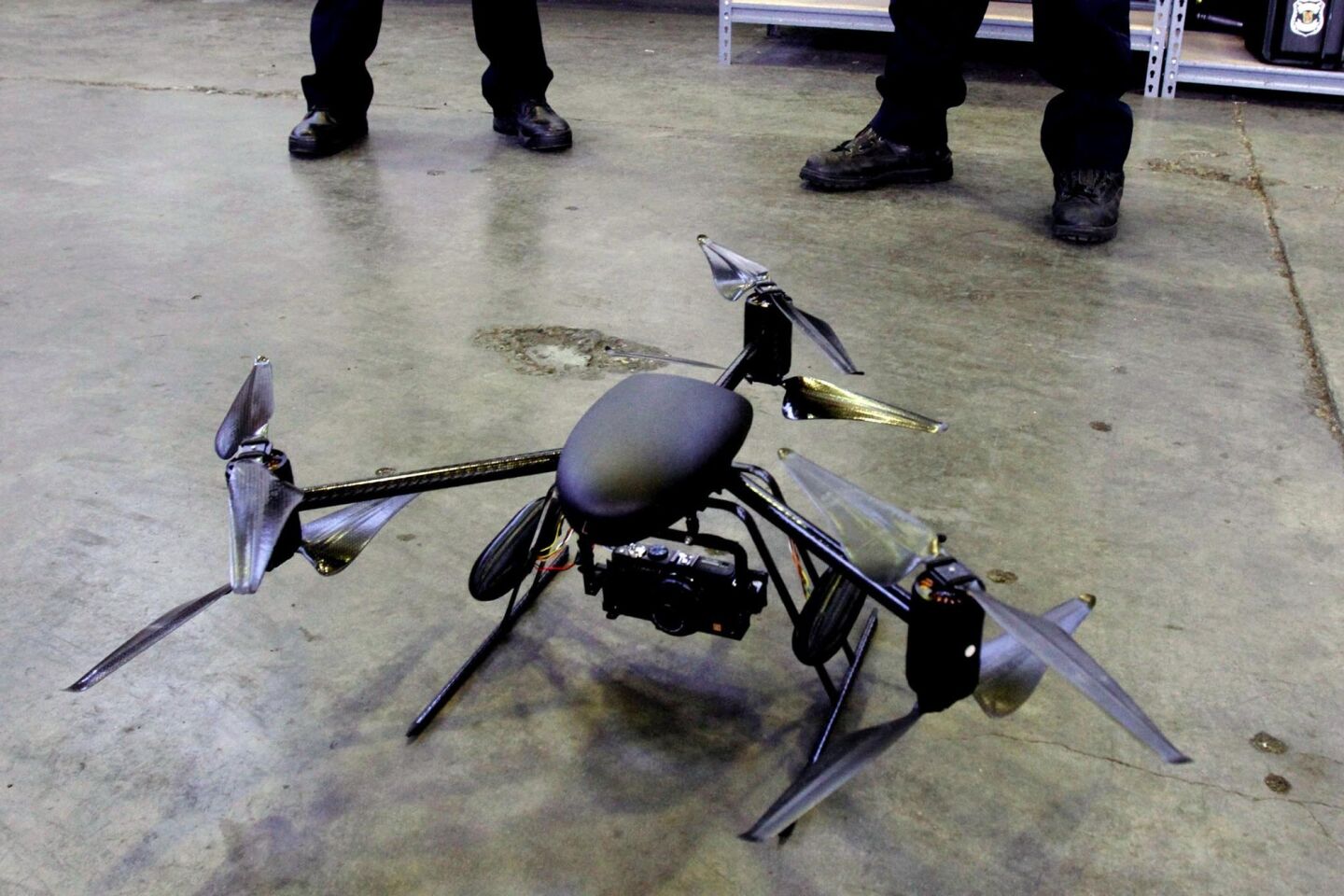 This April 27, 2012, file photo shows the Draganflyer X6 helicopter in Seattle. The mayor of Seattle ended the police department's drone program after residents protested in 2013.
(Alan Berner / Associated Press)
A small drone hovers in the sky on Feb. 1 during a meet-up of the DC Area Drone User Group. Drone enthusiasts see great civilian potential for unmanned aerial vehicles, including construction work and wildlife conservation.
(AFP / Getty Images)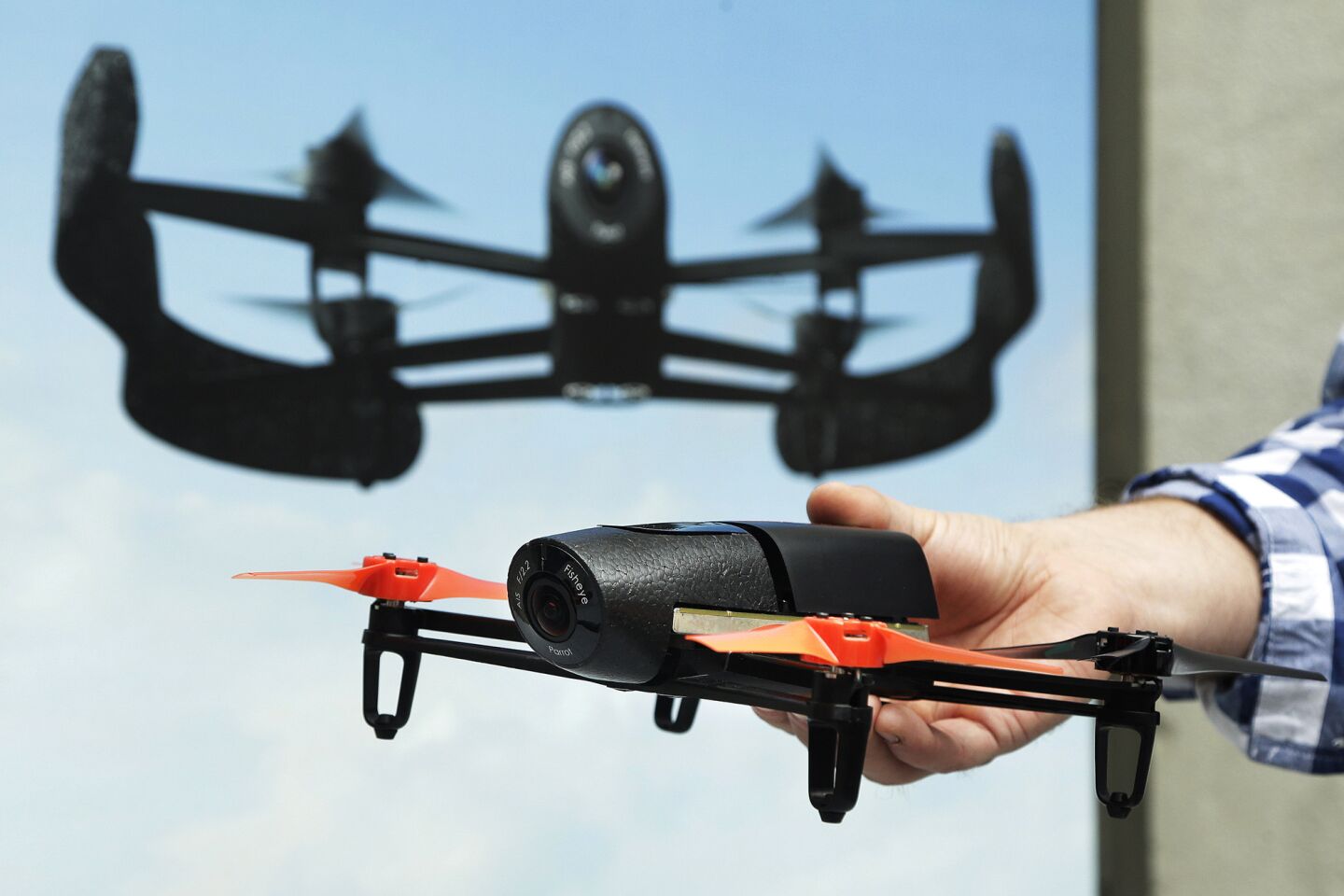 A Parrot Bebop drone is held during a Parrot event in San Francisco on May 8. The Parrot Bebop drone, which has a 14-megapixel fish-eye camera lens and battery life of about 12 minutes flying time, is scheduled to be released later this year.
(Jeff Chiu / Associated Press)
Los Angeles police officials say they may have to set boundaries on hobbyist drone use because local ordinances are vague and federal regulators are unlikely to to put clear-cut rules in place anytime soon.
"It's just a quagmire … we're really on some pretty unstable ground" on private, civilian drone use, said Lt. Phil Smith, a commander in the LAPD's air suport division. "It's quite ironic for us because we can't fly them because we know about the rules."
The Federal Aviation Administration has strict rules for where and how law enforcement agencies can use drones on the job and guidelines for how they can be used in private businesses. Those rules have been called into question by a recent court ruling.
But there are virtually no laws on the books regulating where everyday hobbyists can fly the small devices, an issue police are increasingly having to contend with.
Last week, a South Bay man who routinely films police activity flew his quadcopter drone directly over the LAPD's Hollywood division parking lot and recorded officers going to and from their squad cars and other cruisers entering and exiting the parking lot.
When confronted about it, he pointed out he was safely and legally standing on the public sidewalk. Police suggested they could arrest him for trespassing because the drone was in an area closed to civilians, but upon further examination, LAPD officials told the Los Angeles Times, it wasn't that simple.
In another incident, a man flew his drone just above the heads of revelers outside Staples Center after the Kings won the Stanley Cup championship.
Police said they were also concerned about how paparazzi could use them to peer into celebrities' backyards or onto closed film sets, an issue that could be considered an invasion of privacy.
"It's such new territory and as far as that [Hollywood] incident, there's really no legal teeth to enforce," said Lt. Alex Vargas of the LAPD's Hollywood division.
Department officials said they planned to lead a push that would involve the city attorney's office and city officials to update local laws -- perhaps pertaining to peeping Toms and trespassing -- to include language specifically addressing drones.
For breaking California news, follow @JosephSerna.
The stories shaping California
Get up to speed with our Essential California newsletter, sent six days a week.
You may occasionally receive promotional content from the Los Angeles Times.