5.7 California earthquake, four dozen aftershocks prompt more study
Milk jugs and other merchandise litter the aisles at a Kmart in Diamond Bar. (An earlier version of this caption said the Kmart was in Chino Hills.)
(Rick Loomis / Los Angeles Times)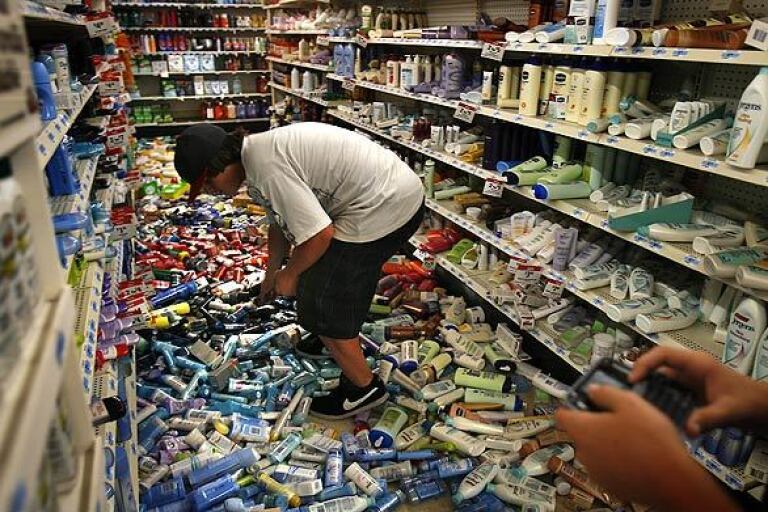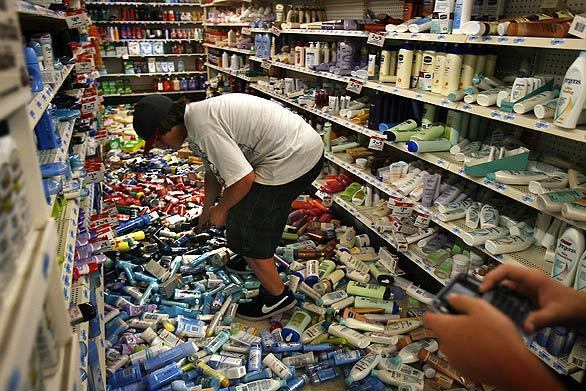 Corey Dixon, 14, sifts through deodorant to purchase from Kmart in
Diamond Bar
during the aftermath of a 5.4-magnitude earthquake. Several aisles were covered with merchandise that fell from the shelves. (An earlier version of this caption said the Kmart was in Chino Hills.)
(Rick Loomis / Los Angeles Times)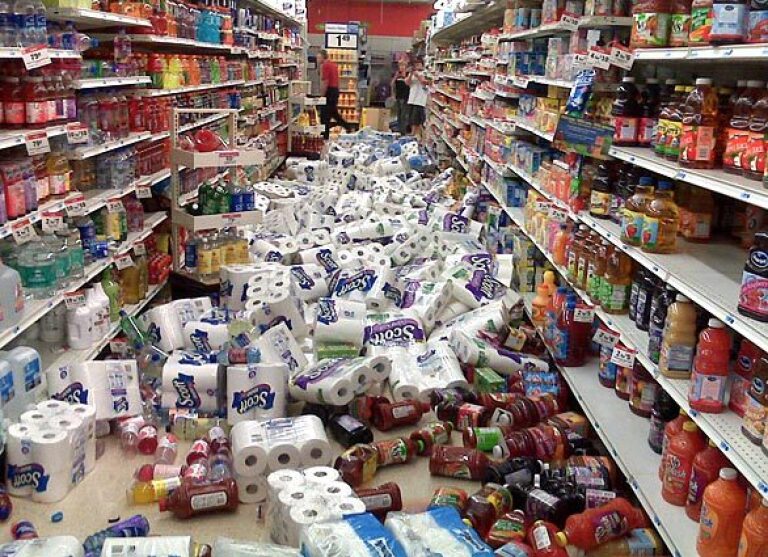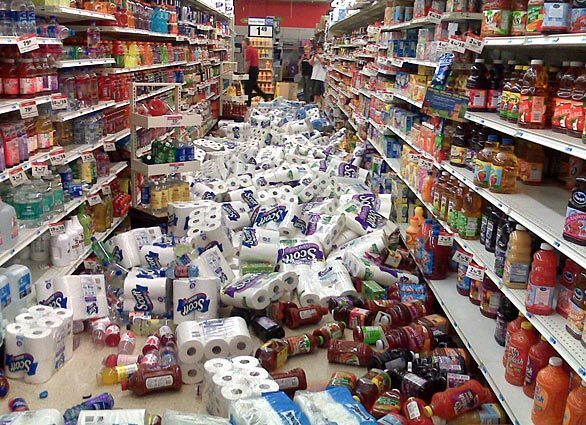 Merchandise that fell from the shelves lies in an aisle at a Kmart in Diamond Bar after a strong quake today shook the area. (An earlier version of this caption said the Kmart was in Chino Hills.)
(Rick Loomis / Los Angeles Times)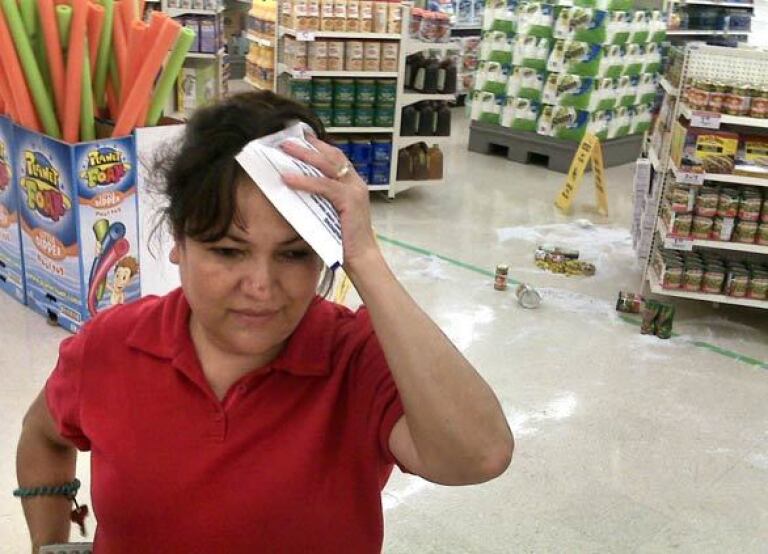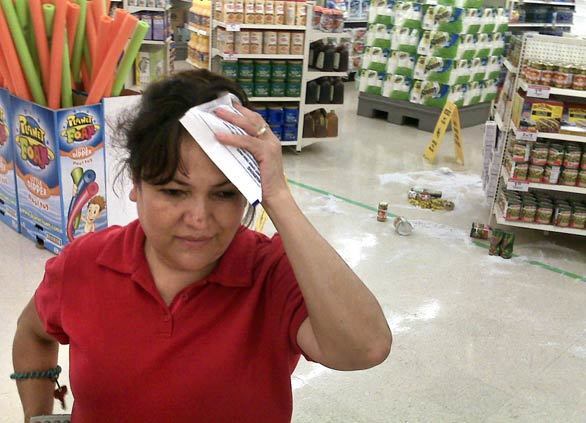 Rosa Ramos, an employee at Kmart in Diamond Bar, said she was hit on the head by an item falling off a shelf during the quake. The store stayed open immediately after the quake and customers tried to shop around the fallen items, but then management decided to close for cleanup. (An earlier version of this caption said the Kmart was in Chino Hills.)
(Rick Loomis / Los Angeles Times)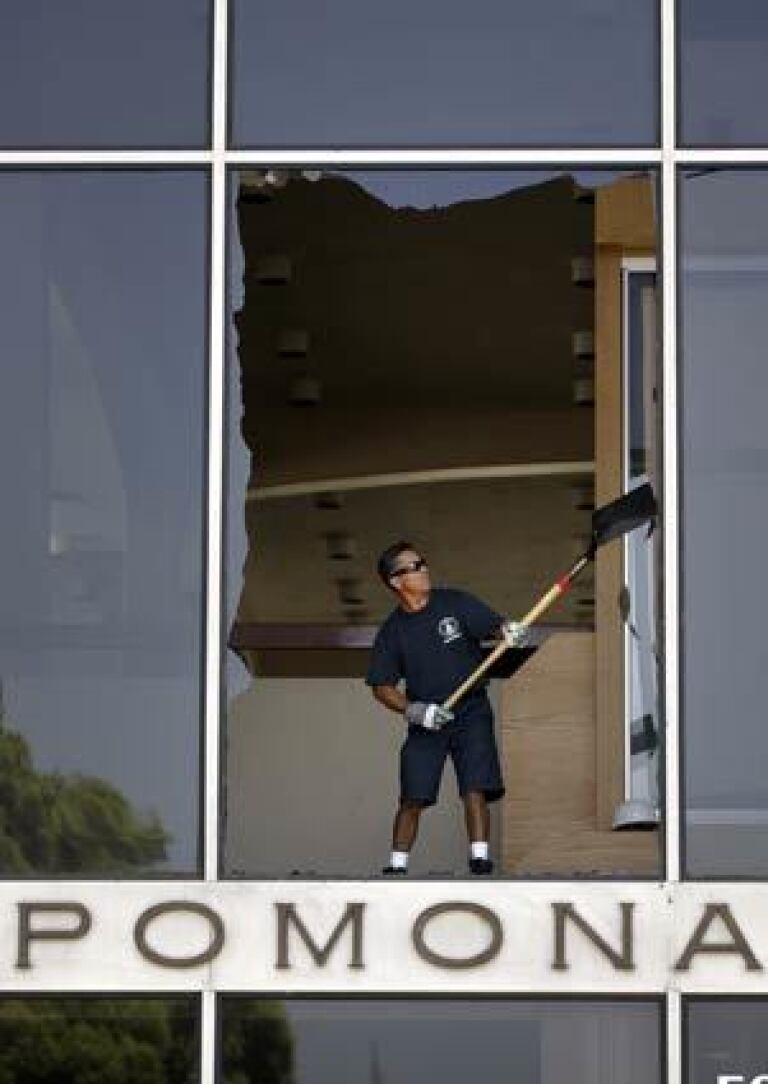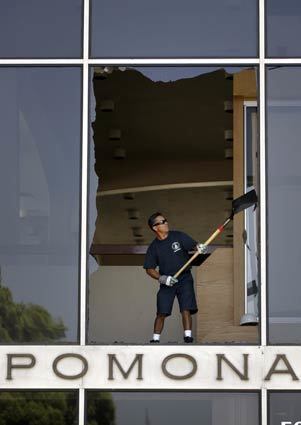 A worker cleans up shattered glass at Pomona City Hall.
(Irfan Khan / Los Angeles Times)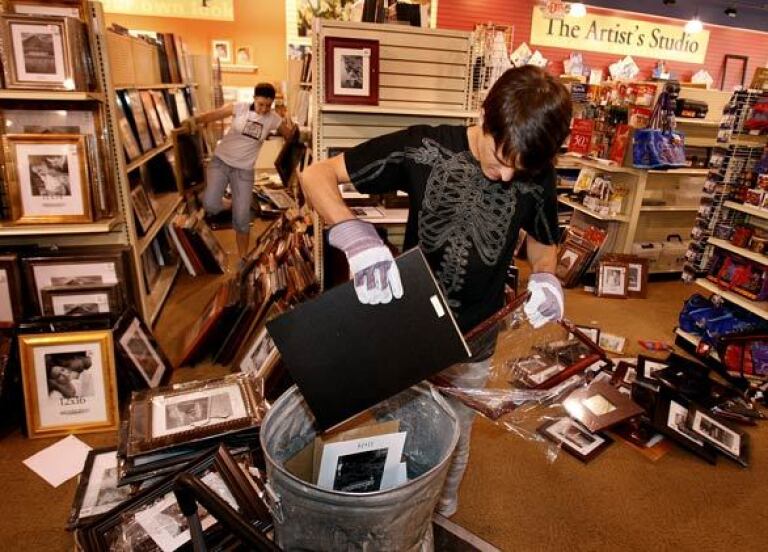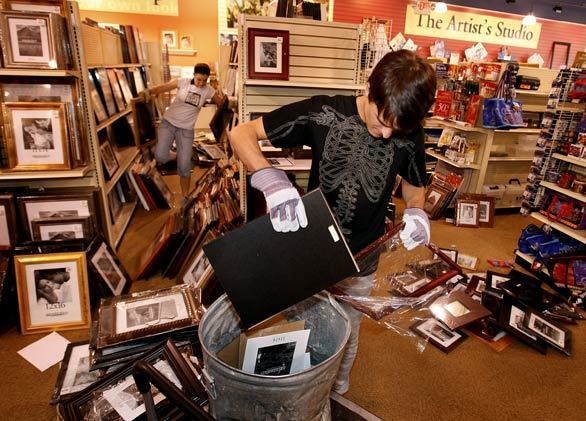 Aaron Brothers employees Justy Koch, left, and Ben York clean up several hundred picture frames knocked from shelves in Brea. Employees spent eight hours the night before stocking the shelves with 2,700 new frames in preparation for a visit from the company's president.
(Allen J. Schaben / Los Angeles Times)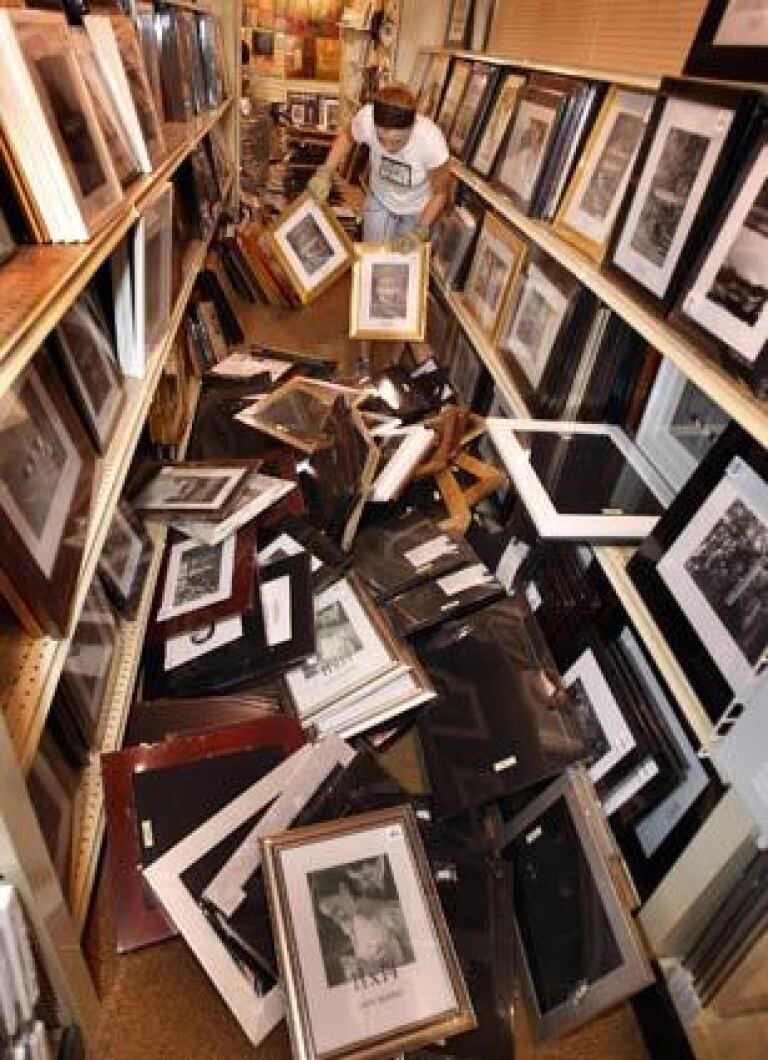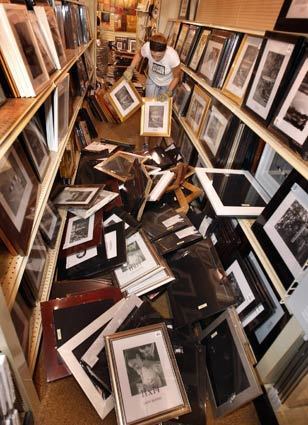 Dozens of frames fell from shelves in Tuesday's quake. Aaron Brothers employee Justy Koch cleans up.
(Allen J. Schaben / Los Angeles Times)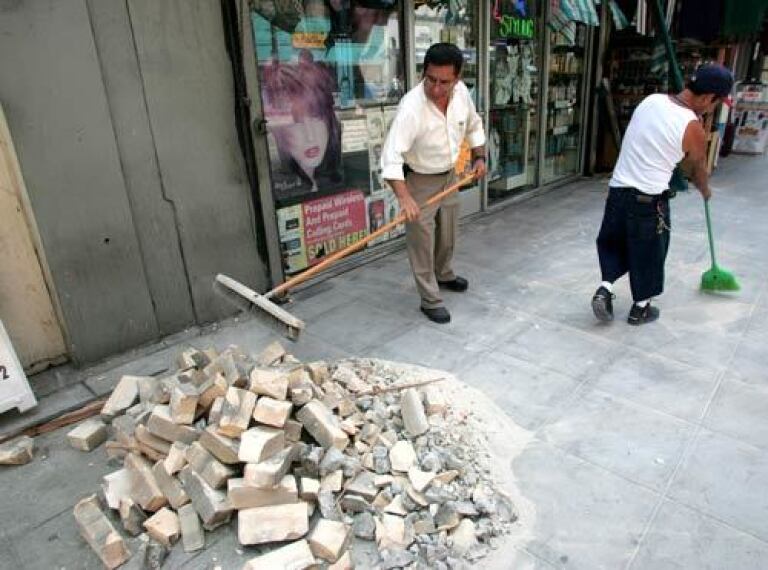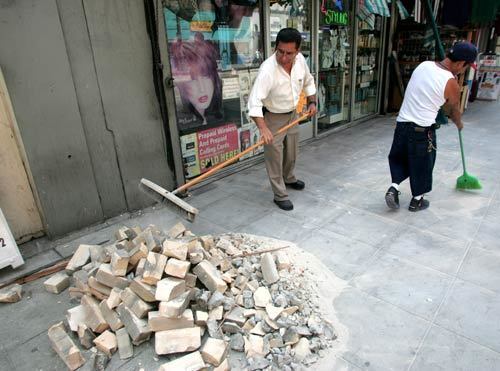 Store owner Hilario Sanchez, left, and Antonio Lopez sweep dust and bricks in front of Goleth's Beauty Salon on Broadway in downtown L.A. after an estimated 5.4 earthquake centered near the Chino Hills area rocked L.A.
(Aurelio Jose Barrera / Los Angeles Times)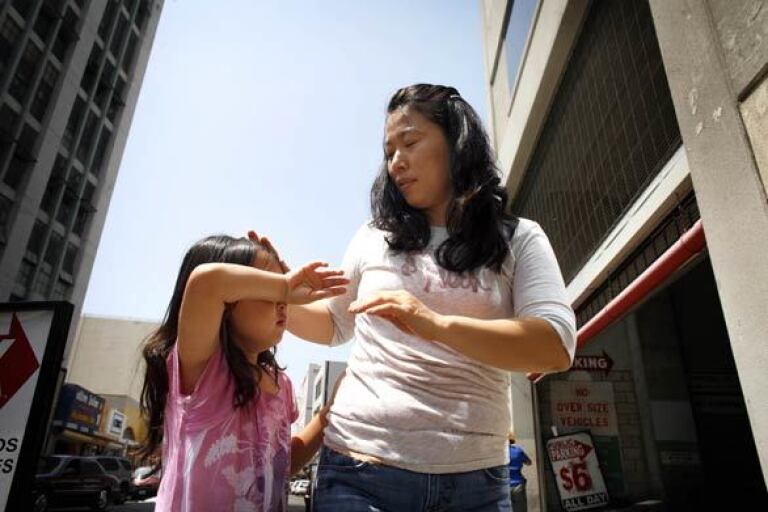 Eun Y. Chai consoles a frightened and crying Phebe Chang after they were evacuated from the fourth floor of a building on Olympic Boulevard in downtown
L.A.
after the quake.
(Barbara Davidson / Los Angeles Times)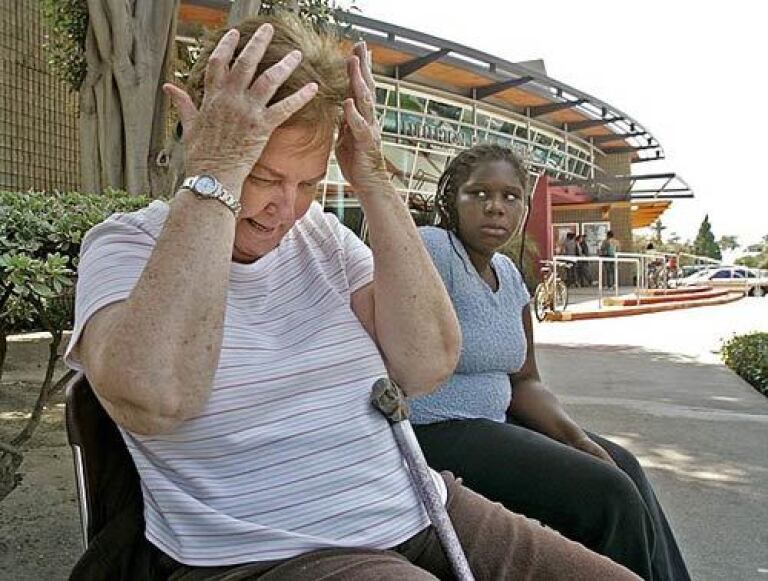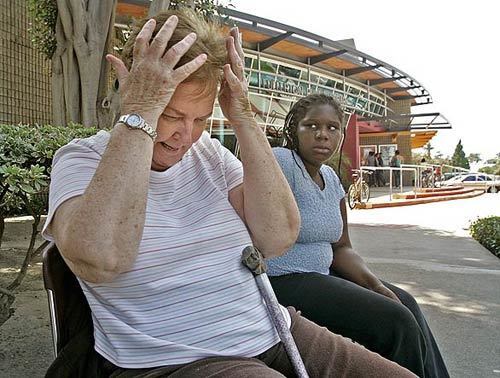 Joan Toulouse of Irvine describes how she was struck by panels falling from the ceiling at the Fullerton library.Toulouse was treated by paramedics but refused to be taken to a hospital. Her friend Tiffanie Dukes, 11, was next to her and jumped out of her seat when the shaking started. Toulouse's reaction was: "Oh my God, I'm going to lose my life here in this seat. The roof is coming down."
(Lori Shepler / Los Angeles Times)
People gather along Broadway in downtown after some businesses were evacuated.
(Allen J. Schaben / Los Angeles Times)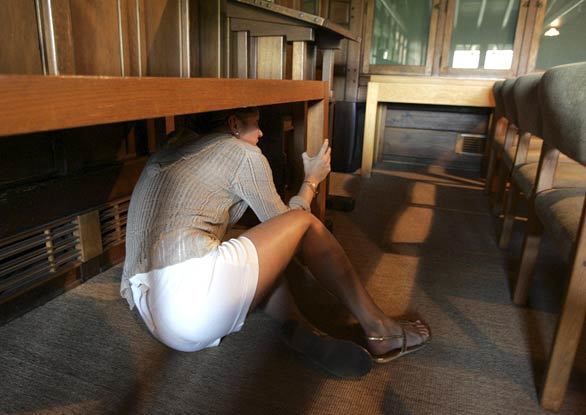 At the rear of the wood-paneled attic room at the Gamble House in Pasadena, Isabel Miesner, 23, of Westwood, ducked under a heavy table as the shaking continued. Others in the group of two dozen crouched between chairs.
(Gary Friedman / Los Angeles Times)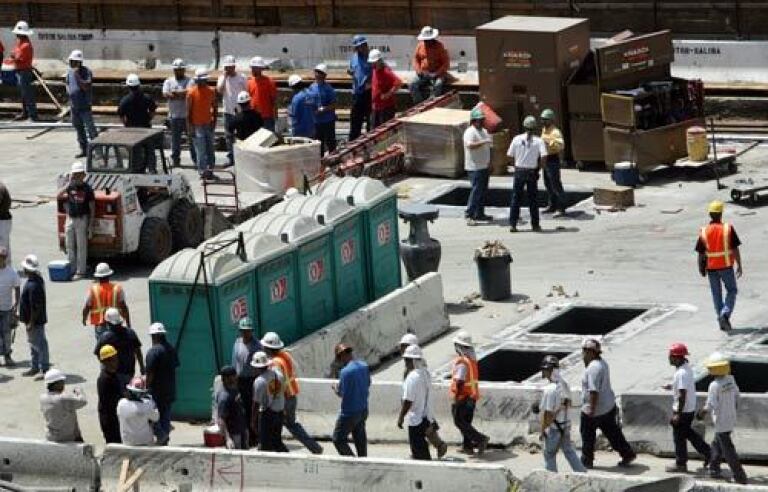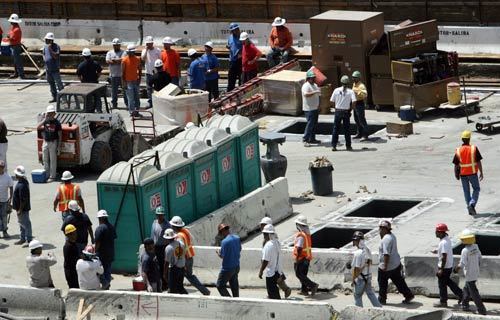 Construction workers walk out of the new Los Angeles police headquarters on Spring Street downtown after it was rocked by the estimated 5.4 earthquake.
(Bob Chamberlin / Los Angeles Times)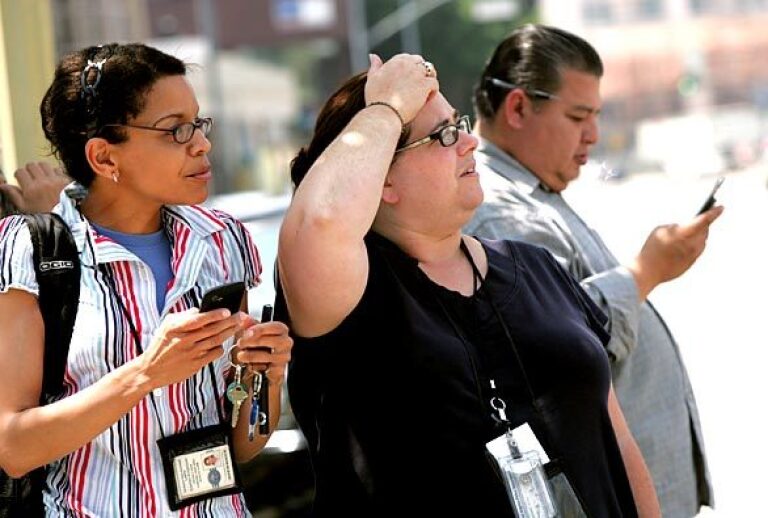 Celine Dove, left, Jennifer Keir and Tony Ortiz of the
Los Angeles Police Department
react to the earthquake in downtown
Los Angeles
.
(Bryan Chan / Los Angeles Times)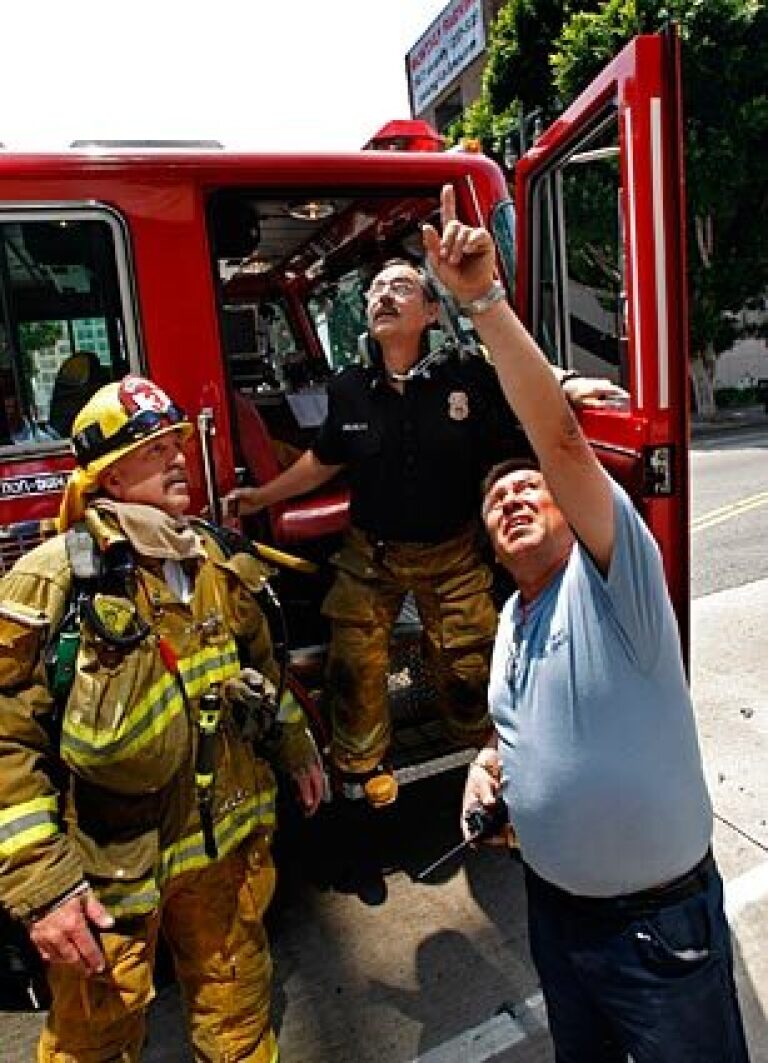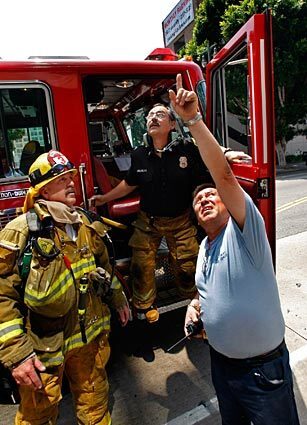 Los Angeles
firefighters assess the scene as a building manager points out debris coming out of a crack in the old Civic Center Building at 205 Broadway in downtown L.A.
(Allen J. Schaben / Los Angeles Times)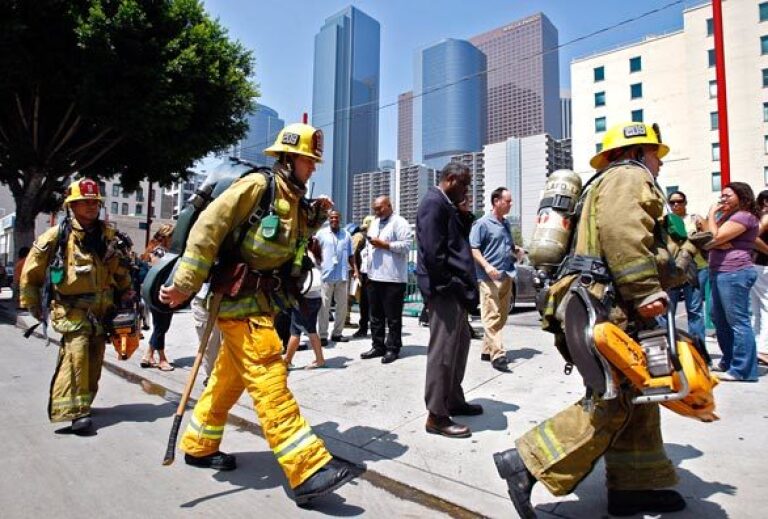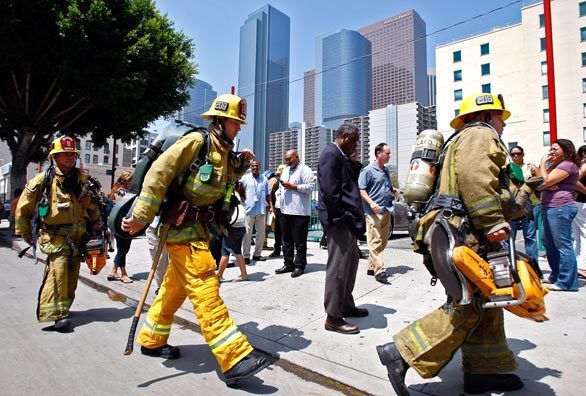 People gather along Broadway after some downtown businesses were evacuated and as
Los Angeles
firefighters come to the scene to check a building.
(Allen J. Schaben /Los Angeles Times)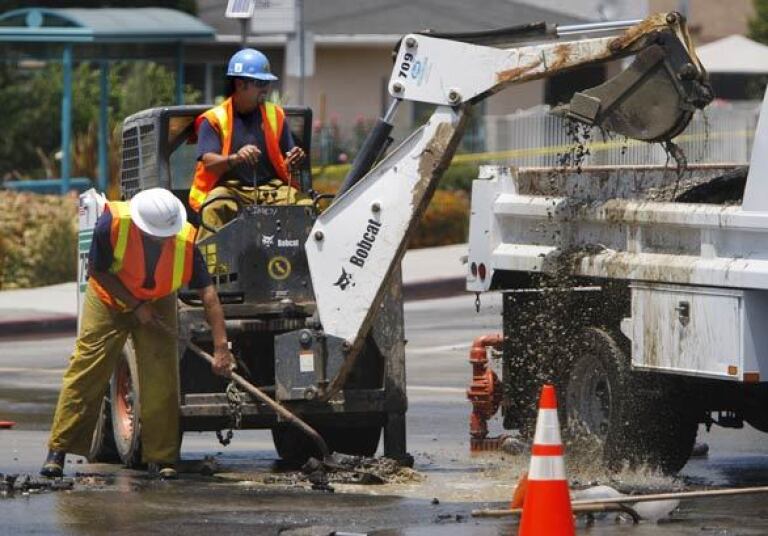 Crews work on a broken water line after the quake.
(Francine Orr / Los Angeles Times)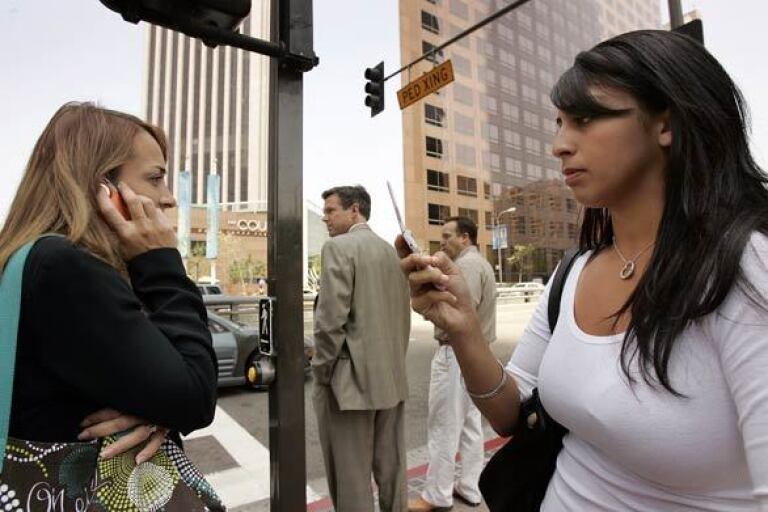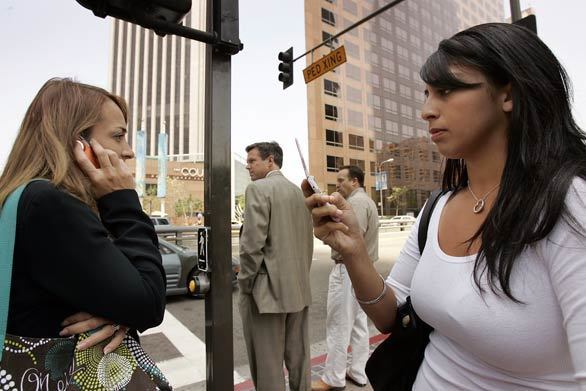 Tawny Murillo, right, and Veronica Ramirez try to call family and friends as they leave Archer Norris Law office located in the Wells Fargo building in the Bunker Hill area of downtown L.A. Officials urged people throughout Southern California to cut back telephone use because the system was being "maxed out."
(Al Seib / Los Angeles Times)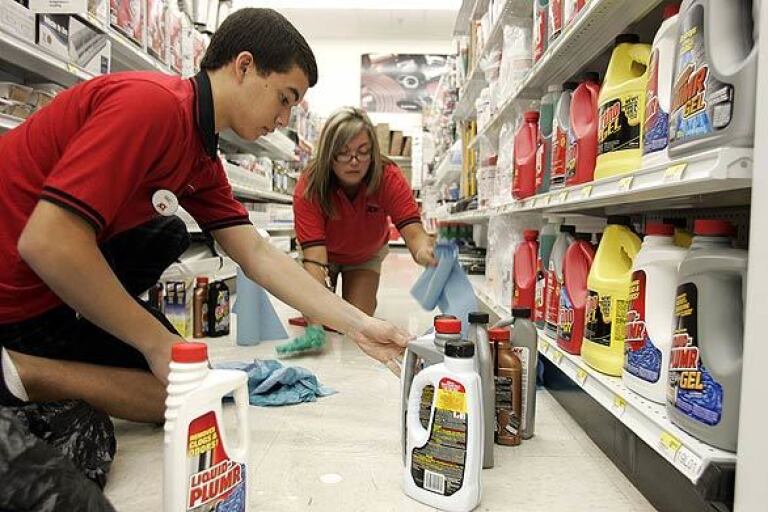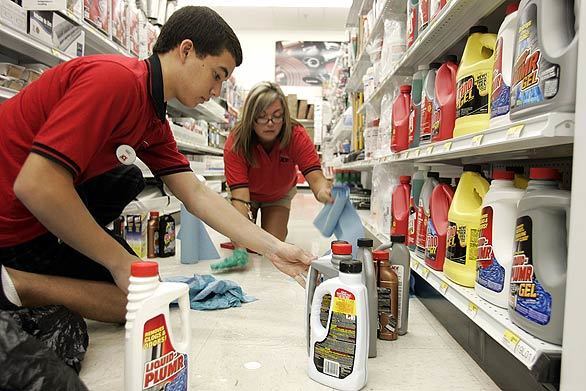 Marc Fernandez and Carrie Medina clean up drain cleaner that fell from shelves at the ACE Hardware Store at 4200 Chino Hills Parkway in Chino Hills during the earthquake this morning.
(Annie Wells / Los Angeles Times)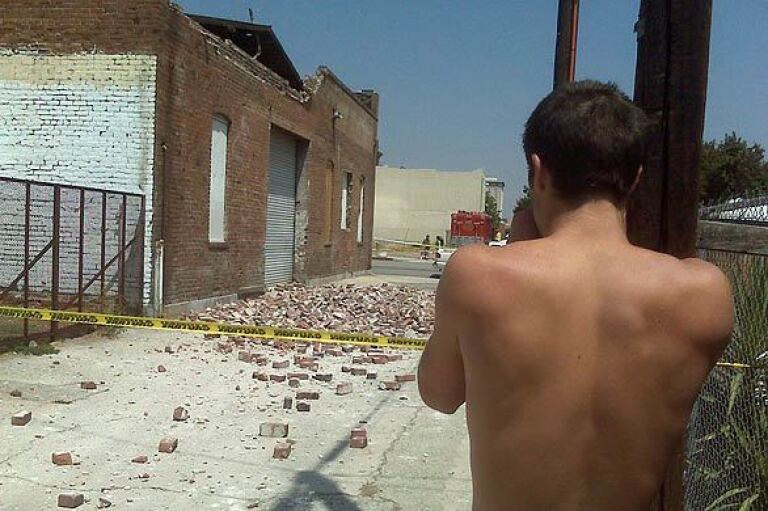 A man takes a picture of a damaged building on Park Avenue and 3rd Street in Pomona this afternoon. There are reports of minor damage and a few injuries in areas touched by the quake.
(Irfan Khan / Los Angeles Times)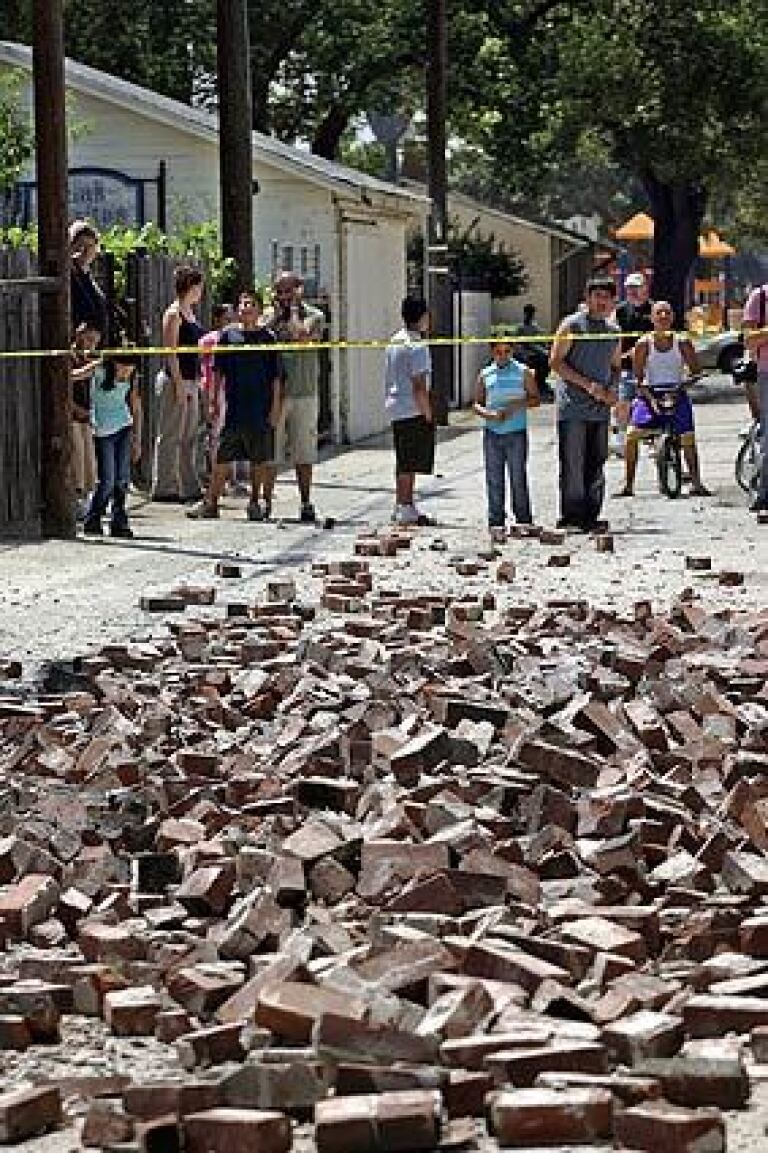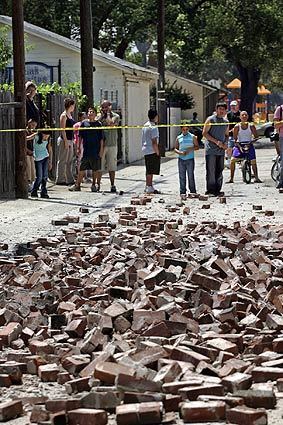 Bricks from a building litter an alley at 2nd Street and Park Avenue in Pomona.
(Irfan Khan / Los Angeles Times)
The largest earthquake to shake California since 2008 occurred in a less studied area of the state, prompting seismologists to head to the Northern California region with more monitoring equipment, officials said Friday.
Thursday's magnitude 5.7 quake struck about 8:47 p.m. about 150 miles northeast of Sacramento; its epicenter was about 27 miles southwest of the town of Susanville and seven miles west-northwest of Greenville.
The mountainous eastern Sierra Nevada region, known for its lakes, rivers and national forests, has had about seven magnitude 4 earthquakes since the 1930s, said David Schwartz, an earthquake geologist for the Northern California USGS division in Menlo Park.
Thursday's quake did occur in a zone where there are known active faults, Schwartz said, including a series of faults that extend through the northern end of Lake Tahoe all the way to Oregon. But magnitude 5.7 is the strongest recorded in this region.
Seismologists are still studying the intensity of Thursday's ground shaking, and Schwartz said it will be a few days before they can identify with greater certainty which fault the temblor occurred on.
The region's seismic activity is not as well studied compared to urban areas like Los Angeles or San Francisco, Schwartz said. There are more seismographs in place for these more populated, high-seismic areas, he said.
Since Thursday's quake, officials have moved some of these instruments to this more rugged region to monitor the aftershocks.
The quake itself was not a huge surprise for Schwartz's division, but "what was interesting was it was felt along an unusual distance," he said. "Earthquakes in different parts of the state are felt over different distances. We just haven't had that many examples of earthquakes in this part of the state, really, for comparison."
Within minutes of the first quake, more than 7,000 people reported feeling it, from across state borders into Oregon and Nevada and as far south as the San Francisco area, according to the U.S. Geological Survey website.
"I think it was a little bit of a surprise that it was felt so far down into the Bay area," Schwartz said. "There are more interesting questions now than we have answers for, at present."
More than four dozen aftershocks, ranging up to a magnitude 4.9 in a zone of about 4 miles by 5 miles, have been recorded since the first quake, according to the USGS.
Schwartz said these aftershocks look to be "fairly standard." Within the next week, there is a 20% chance an earthquake larger than magnitude 5 will strike the area and a 5% to 10% chance a quake of a magnitude greater than 5.7, according to a USGS probability report released Friday morning.
There have been no reports of injures, Plumas County sheriff's officials said. About 600 residents lost power for a brief period, and a water tank was ruptured due to the earthquake, affecting up to 1,500 customers.
At least three homes in the area had moderate collapsed chimneys and plaster cracking, authorities said. No structural damage have been reported.
"A 5.7 is still a moderate size earthquake, and earthquakes of that magnitude can occur really anywhere throughout the state," Schwartz said. "But it's large enough to generate interest and provide us some real info on how things work. We plan to keep looking at the sequence."
ALSO:
Two arrested in thefts at Orange County religious sites
Puppy trapped in pipe at Newport Coast home; rescue attempt fails
Environmental group requests hearing process on San Onofre restart
Twitter: @RosannaXia
---
The stories shaping California
Get up to speed with our Essential California newsletter, sent six days a week.
You may occasionally receive promotional content from the Los Angeles Times.