New LAX runway cracking, city sues airport contractors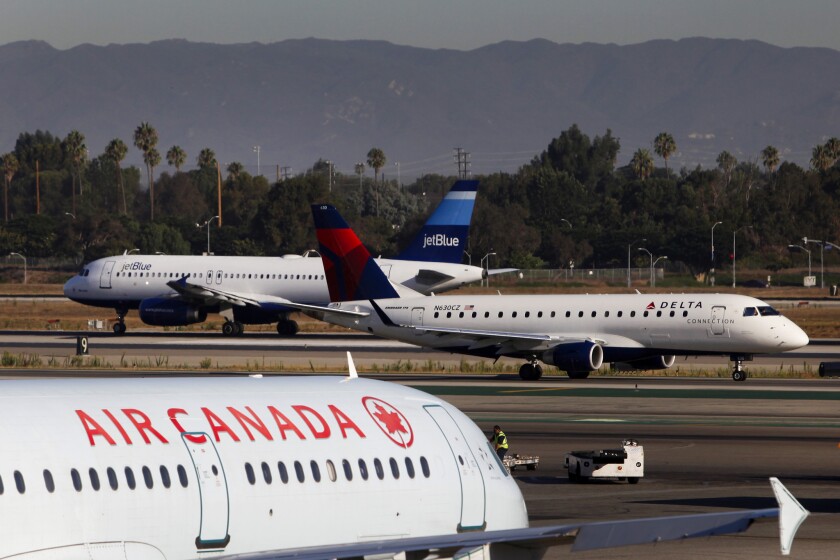 Four major contractors that built the $250-million south runway at Los Angeles International Airport are the target of a new city lawsuit that alleges that widespread construction flaws are causing the runway to wear out prematurely.
The city of Los Angeles sued R & L Brosamer, HNTB Corp., CH2M Hill Inc. and a joint venture involving Tutor-Saliba Corp. and O & G Industries Inc. The case was filed last week in Los Angeles County Superior Court in Torrance.
The lawsuit claims there are concrete flaws and substandard construction throughout the 13,000-foot runway that opened in April 2007.
According to court papers, the construction problems are so serious that the runway will need to be replaced far sooner than it should and disrupt flight operations.
The project was part of a $338-million package of much heralded safety improvements, including a new center taxiway on the airport's south side to help reduce runway incursions by taxiing planes.
Among other things, there is damaged concrete, early deterioration and loss of concrete, mortar lift-off, cracking and pop-outs of concrete sections.
"As a result of the contractors' negligent construction, the runway is deteriorating in an accelerated fashion and will ultimately interfere with ongoing runway operations," the lawsuit states.
City officials are seeking damages according to proof, attorneys' fees, and costs of litigation.
Airport officials declined to comment, citing the pending litigation.
ALSO:
Orange County D.A. raids police union law firm, seizes records
Man charged with murder in Long Beach teacher's stabbing death
Suspect got the dry ice for LAX bombs from an aircraft, officials say
twitter: LADeadline16
---
The stories shaping California
Get up to speed with our Essential California newsletter, sent six days a week.
You may occasionally receive promotional content from the Los Angeles Times.