EPA must tighten rules on lead inside homes to protect children from poisoning, court rules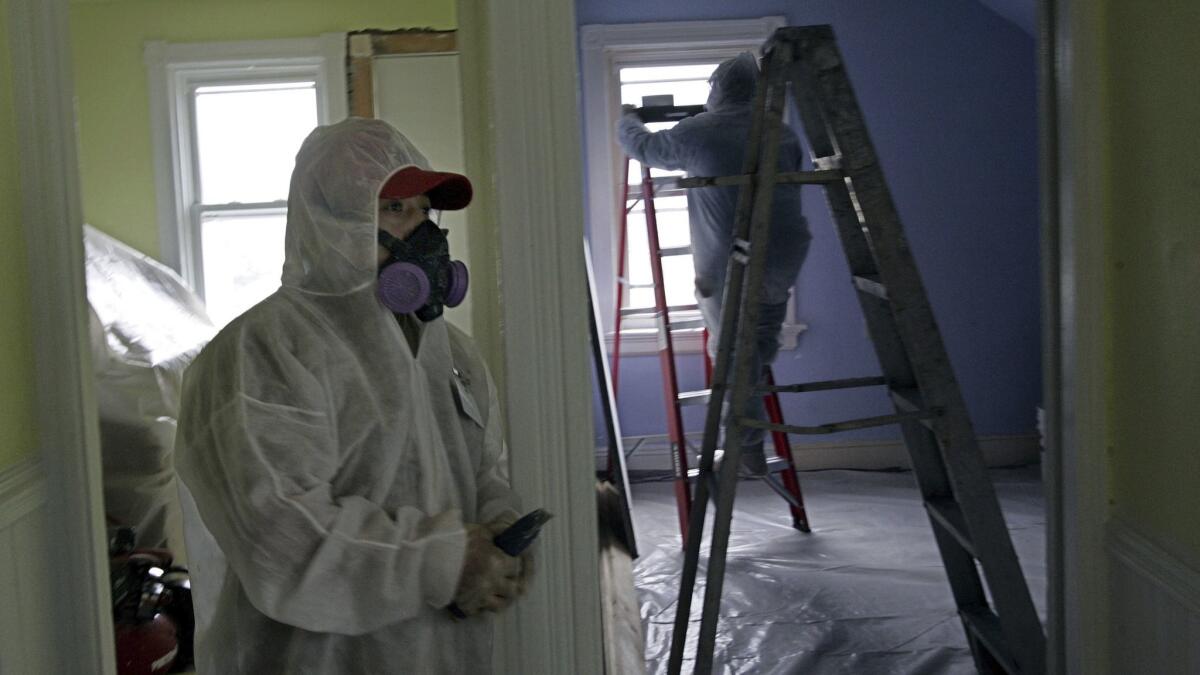 After years of delay, the U.S. Environmental Protection Agency must propose tighter limits on the amount of lead allowed inside homes within 90 days to protect children from the hazards of lead paint, a federal appeals court ruled Wednesday.
In a 2-1 ruling, the 9th U.S. Circuit Court of Appeals in San Francisco found the EPA has a duty to update its standards on lead dust in the interiors of homes following years of scientific evidence that the current rules are insufficient to prevent lead poisoning.
The decision could have far-reaching implications on efforts to clean older homes across the nation by lowering the amount of lead that can be left inside and be considered safe, according to groups that filed suit.
"This ruling will result in an entire generation of kids who will not bear the burden of these excessive lead exposures," said Jane Williams, who directs California Communities Against Toxics, one of the groups that filed suit.
Lead-based paint was banned in the U.S. in 1978. The EPA was required to update its standards for lead inside homes under a 1992 law that set out to reduce and, ultimately, eliminate the risk of lead poisoning to children. But those rules were not finalized until 2001.
Since then, scientists have found lead to be more dangerous to children's health than previously thought, with even small amounts causing permanent problems, including learning and developmental deficiencies and lower IQs.
In 2007, the EPA's Clean Air Scientific Advisory Committee told the agency that its standards for lead dust were "insufficiently protective of children's health." The U.S. Centers for Disease Control and Prevention now acknowledges there is no known safe level of lead in the blood, but considers 5 micrograms per deciliter a "level of concern."
In response to a petition from the Healthy Homes Collaborative, the Sierra Club and other groups, the EPA in 2009 under the Obama administration promised to issue new rules to protect children from the hazards of lead paint, but did not commit to a specific timeline. Years passed but the EPA's standards did not change.
Then, in 2016, some of those same groups sued, asking the court to hold that the EPA has "unreasonably delayed" in issuing the promised rules. In response, the agency said it might be able to issue a final rule in 2023.
That's not enough, Judge Mary M. Schroeder wrote in the 2-1 ruling, concluding that the agency's delays were unreasonable and a threat to human welfare.
"Congress did not want EPA to set initial standards and then walk away," Schroeder wrote. "EPA is under a clear duty to act.
"The children exposed to lead poisoning due to the failure of EPA to act are severely prejudiced by EPA's delay," Schroeder wrote.
Judge N. Randy Smith dissented, arguing that however harmful the current lead limits are to children, the law does not require the EPA to act.
"The EPA's refusal to act in light of the new information it obtained (even if frustrating) is within its authority set forth by Congress," Smith wrote.
The EPA has not disputed that its current standards are insufficient to protect children, and has called lead poisoning "the number one environmental health threat in the U.S. for children ages 6 and younger," according to the ruling.
The EPA is reviewing the decision, a spokeswoman said.
"Lead exposure remains a significant health threat to children," she said, "and EPA will continue to work diligently on a number of fronts to address issues surrounding childhood lead exposure from multiple sources."
Sign up for Essential California for news, features and recommendations from the L.A. Times and beyond in your inbox six days a week.
You may occasionally receive promotional content from the Los Angeles Times.