U.S. case against state Sen. Leland Yee, 28 others to be split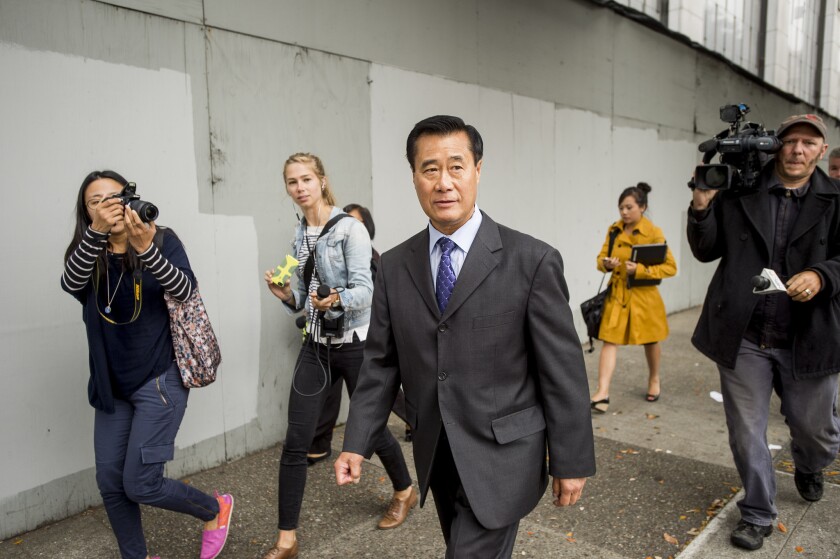 Reporting from San Francisco —
Prosecutors and defense attorneys agreed at a federal court hearing Thursday that the unwieldy criminal case against suspended state Sen. Leland Yee, Chinatown association leader Raymond "Shrimp Boy" Chow and 27 others should be split up before trial.
But they disagreed about when that should occur -- with Chow's attorney in particular pressing for his client and a number of minor defendants to be separated as soon as possible from the higher profile public corruption case against Yee.
Prosecutors sought -- and won -- a delay.
The hearing before U.S. District Judge Charles Breyer came two weeks after the U.S. attorney for the Northern District of California filed a new indictment in the case, adding violations of the Racketeer Influenced and Corrupt Organizations Act against Yee and his former fundraiser, Keith Jackson.
Yee is accused of conducting a criminal enterprise with Jackson, who allegedly solicited bribes and campaign contributions in exchange for political favors from Yee. The racketeering allegations also include conspiracy to traffic in "missile systems designed to destroy aircraft."
A second criminal enterprise is alleged involving Chow, a convicted felon who serves as the "dragon head" of the Ghee Kung Tong organization; Jackson, a former San Francisco school board member; and 15 others. Related charges include money laundering, trafficking of marijuana and contraband cigarettes and involvement in a murder-for-hire plot that did not come to pass.
Charges against the other defendants are unrelated to either group accused of racketeering, referenced in court as "RICO 1" and "RICO 2."
A prosecutor with the U.S. attorney's office told Breyer on Thursday that "no one is under the illusion that we will go to trial with 29 defendants," but said there was overlapping wiretap evidence and it would be "premature" to divide the cases now.
Charging all defendants under one indictment has made for strong media headlines but has created a courtroom mess that Breyer is methodically trying to untangle. It also swept defendants with relatively minor charges in with those facing much more serious allegations.
Breyer concurred Thursday that the case must be split but postponed the decision until after all evidence is turned over and sensitive issues involving the wiretaps and identities of informants and agents are resolved.
"I have to get my arms around the case and follow a particular plan," Breyer said. "It seems divisive if I have to start listening to severance motions."
A separate hearing on wiretap evidence -- what must be turned over and when -- was scheduled for Monday before U.S. District Judge Joseph Spero. And Breyer set a Nov. 12 hearing to deal with any defense motions to dismiss the case or challenge "the legal propriety or adequacy of the indictment."
Defense attorneys say they need the names of informants and agents because they cannot challenge the wiretap evidence until they determine whether the agents' rationale for obtaining the wiretaps was justified, or whether there were "lies or omissions."
They revealed in court that they are in particular seeking information about "Agent 4773," who was reportedly removed from the investigation for "financial misconduct." Chow's attorney Curtis Briggs said outside court that a gag order prevented him from commenting on the issue or even confirming its existence.
The courtroom was packed with lawyers and crowded with defendants both in and out of custody, all of whom have pleaded not guilty.
Yee declined to comment as he left the building, followed by a bank of cameras.
Follow @leeromney on Twitter for news about Northern California.
---
For reporting and exclusive analysis from bureau chief John Myers, get our California Politics newsletter.
You may occasionally receive promotional content from the Los Angeles Times.