Long Beach Port bridge delayed at least a year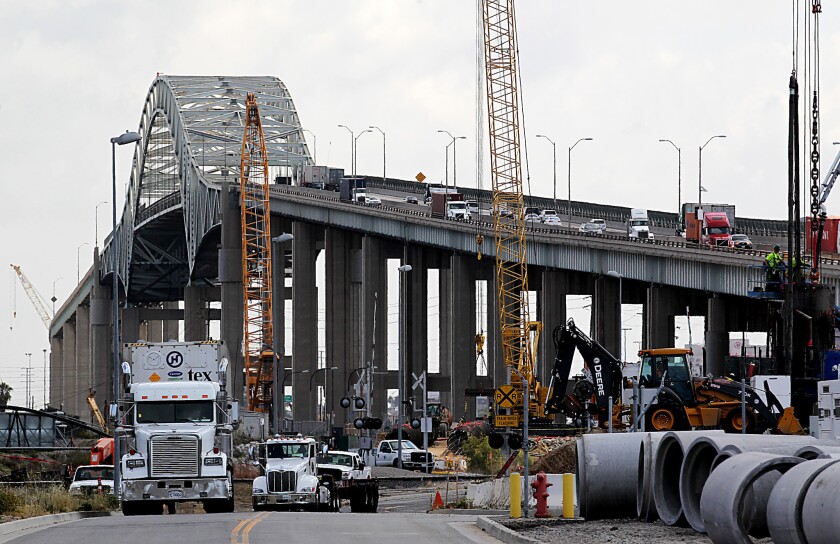 The massive $1.26 billion project to replace the ailing Gerald Desmond Bridge in Long Beach will be delayed at least a year, port officials announced.
Originally expected to open by the end of 2016, port officials say the bridge that will rise over its port won't be completed until late 2017 or early 2018.
The delay has been attributed to design issues, including delays in obtaining approval for designs from Caltrans officials, who have the ultimate authority over plans.
"This is a complex design," said Al Moro, the Port of Long Beach's acting executive director, at a recent meeting of the city's Harbor Commission. "We need to be very thorough and we need to get it right. We have one chance at this."
Few people dispute that the 46-year-old Gerald Desmond Bridge, named after a onetime Long Beach councilman and city attorney, needs to be replaced.
Many of the ships that enter the port struggle to navigate under its low-hanging span, and traffic is often jammed on the roadway. At one point, officials installed a nylon mesh to catch chunks of concrete falling from the bridge's underbelly.
The replacement bridge is being constructed under a design-build model, which means that while construction on the foundation began a couple months ago, only about 70% of it has been designed.
The operation has already been plagued with complications and cost overruns from a maze of poorly mapped underground utility lines and oil wells on Terminal Island.
A landscape of highly variable soils, and the risk they could liquefy in an earthquake, means designs for various sections of the bridge's foundation need to be tailored so they can withstand a major seismic event, said port spokesman John Pope.
Still, some harbor commissioners expressed disappointment about the revised timeline.
"My concerns are that we got to this point," Harbor Commissioner Richard Dines said at the meeting. "I think that this is something that should have been under control before."
It isn't clear yet how much the year-long delay could cost the Port of Long Beach, which is managed by the city of Long Beach and is responsible for shouldering all cost overruns.
The project, more than 10 years in the making, is already more than $300 million over budget from its original $950 million estimated price tag, mostly due to the oil well work done to clear a path for the new bridge.
Port officials said more accurate cost estimates will be released in July.
Meanwhile, crews are continuing to build the bridge, working from both ends to pour the first dozen of what will be more than 300 concrete piles supporting the span.
Last month, Long Beach officials closed a major connector between the 710 Freeway and Terminal Island to make way for construction.
Pope said the detour will remain in effect for longer, but doesn't anticipate additional road closures as a result of the delays.
"It will have an impact on our customers because we're asking them to be patient for a longer duration," Pope said.
"We have a lot of confidence with this new timeline. The design is moving along,we've started construction … and there's some very high-level coordination happening," he added.
For more breaking news, follow me @cmaiduc
---
Get breaking news, investigations, analysis and more signature journalism from the Los Angeles Times in your inbox.
You may occasionally receive promotional content from the Los Angeles Times.