Day 2 of outage leaves Long Beach residents scavenging for electricity, seeing spoiled food pile up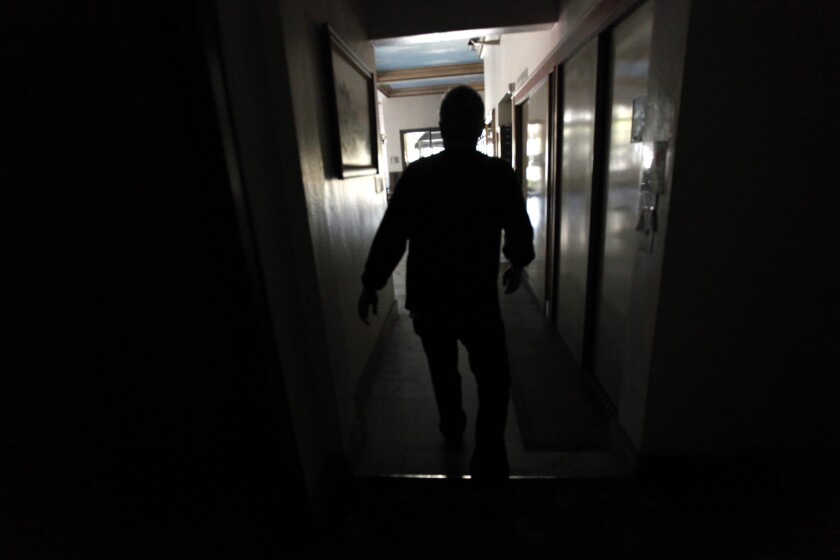 Preston Andres is one of thousands of Long Beach residents left without power for more than two days this week.
He threw out the perishable food in his refrigerator because of the blackout and said he planned to visit the Department of Social Services to apply for emergency food stamps.
He and his wife live paycheck to paycheck, he said Friday, adding that the outage has "put a stop to our lives." The pair haven't been able to charge their cellphones or watch updates about the blackout on TV.
"It's primitive," said Andres, 48, who works as a custodian at the First Congregational Church of Long Beach. "It's like we are cave people."
More than 6,000 Southern California Edison customers have experienced short- or long-term outages since a vault fire Wednesday afternoon sparked several underground explosions that sent manhole covers into the air and turned vital electrical lines and equipment into useless globs of scorched metal and melted plastic.
Since then, crews restored power to most customers only to see additional work knock some of that power out again.
"Right now I'm at a local restaurant and they're letting me use their electrical outlets," resident Rebecca Quinn said Friday morning.
Like her neighbors, Quinn spent time wandering downtown Long Beach looking for any business with electricity. Her stove is electric too, so cooking is out of the question.
"I don't think I'll ever live in a place that's all electrical again," she said with a laugh.
The outage didn't just wreak havoc on residents. Los Angeles' Metro rail service to the area was interrupted, multiple ramps on the 710 Freeway were closed and several downtown intersections were turned into four-way stops.
Edison officials said the outage lasted for days because of Long Beach's unique electrical design. The city's grid is powered by a loop of electrical lines with no central beginning and end, said Paul Grigaux, vice president of transmission substations and operations for Edison. The concept, Grigaux said, is that if one line fails, customers shouldn't notice an interruption because the network will keep power flowing through the other cables.
But the design also means that there's no simple way to identify where a problem occurred, he said. Crews have to use a trial-and-error method by flipping lines on and off until they find failed or weak lines.
"It's historically a very reliable system," he said. "We haven't had an impact like this in Long Beach since the 1950s."
At an Ocean Boulevard condominium complex Peter DeBruyn calls home, the power has been out since Wednesday afternoon.
"If you're elderly or disabled, you're essentially imprisoned," said DeBruyn, 70.
DeBruyn said he stays out during the day because there is nothing to do at home, but when the sun goes down in downtown Long Beach "you can't see anything."
DeBruyn, an attorney, said he and another lawyer in the building have persuaded the complex's governing board to split the cost of a generator with a nearby building. The utility has provided residents with flashlights and water, he said, but it's not enough.
When the power went out on Wednesday, DeBruyn assumed it would be back on within a couple of hours. Then he went for a walk and heard utility workers talking about how bad the blackout really was.
"We went from bad to worse, and now who knows?" he said.
At night, residents say, everything falls to a hush. Cars don't whiz by, and no one is honking horns or stepping out for an evening walk.
"It's complete silence," Andres said. "It's not a peaceful quiet. It's ominous."
For breaking California news, follow @JosephSerna and @sarahparvini.
ALSO
Ex-LAPD officer pleads not guilty to fatally shooting Pomona man
Powerful swells, rain and thunderstorms in L.A.'s weekend forecast
S.F. sheriff's deputies call lack of communication with ICE 'reckless' after pier shooting
---
The stories shaping California
Get up to speed with our Essential California newsletter, sent six days a week.
You may occasionally receive promotional content from the Los Angeles Times.