L.A. will become biggest city in the U.S. to ban fur sales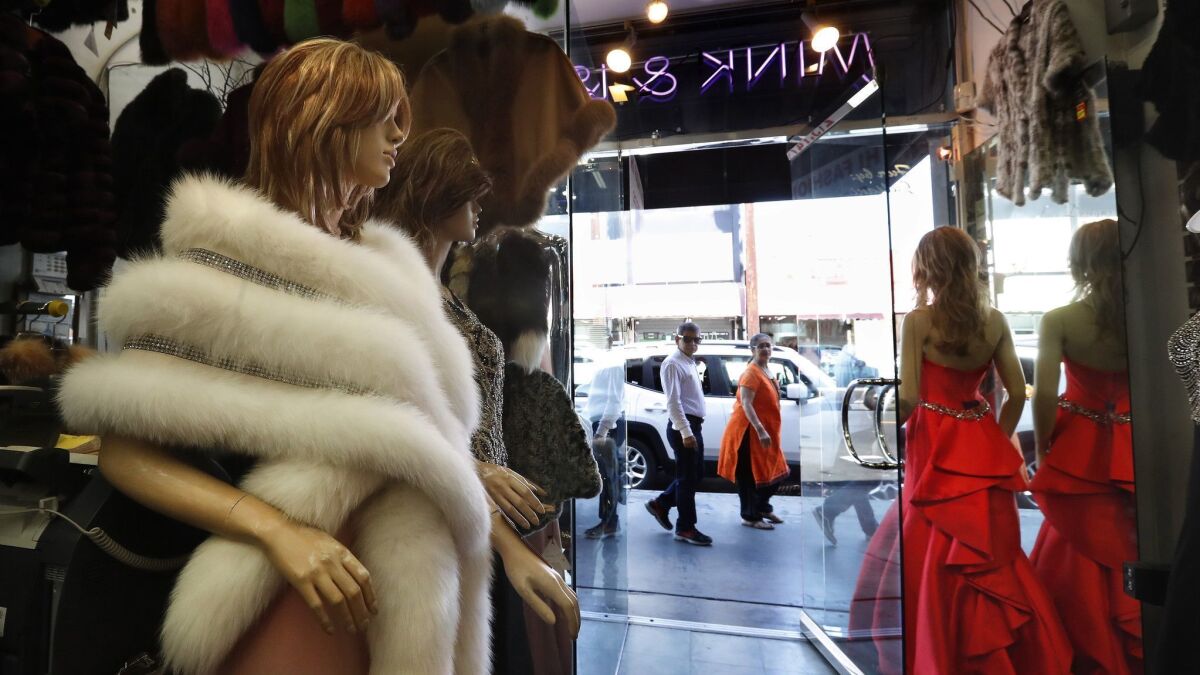 Los Angeles will become the biggest city in the United States to ban the sale of animal fur, under a new law backed Tuesday by the City Council.
The new ordinance, which will go into effect in 2021, makes it illegal to sell, manufacture or trade furs or fur clothing and accessories such as coats, handbags and key chains in L.A. city limits.
The ban includes a number of exemptions: Used furs can still be sold at secondhand shops. People can still sell or trade the pelts of dead animals preserved through taxidermy. And the city will not prohibit fur produced from animals taken lawfully under a trapping license.
Animal rights activists hailed the decision, denouncing the fur business as barbaric and unnecessary. "Animals are not fabric — they are sentient beings who suffer terribly," said Patty Shenker, a member of Animal Defenders International. "And we must include them in our moral compass."
Fur sellers and manufacturers, in turn, said their industry was being unfairly singled out and smeared, and warned that legal action could be next.
Because the Tuesday vote was not unanimous, the proposed law will come back to the council for a second, procedural vote before going to Mayor Eric Garcetti for his signature. The sole councilman to oppose the new law was Greig Smith, who was recently appointed to fill the seat vacated by Councilman Mitchell Englander.
At a committee meeting last week, Smith said he was deeply concerned about abruptly shutting down "legitimate businesses," calling it "not American," and noted that the city had not estimated the economic impact. His spokesman, Colin Sweeney, later said that Smith "thinks controlling the industry with regulations to minimize harm … is preferable to a ban."
"Prohibition inevitably leads to black markets where abuses are often worse than they were in the first place," Sweeney said in a statement.
Councilman Bob Blumenfield, who championed the ban, called the fur industry "egregious in its cruelty" and said that although he believes the ban will not hurt the L.A. fashion industry, no economic analysis would have changed their decision on a "philosophical issue."
"End this outdated and deplorable practice," Blumenfield urged the rest of the council before the vote. "The time is long overdue."
Another backer of the ban, Councilman Paul Koretz, declared at a meeting last year that "animal cruelty is animal cruelty, and if we lose a few jobs, that's life."
L.A. is following West Hollywood, Berkeley and San Francisco, which have passed similar bans. When it was adopted in West Hollywood, the move was seen as largely symbolic because shoppers could easily head to neighboring Los Angeles or Beverly Hills for fur.
Activists say the L.A. ban is important not only for its geographic reach, but to encourage more cities and possibly the whole state to follow.
"Los Angeles has the opportunity to make a clear statement to the rest of the world that the confinement, torture and brutal killing for fur will not be tolerated," Chatsworth resident Katie James and other supporters wrote in letters urging council members to pass the ban.
Opponents argued that the city was kowtowing to animal rights extremists and depriving consumers of the freedom to decide for themselves. Last year, a Gallup poll found that 60% of respondents deemed it "morally acceptable" to buy and wear clothing made of animal fur.
"We do not bully people or coerce them or force them to buy fur," said Donna Pappas, owner of Somper Furs. "It's our opponents who bully people."
Pappas grew teary at one meeting at City Hall after pleading with officials to grandfather in existing businesses or give them more time before the law goes into effect. Fur industry groups had also pushed unsuccessfully for L.A. to hold off on the ban in favor of a certification program that they said would provide assurance that animals were treated humanely.
"The sad part is there's been no effort by the city council to educate themselves as to what the reality is," said Ryan Holt, chairman of the trade group Fur Industries of North America.
Much of the uproar has revolved around gruesome videos circulated by animal rights activists, some of which has been replayed at City Hall. Lesley McCave, communications director for Animal Defenders International, said that undercover videos and investigations had exposed nightmarish cruelty, including anal electrocution of animals, as well as cramped and filthy conditions.
Fur industry groups have disputed the accuracy of such videos. In one of those cases, the International Fur Federation obtained testimony from men in China saying that they had been paid to skin an animal alive on video and that it was not "common practice," according to affidavits provided by industry representatives.
Blumenfield said that such videos were not crucial to the Tuesday decision.
"There's so much evidence of the cruelty ... that we didn't need a few videos to make that point," he told reporters.
Twitter: @AlpertReyes
---
The stories shaping California
Get up to speed with our Essential California newsletter, sent six days a week.
You may occasionally receive promotional content from the Los Angeles Times.