'A hot mess' — Council members trash the rollout of L.A.'s recycling program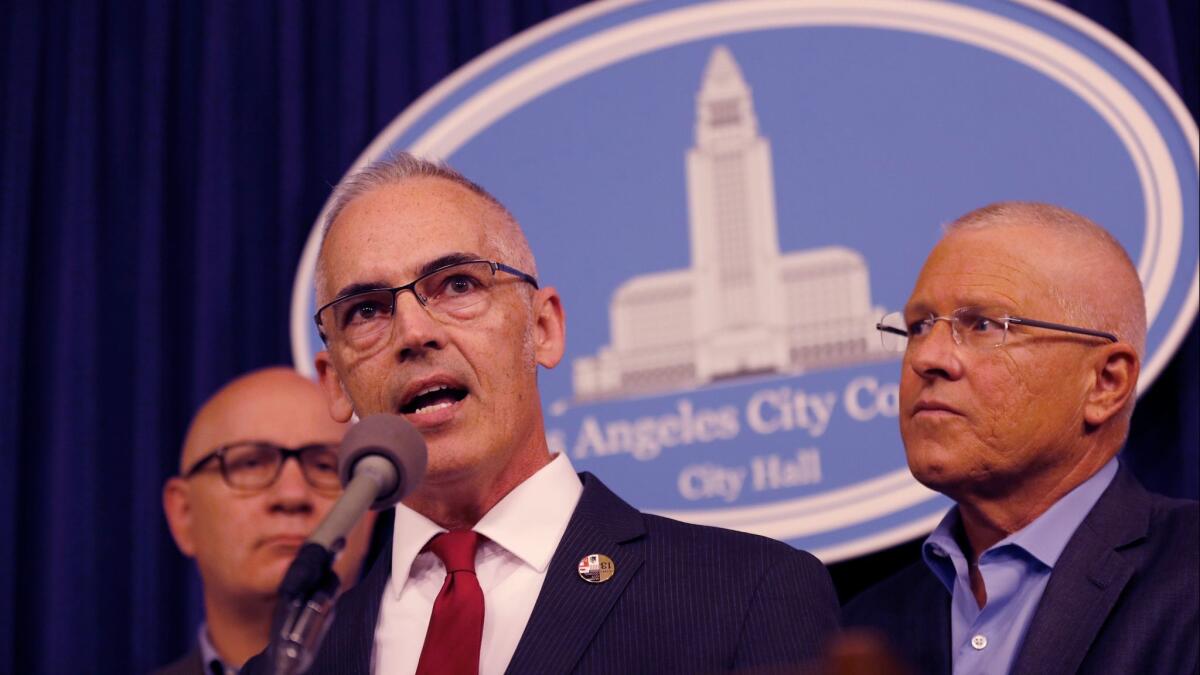 Frustration with Los Angeles' new recycling program boiled over at City Hall on Tuesday, with council members grilling trash company executives and calling for new oversight to address soaring bills and poor customer service.
Lawmakers spent more than six hours reviewing some of the problems that have accompanied RecycLA, the commercial trash program that has sparked months of complaints from landlords, condominium owners and the city's business groups.
The feedback they received was frequently angry. One speaker accused the city's private trash haulers of engaging in price gouging. A second described uncollected garbage that had backed up in an apartment trash chute, attracting rats and roaches. Several said their monthly trash bills had increased by double or more.
"You have really created a monster," said Madelynn Kopple, whose family owns several residential buildings.
Council members sounded equally frustrated on Tuesday. Councilman Paul Koretz, one of the original proponents of RecycLA, said the program had become "an embarrassment." Councilman Mike Bonin described the RecycLA rollout as "nothing short of a hot mess." Councilwoman Nury Martinez, who heads the committee that conducted the hearing, told the audience she is "not interested in any more excuses."
"I'm furious [over] the fact that every single day I'm inundated with calls," she said.
Amid those exasperated statements, sanitation officials said they are seeing substantive progress, with the city's private trash haulers reducing the number of missed collections in recent weeks. A similar message came from the haulers themselves.
"We're taming the beast," said Doug Corcoran, director of public-sector services for Waste Management, which is assigned to much of the San Fernando Valley.
The council voted to implement the program in 2016, giving seven companies the exclusive right to collect trash in 11 designated sections of the city.
Councilman Mitch O'Farrell, who represents neighborhoods from Echo Park to Hollywood, said he had received assurances that RecycLA would improve the "customer experience" for landlords, business owners and condominium complexes.
"I feel I was sold a bill of goods," he said before Tuesday's meeting.
Representatives of the city's trash haulers have attributed the pickup problems, in part, to the sheer scale of the RecycLA transition, which involved the movement of tens of thousands of customers to new refuse companies. Some said Tuesday that their companies wound up collecting a much greater volume of garbage than initially projected — which forced them to hire additional staff and purchase more trucks.
Those explanations provoked a blistering response from Councilman Paul Krekorian, who serves on the committee overseeing RecycLA. Krekorian said each company had years to prepare and an obligation to have enough vehicles and employees on hand for the launch.
"You grabbed the brass ring and became the winning bidders on exclusive franchises in the second biggest city in America," he told the executives. "There are a lot of small haulers that were servicing your accounts who aren't in business anymore. So I don't want to hear ever again from anybody how hard this is, or how difficult it is to meet your customers' requirements."
RecycLA was devised as a way to meet the state's recycling requirements, improve the wages and conditions of refuse workers and put new cleaner-burning trash trucks on the streets. The program was championed by Mayor Eric Garcetti and backed by an array of labor leaders, environmentalists and nonprofit groups.
Many of those organizations urged the council to stay the course, preserving the program while also holding trash companies accountable. "Any efforts to shift away from an exclusive [trash] franchise program will have consequences — environmental and ecological consequences," said Adrian Martinez, an attorney with the group EarthJustice.
Council members made clear that for now, they want to increase oversight of the trash companies and find new ways to provide relief to customers.
Bonin, who represents coastal neighborhoods, said city officials should look at tapping some of the franchise fees from the program to deliver financial help to customers. Koretz, in turn, has raised the prospect of firing trash companies that continue to rack up a significant number of missed collections.
"We should look at giving one or two companies that have done the worst job another month or two," he said earlier this week. "And if they don't get to where we expect them to be, we terminate their contract."
Koretz said he would be willing to go to court, if necessary, to get trash haulers to stop imposing some of the extra fees that the city views as improper. The increases to customers' bills, he said, have been "substantially larger than we ever dreamed possible."
Daniel Yukelson, executive director of the Apartment Assn. of Greater Los Angeles, put the blame for the program squarely on council members. City lawmakers, he said, failed to properly vet the program before they approved it.
"To say that they're surprised by the increased costs — that's egregious. It's just wrong," he said. "They should have known."
Twitter: @DavidZahniser
---
UPDATES:
8:25 p.m.: This article was updated with details from the committee hearing.
This article was originally published at 1:05 p.m.
Sign up for Essential California for news, features and recommendations from the L.A. Times and beyond in your inbox six days a week.
You may occasionally receive promotional content from the Los Angeles Times.