Event honors Martin Luther King Jr. at Lunada Bay, once home to discrimination and harassment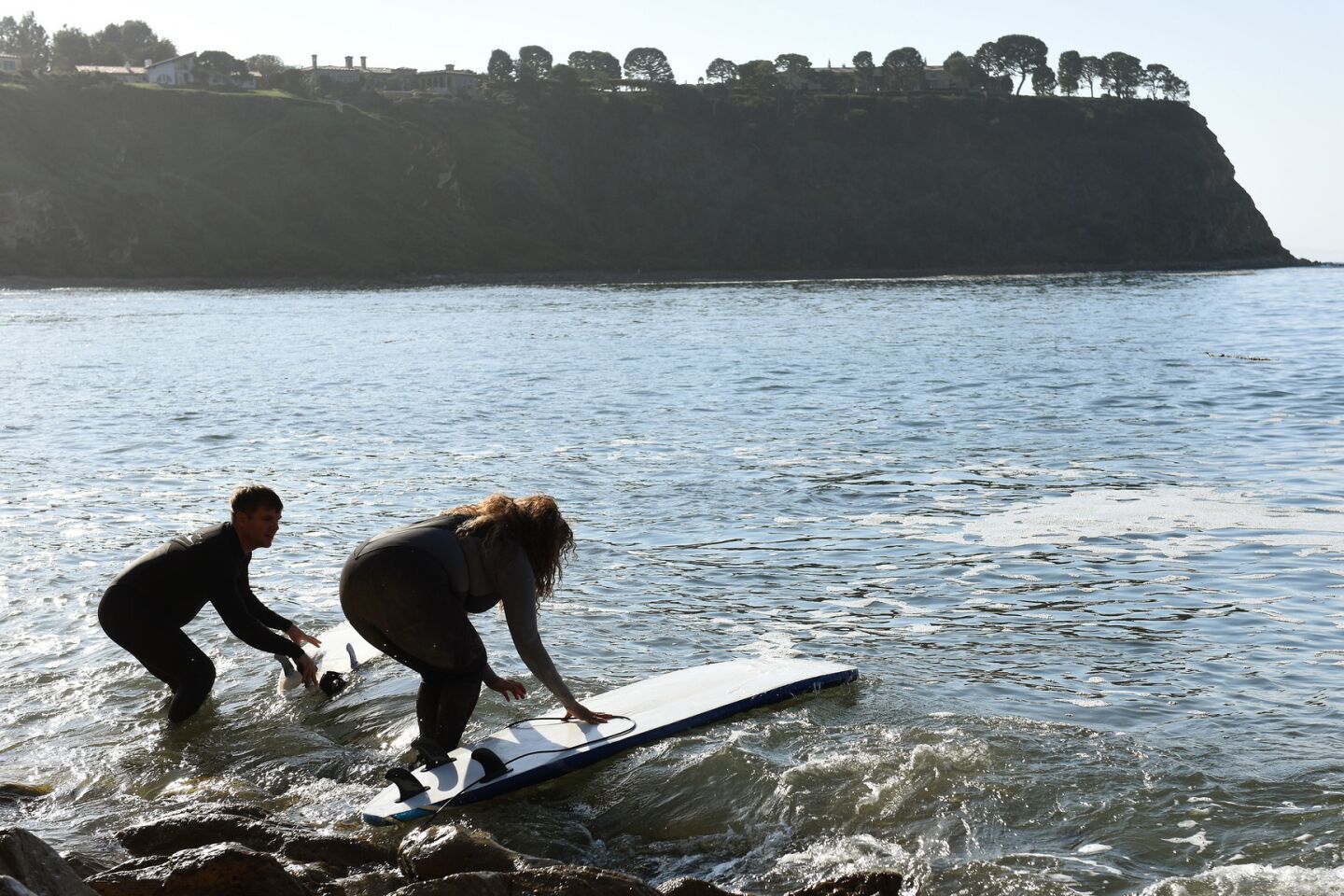 Brian Jones of Los Angeles and Mimi Miller of the South Bay head out to surf.
(Michael Owen Baker / For The Times)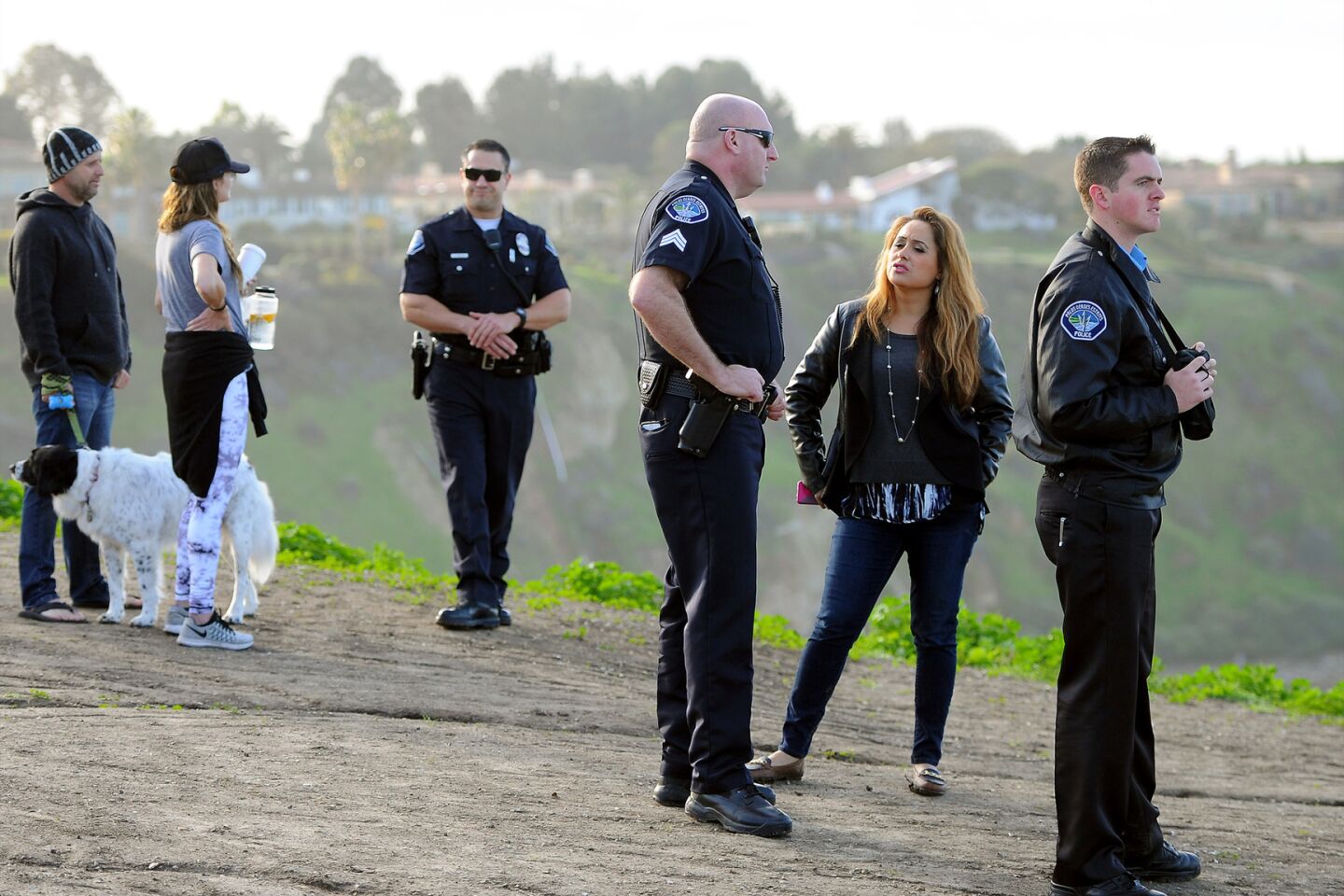 Palos Verdes Estates police keep an eye on the scene during a Martin Luther King Day surf event at Lunada Bay.
(Michael Owen Baker / For The Times)
Andrew Ebert gets ready to put on his wetsuit over his wave tattoo.
(Michael Owen Baker / For The Times)
Mike Edwards, left, and Andrew Ebert put on their wetsuits before surfing at Lunada Bay.
(Michael Owen Baker / For The Times)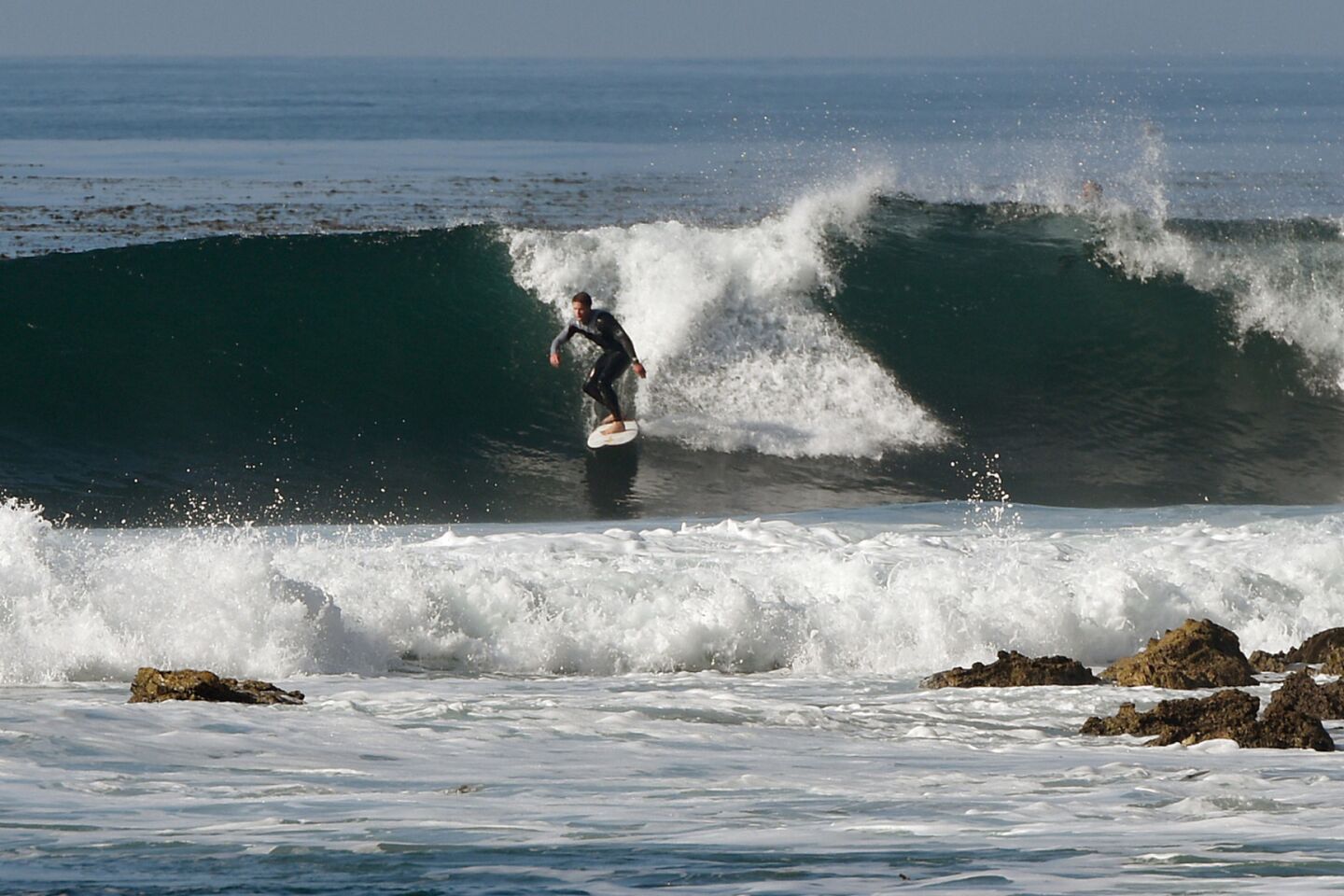 Mike Edwards rides a wave at Lunada Bay during a Martin Luther King Jr. Day surf event.
(Michael Owen Baker / For The Times)
Maki Namikawa of Torrance heads down a path in the bluffs at Lunada Bay.
(Michael Owen Baker / For The Times)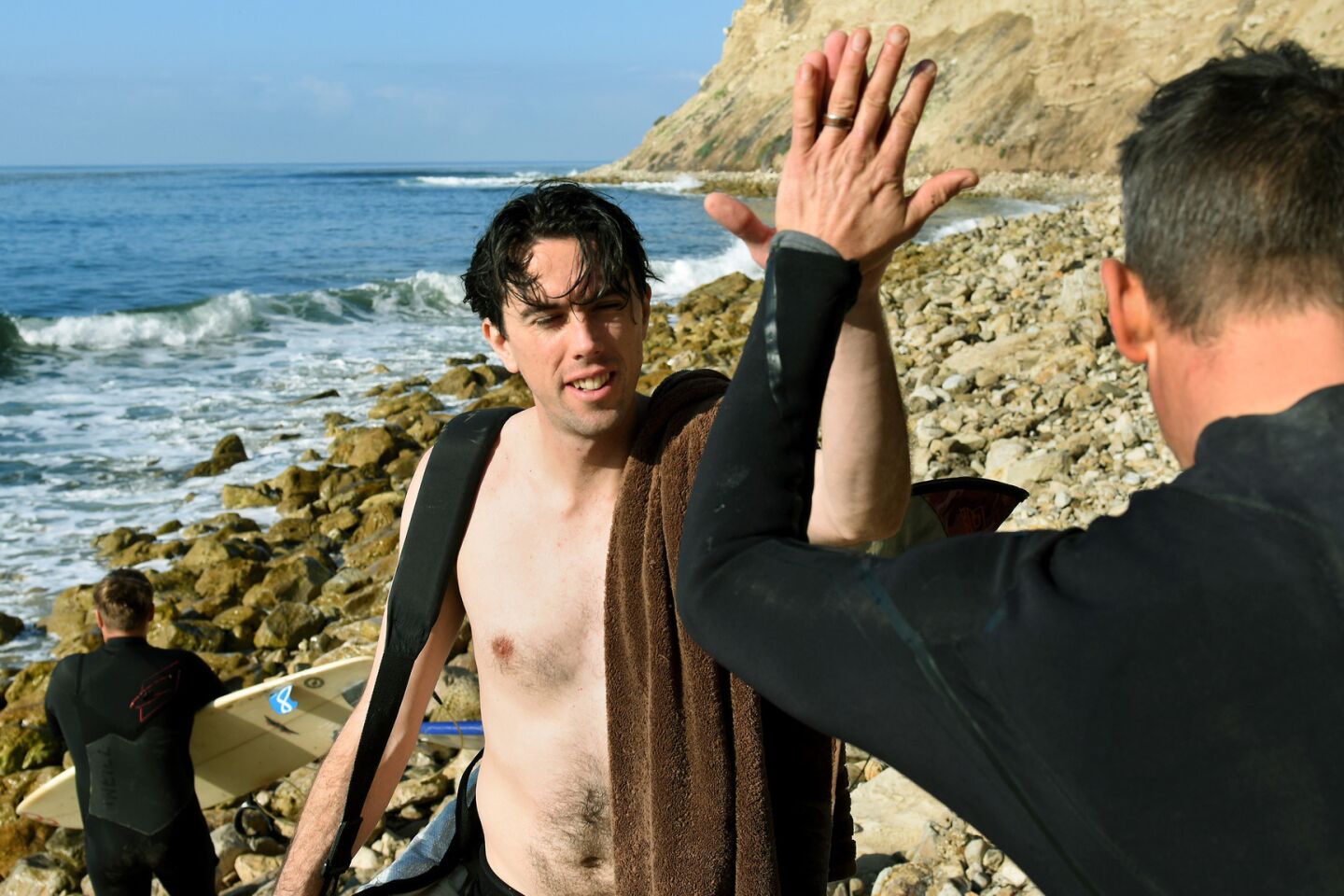 Grant Hartwell of San Pedro high fives Jason Linder, right, after surfing at Lunada Bay.
(Michael Owen Baker / For The Times)
There was a sense of relief on Martin Luther King Jr. Day among the surfers at Lunada Bay in Palos Verdes Estates, a heavily localized point break where outsiders have not been welcome for decades.
Gone were the so-called Bay Boys, known for intimidating and harassing visitors in order to keep the well-shaped waves all to themselves.
"I was forbidden from surfing here," said Dave Leuck, who grew up in Redondo Beach, as he prepared to get into the water. "This is a necessary exercise."
Leuck was among the scores who gathered Monday at Lunada Bay to celebrate the civil rights icon and protest the intense localism that has dominated the scenic surf spot.
For years, surfers have complained of harassment, intimidation and vandalism of their vehicles at the hands of Bay Boys.
But on Monday, the rocky shore and bluffs of Lunada Bay were visited by a steady stream of surfers and beachgoers from across Southern California, under the watchful eye of local police.
"It's a pretty good turnout," said Christopher Taloa of Los Angeles, a former professional bodyboarder and actor who helped to organize the event. "I didn't think it would take all this effort to get to this beach."
Three years ago, Taloa planned a similar event to honor King. But as he took to the ocean, he said, members of the Bay Boys kicked him and forced him underwater.
One person who confronted him wore blackface and an Afro wig, Taloa said, and told him: "You don't pay enough taxes to be here."
Complaints about the Bay Boys have become well-known over the last few decades: incidents of slashed tires and assaults in the water — sometimes coordinated by walkie-talkies from a stone structure adjacent to the break.
That kind of harassment "should not happen anymore," said Taloa, who on Monday helped people get down the bluffs and greeted surfers at the top after they got out of the water. "A guy should be able to have fun without an issue."
In lawsuits filed in state and federal court last year against Palos Verdes Estates and 10 people alleged to be members of the Bay Boys, a group of petitioners claimed the surfers had intimidated and accosted outsiders for years and that the city had done virtually nothing to stop it.
A court hearing scheduled for next month will determine whether the federal case becomes a class-action lawsuit, which would allow more people to join the claims against the defendants.
"This is the safest day to surf here in 35 years," said El Segundo Police Officer Cory Spencer, who jointly filed the lawsuits. He added that he knew many of the Bay Boys by sight but didn't see any of them Monday.
On the bluff above the surf spot, the Coastal Protection Rangers — a nonprofit organization dedicated to preserving public beach access — sold T-shirts and handed out brochures. At the table was Justin Massey, the mayor pro tem of Hermosa Beach.
Lunada Bay "is public coastline that should be accessible," Massey said. "This is a small step to ensuring safe public access to the bay."
Last month, at the urging of the California Coastal Commission, the city hired a wrecking crew to dismantle the stone "fort" that local surfers had built without permits at the base of the steep cliffs. During the demolition, vandals damaged equipment and trucks used by the contractor.
City officials say they also have increased the police presence in the area.
"I heard it was open today, so we had to come," said Maki Namikawa of Torrance after climbing back up the cliff, carrying a surf board with white polka dots. "This is amazing."
With the waves improving as the morning wore on, Spencer asked Theo Encarnado of Redondo Beach if he was going to surf.
"Absolutely," said Encarnado, who recalled that he had been harassed by surfers at the spot 12 years ago and encircled by them on the way back to his car. "It was a weird vibe."
Follow me on Twitter @LADeadline16
ALSO
Martin Luther King Jr. fought for more than civil rights. This was the protest less remembered
South L.A. Kingdom Day Parade celebrates Martin Luther King Jr.'s legacy and teachings
A 'fort' built by accused Lunada Bay surf bullies has been demolished — will it end their localism?
The stories shaping California
Get up to speed with our Essential California newsletter, sent six days a week.
You may occasionally receive promotional content from the Los Angeles Times.