Lunar New Year is morphing into an all-American holiday with taco trucks, beatboxing and beer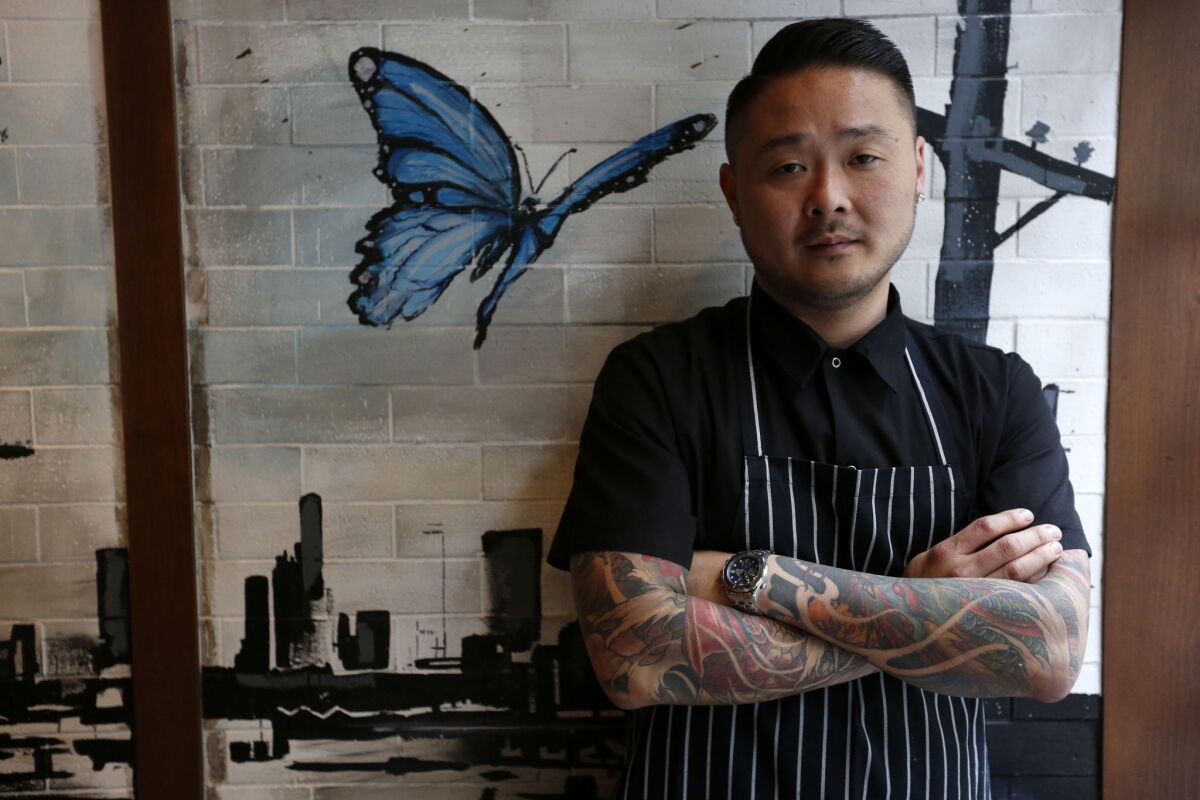 Tin Vuong's Lunar New Year celebrations have evolved since his older relatives passed away.
The kids play with iPads instead of Nintendo 64, and the TV remote and the couches are no longer covered in plastic wrap. And Vuong, a celebrated chef with several restaurants across the city, is stuck with most of the cooking.
But his family still hangs red envelopes on tangerine trees and cleans the house even though they may not believe that it will bring them luck. They plaster red posters stamped with Chinese characters around the house even though the grandparents who insisted on it have died.
See the most-read stories this hour >>
Celebrating the holiday is less about superstition than it is about celebrating "who we are," Vuong said.
"I learned all the good things and all the bad things I know from Chinese New Year's," Vuong said. "Drinking, gambling, respect for elders, religion, tradition. Everything about me was centered around this."
Youth from Lee Shin Tae Kwon Do perform at the Lunar New year Festival on Feb. 6 in San Gabriel.
(Gina Ferazzi / Los Angeles Times)
Lee Shin Tae Kwon Do members perform high kicks on stage at the Lunar New year Festival in San Gabriel.
(Gina Ferazzi / Los Angeles Times)
Attendees at the Lunar New year Festival watch Lee Shin Tae Kwon Do members perform.
(Gina Ferazzi / Los Angeles Times)
William Zin finishes his chalk art commemorating the Year of the Monkey at the festival.
(Gina Ferazzi / Los Angeles Times)
A new generation of Asian Americans is forming its own relationship with the Lunar New Year, an Asian holiday that's in the midst of becoming an Asian American one. They puzzle through the holiday's exacting customs as a celebration of ethnic pride rather than out of adherence to superstitions about luck.
And many are coming up with their own versions.
Chinatown's 117-year-old Golden Dragon Parade will have a Kogi taco truck and a mariachi band join the procession. The majority-Chinese city of San Gabriel is offering beatboxers, beer and breakdancers alongside Chinese food and a dragon dance this year, and rapper MC Jin will headline the festival Saturday.
"There's a surge of confidence and pride in Asian American culture right now," said Minji Chang, executive director of Kollaboration, an Asian entertainment collective and talent show. "We're not just standing around learning lion dancing. We're pursuing our own art and creating our own stuff."
See more of our top stories on Facebook >>
The evolution is happening as mainstream representations of the Lunar New Year are on the rise. This year the NBA released a promotional video in which Steph Curry, Jeremy Lin and James Harden sit down to dinner with a Chinese family and outfitted some of its players with custom-made Chinese New Year's jerseys.
On Tuesday, the latest episode of the sitcom "Fresh Off the Boat" depicted the Huang family trying to cobble together the pieces of a traditional Chinese New Year's celebration in white suburban Orlando, Fla., with mixed results. In one scene, the dragon dance is performed by a cartoonish high school mascot.
Lunar New Year can be a difficult holiday to get right, said Gay Yuen, acting executive director of the Chinese American Museum.
Fish, chicken and pork should be eaten whole, to symbolize beginnings and endings. Fruit is acceptable, but it has to be apples and oranges, not bananas or pineapples, because round shapes are luckier. Haircuts come before New Year's but never after. Cleaning the house before New Year's brings luck. Cleaning the house after sweeps it away. Don't shower on New Year's Day -- also unlucky.
The holiday is "Buddhist, Confucian and Daoist traditions, embraced and adapted through 5,000 years of Chinese culture," said Yuen. "We have a lot more stuff to deal with than a Christmas or a Thanksgiving."
Lunar New Year -- as interpreted by Los Angeles County's 500,000 American-born Asian people -- takes a few shortcuts. Nian gou, a sticky red bean cake, might be purchased in blocks from Asian supermarkets. Dumplings, which symbolize wealth, come in Styrofoam takeout containers instead of made fresh.
As time passes and older relatives die, the disconnect between the traditions and their meanings grows. But many young Asian Americans, like Vuong, began to take the holiday more seriously when they started their own families.
"As we grew older and have more kids, it's coming back around. It's come full circle," Vuong said.
San Gabriel Mayor Jason Pu, a second generation Chinese American, spearheaded the effort to bring a Lunar New Year festival back to San Gabriel, which had gone without one for nearly a decade. He said he felt the city, which is more than 60% Asian, should be recognizing the Lunar New Year. The festival is the city's attempt to make Lunar New Year hipper and more modern.
"This festival can serve as a symbol of how the city is trying to integrate its different histories and culture," Pu said.
As Lunar New Year celebrations around the country begin to reflect younger tastes, MC Jin has become a popular holiday act. He's performed at at least seven of them, and in 2014, he recorded a song called "Chinese New Year."
His lines don't cover red envelopes or house cleaning or any other Chinese New Year's tradition; the song is more of an anthem to Chinese identity, and he raps extensively about his parents' sacrifice and representing Chinese people in hip-hop.
"The finer points of the traditions, even that is secondary to the most important thing, which is just being with family, just sitting around, talking about absolutely nothing," MC Jin said.
ALSO:
Meet the unusually aggressive mosquitoes carrying Zika
Judge is censured for failing to share military benefits with his ex-wife
Santa Ana conditions to bring powerful winds, dry and warm conditions to L.A.
The stories shaping California
Get up to speed with our Essential California newsletter, sent six days a week.
You may occasionally receive promotional content from the Los Angeles Times.