Avalanche strikes crowded Mammoth Mountain: 'Essentially, the top of the mountain came loose'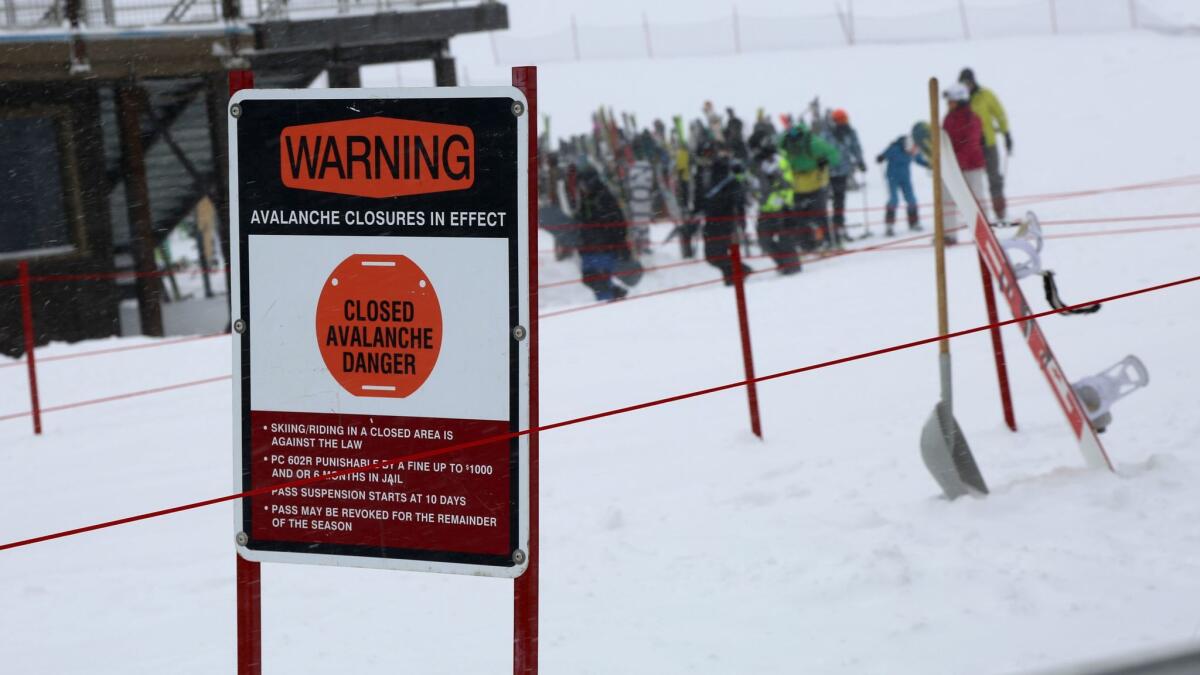 An avalanche at Mammoth Mountain early Saturday forced the closure of the popular ski area and triggered search and rescue efforts, officials said.
There were no reports of serious injuries or missing people, but emergency crews were activated, officials said.
The ski patrol was conducting avalanche hazard mitigation work when the avalanche occurred about 10:15 a.m. on the upper part of the mountain near the High Five Express chairlift area, Lauren Burke, public relations manager for Mammoth Mountain, said in a statement. Such work usually involves the use of explosive devices to demolish dangerous snow piles.
The snow slid down Climax, a steep run for experts, and funneled into a narrow chute named Upper Dry Creek before coming to a stop at the base of the chairlift, Burke said.
While the area where the ski patrol was working was closed to skiers, six Mammoth employees at the lift "were partially caught but freed themselves quickly, suffering only minor injuries," Burke said in a statement.
In addition, Burke said "a powder cloud" from the avalanche continued about 100 yards into an area that was open to skiers and boarders, where two guests were partly caught. They both freed themselves quickly.
Rescue operations, which included the use of search dogs, were immediately activated.
The area where the ski patrol had been working was closed to skiers at the time of the incident, Burke said. Falling avalanche debris reached the bottom of the lift and ultimately an area open to the public, Burke said.
Upon hearing reports of the avalanche, Mammoth Hospital summoned about 20 extra doctors and nurses into work, but as of late Saturday afternoon the hospital had not received any patients related to the event, according an emergency room nurse who declined to give his name.
"The reports we are getting is that all employees have been accounted for, and no one has called in the number for missing loved ones," he said.
Mammoth Mountain is in California's Sierra Nevada range, about 300 miles north of Los Angeles. A recent storm brought up to 5 feet of snow to mountain areas.
The slopes were extremely crowded Saturday morning with people taking advantage of the new snowfall. As the sun came up, visitors could hear explosions on the mountain indicating that workers were using a cannon and other equipment to break up snowy overhangs that had developed overnight and could fall, triggering avalanches.
Skiers realized there had been a disaster on the mountain about 11 a.m., when chairlifts came to an abrupt halt and the air was suddenly filled with the sound of sirens blaring as emergency responders and ambulances streamed up to the resort, a witness said in an interview with The Times on Saturday.
"I was waiting to board a ski lift when it suddenly stopped working," said Barbara Maynard of Los Angeles. "Suddenly, it was pandemonium everywhere you looked. Ambulances, police vehicles and fire engines were rolling into the area. Simultaneously, Mammoth Mountain staffers and ski patrols were roaring up the slopes on snowmobiles."
Many people were probing for buried skiers and snowboarders on the Comeback Trail, which cuts past Chairlift 5, she said.
"Shortly before the slide, that area was very crowded," Maynard said. "Essentially, the top of the mountain came loose in a major avalanche."
Maynard said all members of the Mammoth Mountain ski racing team, including her 13-year-old daughter, got off the mountain safely.
Lucas Dunn was skiing down from Chairlift 16 when he saw snow pouring down what appeared to be a closed run near Chair 5, the area called High Five Express.
"I skied down to see what was going on, and at that point, you could see a bunch of broken trees and all the fencing had been taken out. You could see snowmobiles flipped and buried," said Dunn, the social media manager at Footloose Sports, a sporting goods store in Mammoth Lakes. He said the men riding the snowmobiles appeared unhurt and were doing a head count as he passed by.
The avalanche "descended the mountain much farther than anything I've seen previously," he said.
Afterward, the mountain was shut down, and a throng of motorists began making their way down into town in white-out conditions. As cars crept down the winding roads, Dunn said, more than 15 ambulances, their sirens screaming, made their way up the hill toward the site of the avalanche.
"That was the most unnerving part," he said.
John Williams, 46, a longtime resident of the area, said he was among a group of friends preparing to board Chairlift 22 when "the operation suddenly stopped loading, leaving more than 150 skiers wondering what was going on."
"We hiked about 15 minutes to the parking lot, where local emergency mayhem had broken out," Williams said. "There were people trying to get out any way they could; some were waiting for buses, others were sharing rides and more than 100 just started skiing down Minaret Road, the main highway to the bottom of the mountain.
"Driving down two-lane Minaret Road was tricky and a little dangerous," he said. "Traffic was closed uphill to all but emergency responders. The downhill lane was jammed with cars, trucks and skiers traveling about 5 miles per hour."
The varying consistency of the snowpack deposited over the area by recent storms already was a topic of conversation among locals concerned about the potential for avalanches.
Thursday night, a heavy layer of wet snow accumulated over a few feet of cold, light snow. On Friday night, the heavy wet snow was covered with another fresh layer of cold, light snow.
That combination, locals say, can result in layers of ice and light snow that fail to adhere and are thus prone to sliding.
Details of the avalanche were hard to come by throughout the day, even for residents of nearby communities that are home for the ski resort's staffers.
"There was nothing on local police, fire or emergency websites," said Stephanie Cooper, who lives in the area during the winter. "Mammoth Mountain's website finally said in its Daily News section that 'All lifts are currently closed,' but went on to talk about the great snowfall."
Although there were no confirmed reports of missing people, anyone who is aware of missing friends or family is asked to call authorities at (760) 934-0611.
Mammoth will remain closed Saturday, Burke said.
"We expect to return to normal operation" Sunday, she said. "Full investigation is ongoing, and more details will come."
---
UPDATES:
9:05 p.m.: This article was updated with new information from Mammoth Mountain officials about the path of the avalanche.
5:15 p.m.: This article was updated with new information from Mammoth Mountain officials.
3:20 p.m.: This article was updated with new comments from a resident in the Mammoth Mountain area.
2:30 p.m.: This article was updated with new information from Mammoth Mountain officials, including the length of the expected closure.
1:50 p.m.: This article was updated with new information from Mammoth Mountain officials and witnesses.
12:50 p.m.: This article was updated with new comments from witnesses.
12:10 p.m.: This article was updated with new comments from witnesses.
This article was originally posted at 11:50 a.m.
Sign up for Essential California for news, features and recommendations from the L.A. Times and beyond in your inbox six days a week.
You may occasionally receive promotional content from the Los Angeles Times.