Mayor's Fund releases 2016 spending report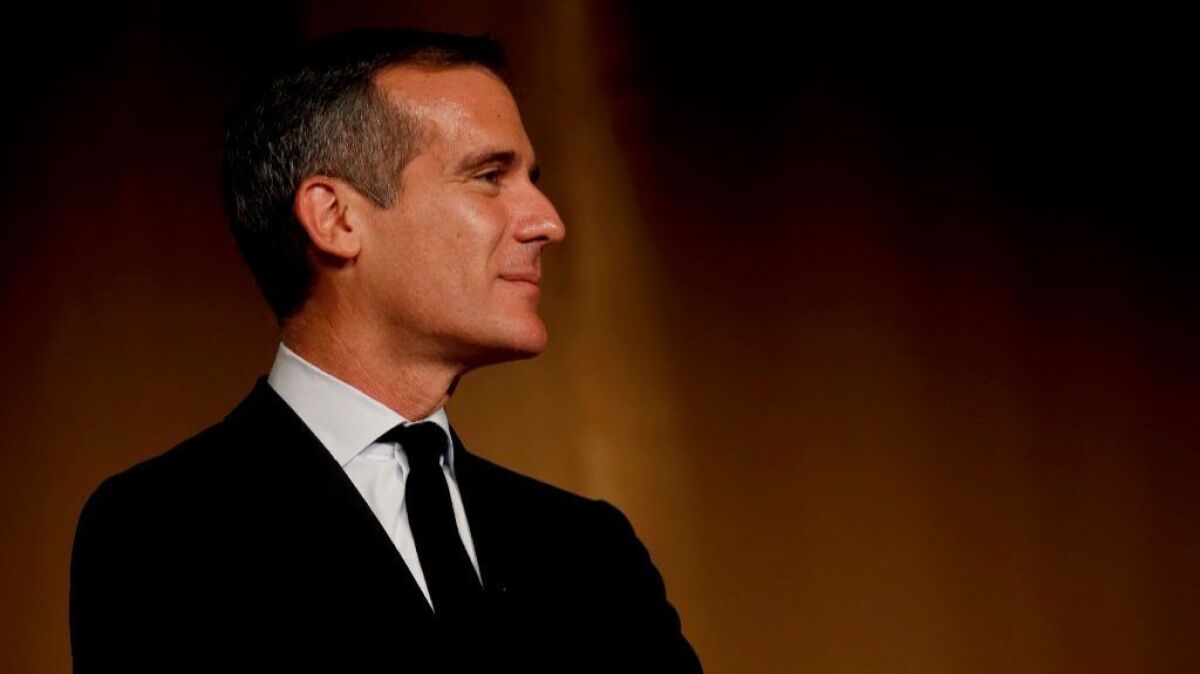 A nonprofit created by Los Angeles Mayor Eric Garcetti to fund local civic programs slowed fundraising efforts in its third year and sped up spending, according to tax records set to be filed Friday with the federal government.
The Mayor's Fund for Los Angeles raised $3.4 million and spent $8 million in the 2016-2017 fiscal year. In the previous year, the fund raised $12 million and spent $6 million.

For the record:
7:55 a.m. Dec. 15, 2017An earlier version of this article identified L.A. Mayor Eric Garcetti's chief of staff as Ana Guerrera. Her name is Ana Guerrero.
"We didn't focus on fundraising substantially last year," said Mayor's Fund President Deidre Lind. "What we focused on is spending the money that we've raised to date and on actually driving, doing our programs."
According to filings, more than $2.7 million was spent on anti-gang initiatives, while $1 million went to a planned arts plaza near downtown.
Money also went to Fuse Corps, a nonprofit focused on helping local governments, the Los Angeles Fire Department Foundation, Los Angeles Parks Foundation and other organizations.
Wages and salaries for the Mayor's Fund's full-time staff of five, plus temporary employees, topped $1 million.
The fund was started in 2014 by Garcetti and is modeled after a similar program launched by former New York Mayor Michael Bloomberg.
With its office located in City Hall, the fund plays an unusual role. The nonprofit isn't funded by the city budget, but staff members work with department heads to advance the mayor's priorities and Lind said she meets regularly with Garcetti's chief of staff, Ana Guerrero.
The Mayor's Fund directed money last year toward a veterans homelessness program, for instance, because the issue is important to Garcetti, Lind said.
Donations and grants come from individuals and outside groups, and contributions aren't limited by city campaign finance rules.
That dynamic has raised red flags among ethics watchdogs, who argue that donors might give to the Mayor's Fund to curry favor with the mayor.
Lind said the nonprofit seeks to avoid accepting donations from firms with pending business before the city. The fund declined to partner with Microsoft in 2014 because at that time, the company was seeking a city contract, Lind said.
Major donors to the fund this past fiscal year include Disney Worldwide Services, which gave $1 million. Other big-money donors included the Roth Family Foundation, a fund established by several of Garcetti's relatives, and La Vida Feliz, which funds arts, education and community projects.
Tronc, which owns The Times, donated $10,000 to the Mayor's Fund, city filings show.
The fund has raised $32 million since its founding, Lind said.
Twitter: @dakotacdsmith
The stories shaping California
Get up to speed with our Essential California newsletter, sent six days a week.
You may occasionally receive promotional content from the Los Angeles Times.