Maywood residents worry about health hazards posed by nearby industries
Yesenia Jaramillo, her husband and their three children were delighted when they moved into the house on East 52nd Street in Maywood in 2009.
The squat, cream-colored house had four bedrooms, two bathrooms and a tree full of oranges in the yard. Most importantly, the price was right: $1,300 a month. For Jaramillo, who worked as a cleaning lady, and her husband, a tour bus driver, it was the best they could afford.
There was only one catch: directly behind the house was a scrap metal recycling facility, Panda International Trading Co.
"At six in the morning, they would start the machines," Jaramillo said of the plant. "I could feel the ground moving. Many times the pictures on my walls would fall down—I would find them later behind the bed or couch."
Jaramillo said it was so bad she even went to Maywood City Hall to complain, but she was told nothing could be done.
"I feared every day that something could happen," she said. "I told my husband we're living in a ticking time bomb here, and we need to move as soon as possible."
I thought we were all going to die there.
— Yesenia Jaramillo, Maywood resident
But they didn't have the money.
Last Tuesday, the time bomb that Jaramillo feared finally went off. A large fire erupted at 2:31 a.m. at a neighboring plastics facility, then spread into the metal recycling yard. The blaze triggered explosions, blowing out windows and raining down debris on nearby homes, including Jaramillo's.
"I thought we were all going to die there," she said.
She and her family were among three hundred people evacuated from the neighborhood, with many seeking refuge at a Red Cross shelter set up at a local YMCA. Residents on Jaramillo's side of the block were told to expect to stay at the shelter for at least another week.
The fire is just the latest manifestation of industrial contamination in the residential community in Southeast L.A. County. Maywood, a working-class city of about 28,000 people, almost all of whom are Latino, is bordered on all sides by industry, including rail yards, plastics manufacturers, gas companies and, perhaps most well-known, Exide Technologies.
As recently as two months ago Maywood residents were still having their soil cleaned up and their children's blood tested for evidence of lead contamination from the battery smelter.
"This is definitely a pattern," said Xugo Lujan, a community organizer with the nonprofit advocacy group East Yard Communities for Environmental Justice, of the industrial contamination. "We see incidences of this constantly."
52nd Street resident Fatima Hernandez retrieves belongings from her home adjacent to a metal recycling facility that burned in Maywood last week.
(Brian van der Brug / Los Angeles Times)
52nd Street resident Maria Vasquez retrieves belongings from her home adjacent to a metal recycling facility that burned in Maywood.
(Brian van der Brug / Los Angeles Times)
52nd Street residents Jonathan Saldana and girlfriend Susan Ortega retrieve belongings from their home adjacent to the Maywood recycling facility that burned.
(Brian van der Brug / Los Angeles Times)
Firefighters respond to an explosive three-alarm fire at a Maywood warehouse last week.
(Dillon Deaton / Los Angeles Times)
Los Angeles County firefighters clear brush at a residence in the 3500 block of 52nd Street to fight the fire from the back of a smoldering Maywood warehouse.
(Irfan Khan/Los Angeles Times)
Firefighters spray water from the roof of a Maywood warehouse where an explosive fire burned earlier this month.
(Irfan Khan/ Los Angeles Times)
A hazardous-materials crew tests for chemicals at the fire scene in Maywood.
(Dillon Deaton / Los Angeles Times)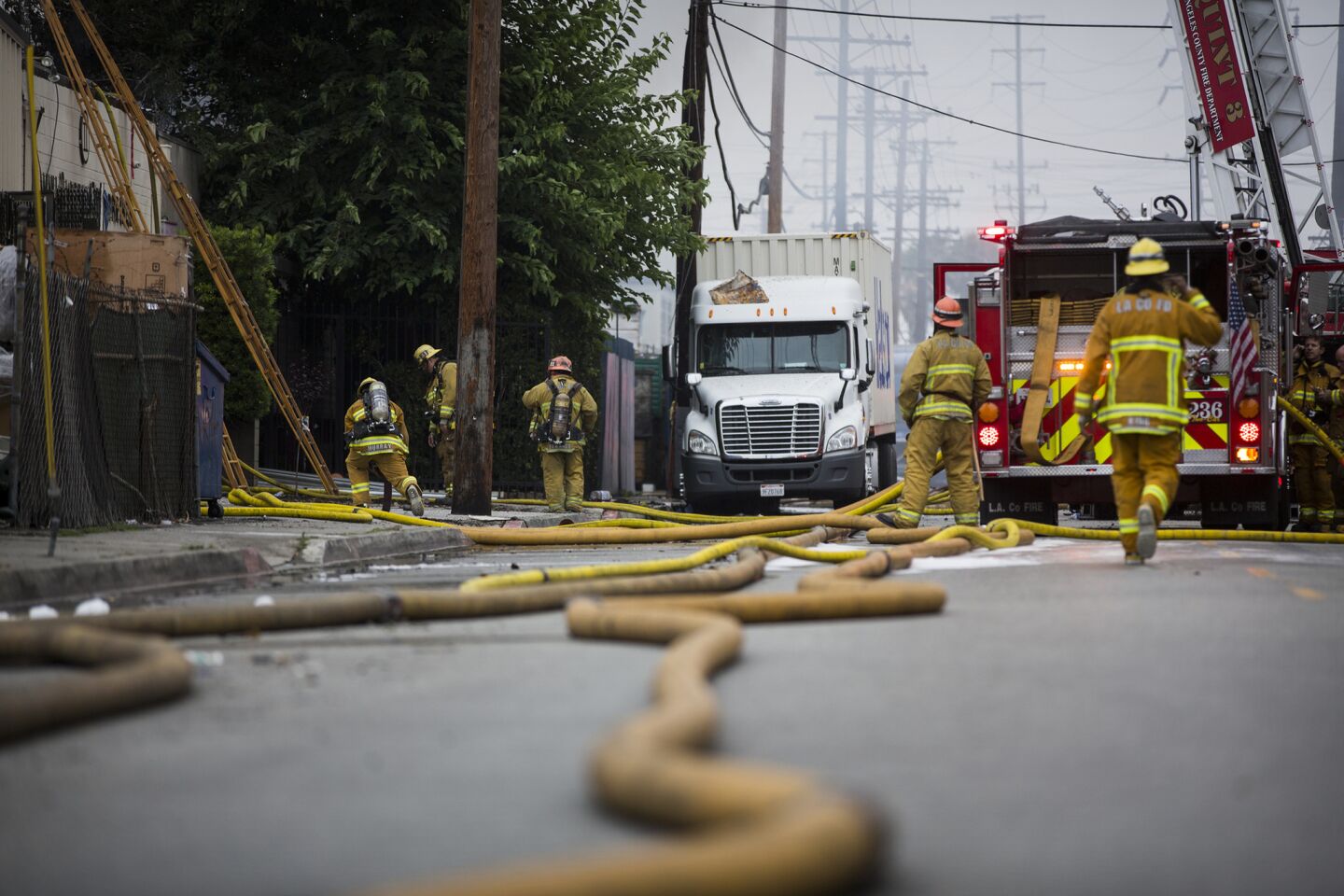 Firefighters respond to an explosive three-alarm fire at a Maywood warehouse last week.
(Dillon Deaton / Los Angeles Times)
But with so many industries operating in the area, Lujan said, it's difficult to keep track of them all, and the scrap metal recycling company "wasn't even on our radar."
For many Maywood residents, the same was true.
"Until now, until today, I didn't know what that company was doing," said Sergio Flores, who lives around the corner from the recycling facility with his wife and two daughters in a house he bought 16 years ago.
Next door, María Sepúlveda, a mother of two, said she knew of the facility's existence, but never guessed what was going on inside. "I didn't think they had this dangerous chemical," she said. "Now we don't feel safe. Imagine—at any moment that thing could explode."
Flores, Sepúlveda and other residents said they had regularly smelled foul odors wafting over from the direction of Panda and other plants, including Gemini Plastics Inc., and Farmer John, a meatpacking plant in neighboring Vernon.
Lujan said the community had also been dealing for years with strong odors coming from Baker Commodities, a rendering and grease removal plant in Vernon.
"Here one doesn't know what the smell of fresh air is," said Jose Moral, who grew up in an apartment on East 52nd Street. "We live in a really polluted city, but because of our situation, we don't really have a choice. We just have to push through it."
Moral was referring to basic economics. Most of the people who live in his 13- unit apartment building work for daily wages in construction, housekeeping or even factory work at plants like the ones polluting their neighborhood, Moral and other residents said. A one-bedroom apartment in his building rents for $725 to $775 a month, and a two-bedroom apartment rents for $850.
That cheap rent is the primary reason most residents are unable to move away.
"One does it for necessity," said Francisco Avalos, another tenant of the building who has lived in the neighborhood for almost 40 years.
Maywood's streets are lined with single-family homes, many of which are decorated with dream catchers and plastic flowers. Playpens and children's bikes can be seen strewn about otherwise tidy front yards.
"I have many beautiful memories of that house," Jaramillo said of the property she rented. "Both my daughters celebrated their quinceañearas in that house."
Many residents said they don't mind having manufacturing plants nearby because they are a source of employment for many. But they said they do worry about potential health hazards.
Just two months ago, Flores said, state officials came to test the soil outside his house as part of the Exide clean-up effort. They found elevated levels of lead.
Flores said he and his family members haven't experienced any health symptoms, but he worries about what might happen in the future.
Flores works at Plasticolor Molded Products Inc., which manufactures floor mats and other plastic products. At work, he said, he wears a mask and gloves, and all around the factory there are warning signs about the hazards of chemicals.
Flores said companies like Panda shouldn't be so close to homes, but financial realities made Maywood's proximity to such industries the least of his worries.
Residents like Flores rarely complained. Ray Gaudron, a permit technician with the city of Maywood, said he couldn't recall receiving any complaints in the past two years about air quality or disturbance from businesses from residents near Fruitland Avenue, where Panda is located.
One reason for that, Lujan said, is that people have gotten used to living in industrial zones. "Our families have been living here for generations, so what that means is we've normalized living next to contamination. It's normal to smell something funky every day at 6 or 7 p.m. It's normal to have a railyard behind your high school."
Another reason is a lack of trust in local government. Maywood has been plagued by corruption and poor management in recent years; in 2010 the city outsourced all of its services and laid off most of its employees.
"We've practically lost faith in the city," Moral said. "When this [fire] happened, we just thought of getting out of here."
Jaramillo wishes it were different. Since the fire, she and her family have been going back and forth between the YMCA and relatives' homes. "If I had money, I would have gone to a hotel to not bother my family," she said.
Jaramillo says she won't go back to the house on 52nd Street even after officials deem it safe.
"Definitely we're going to look for a new place to live," she said. "I don't know where yet, but I know for sure it will be far away from there. Very far away."
ALSO
Are the media complicit in mass shootings?
Chile embarrasses Mexico, 7-0, in Copa America quarterfinal
For the builder of Orlando's 49 memorial crosses, his craft from the heart is a familiar one
---
The stories shaping California
Get up to speed with our Essential California newsletter, sent six days a week.
You may occasionally receive promotional content from the Los Angeles Times.