Jury hears 2010 police interview of man later charged with killing McStay family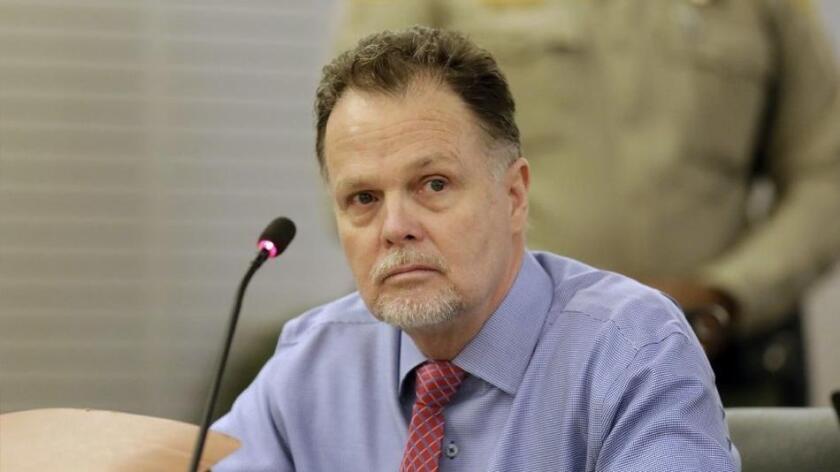 Reporting from San Diego —
With a business partner and his family missing, Charles "Chase" Merritt sat down to talk to San Diego County sheriff's detectives on Feb. 17, 2010.
It had been 13 days since anyone had heard from Joseph McStay, 40; his wife, Summer McStay, 43; and their two young boys, Gianni, 4, and Joey Jr., 3.
Joseph McStay sold indoor water fountains, and often hired Merritt to build them.
"I don't know of anybody that has anything to gain by Joseph being gone," Merritt told investigators, according to an audiotape of the interview. "Everybody I know has everything to lose. This business centers solely around Joseph."
He told investigators McStay was his best friend.
Merritt was the last person known to have seen McStay on Feb. 4, 2010. He was also among the first to raise the alarm that the couple and their sons were missing.
Years later, after their bodies were found in shallow graves in the San Bernardino County desert, Merritt would be charged in their deaths. Investigators believe the family had been bludgeoned with a three-pound sledgehammer found in one of the graves. Merritt has pleaded not guilty.
Last week, jurors in San Bernardino Superior Court listened to audio of the interview between Merritt and sheriff's detectives. Prosecutors played it during the third week of the trial for the 61-year-old Riverside County man.
The McStay family disappeared in February 2010, less than three months after they had moved to Fallbrook in northern San Diego County. Days later, their car was found abandoned in a San Ysidro parking lot.
After years of investigation, authorities came to suspect they had intentionally gone to Mexico.
Then in November 2013, the remains of the couple and their sons were found buried near Victorville.
Merritt — who had long ties to the Victor Valley — was arrested a year later. Prosecutors say he siphoned money from McStay's business accounts around the time the family vanished.
The San Diego Union-Tribune has monitored the trial by watching livestream coverage from Law & Crime, a website specializing in live trial coverage. Last week, jurors heard Merritt's audiotaped interview with the San Diego County sheriff's detectives initially assigned to the case.
Near the start of the questioning, Merritt acknowledged that he had an outstanding arrest warrant, but said he agreed to talk to the investigators because the warrant "is a lot less important than Joseph and his family."
"Joseph was one of my best friends — not just a business associate," Merritt told the detectives.
Prosecutors have seized on Merritt's use of the past tense — "was one of my best friends" — when he talked to detectives about McStay. The family had been missing less than two weeks. It would be years before they would be found dead.
Merritt also spoke of his close relationship with McStay.
"Up until the fourth [of February 2010], I can't remember a day that I haven't talked to him," Merritt told investigators on Feb. 17, 2010. "Almost every day, 10 to 15 times [a day]. Been going on for at least two years."
Merritt said his work was responsible for about 75% of McStay's income, and that they "were working so damn close together."
But, Merritt said, with McStay missing, his own prospects would suffer.
During the first portion of the conversation, he also told investigators that McStay had been unhappy with another business associate, a man who handled the website for McStay's business, Earth Inspired Products, and was trying to buy him out. Merritt's attorneys have pointed the finger at that associate.
Other testimony that jurors heard last week addressed the discovery of the family's remains.
The panel heard from the man who was riding a dirt bike in the desert west of Interstate 15 near Stoddard Wells Road when he came across part of a child's skull and called 911.
The partial skull belonged to Joey Jr., who authorities said had been buried with his father. Summer McStay and son Gianni were together in a grave about 20 feet away.
Forensic anthropologist Alexis Gray testified about the family's remains. According to her, Summer McStay's jaw had been broken in two places by a single blow that came around the time of her death.
Figueroa is a staff writer for the San Diego Union-Tribune.
---
The stories shaping California
Get up to speed with our Essential California newsletter, sent six days a week.
You may occasionally receive promotional content from the Los Angeles Times.