Property tax for stormwater management appears headed for passage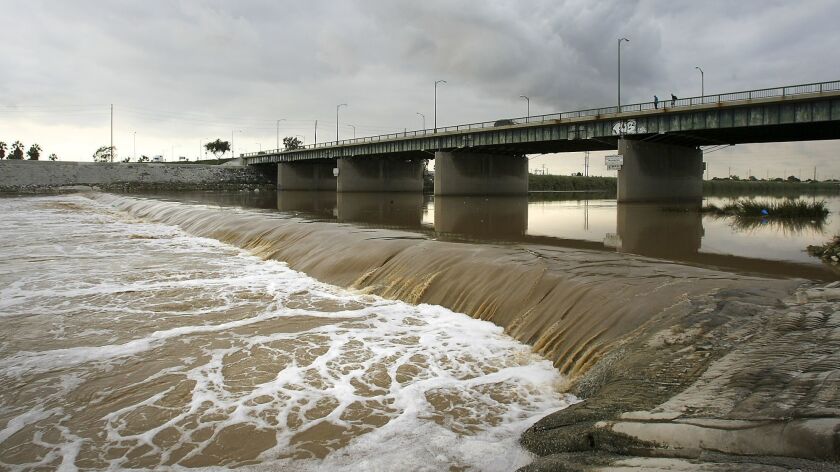 Measure W, a Los Angeles County parcel tax that would raise funds to capture and clean up stormwater, sat barely above the two-thirds vote total needed for passage Wednesday, with backers proclaiming victory.
With 100% of precincts reporting, the proposed new tax received 67.48% of the vote in Tuesday's balloting.
But an estimated 984,000 ballots, including provisional and mail-in ballots, have yet to be counted, according to the county clerk's office. With fewer than 2 million total votes counted initially, the outstanding ballots could affect the outcomes of Measure W and other races.
County leaders on Wednesday nonetheless hailed passage of the measure, which is expected to raise about $300 million annually for projects that will collect and clean stormwater before it gets discharged into local waterways or stored for local use.
The money will enable cities across L.A. County to comply with the federal Clean Water Act and associated state regulations. Proponents also have touted benefits to the local water supply.
"L.A. County currently loses an estimated 100 billion gallons or more of water during annual rainstorms…. We simply can't afford to let that water run down the drain," county Supervisor Sheila Kuehl said in a statement.
"Over two-thirds of county voters stated in one, clear voice that our increased water needs and changing climate means that every drop of water is precious. L.A. County looks forward to getting started on these infrastructure projects," Supervisor Hilda Solis said in the same statement.
Solis and Kuehl have worked for the last two years to bring Measure W before voters. It was the second time county leaders sought to levy a tax for stormwater.
The first effort, in 2013, died after meeting stiff opposition. But amid a multiyear drought followed by historic rainfall, they tried again, this time winning the endorsement of environmental advocates, labor, local government officials and some business groups.
The tax, expected to cost residential property owners about $83 a year, would be the fourth major countywide tax approved by voters in the last two years.
Others included Measures A, M and H, parcel and sales taxes to raise money for parks, transportation improvements and efforts to end homelessness, respectively.
The county clerk will provide an update on election results Friday and certify final results later this month.
Twitter: @AgrawalNina
---
UPDATES:
5:00 p.m.: This article was updated with the number of outstanding ballots that have yet to be processed.
This article was originally published at 2:50 p.m.
---
The stories shaping California
Get up to speed with our Essential California newsletter, sent six days a week.
You may occasionally receive promotional content from the Los Angeles Times.