How one Boyle Heights market is trying to be 'something that hipsters are into'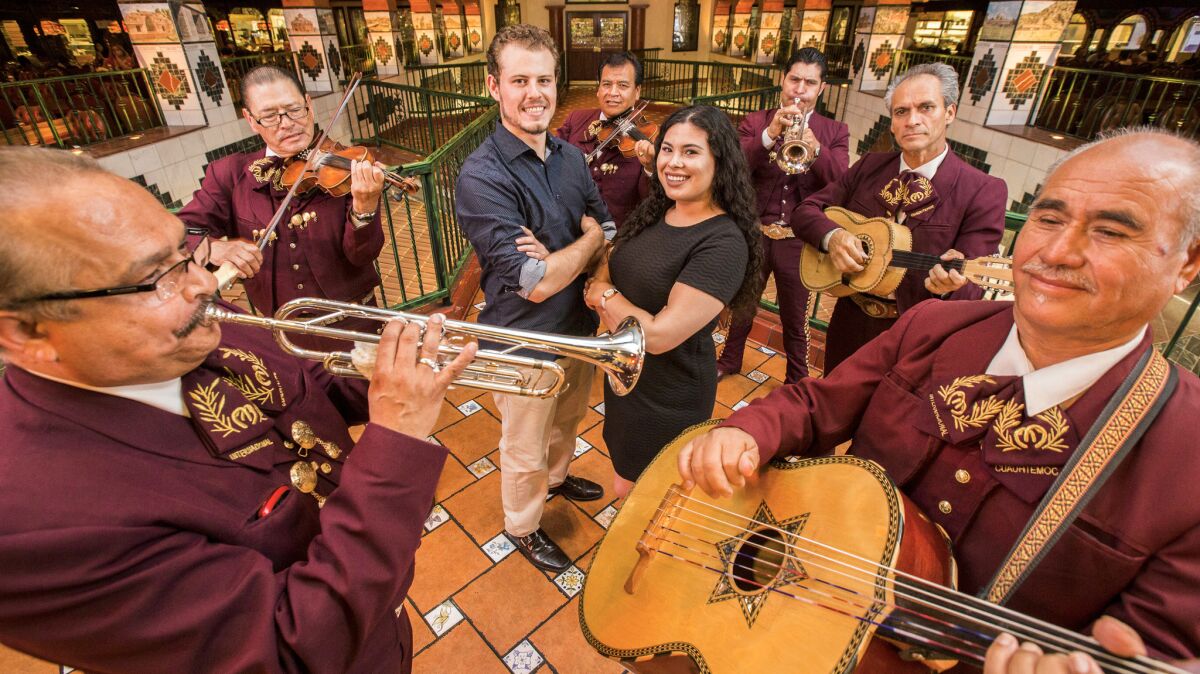 Pedro Rosado arrived in Los Angeles from Yucatan, Mexico, in 1968, the same year a three-story shopping center known as "El Mercado de Los Angeles" opened in Boyle Heights.
After laboring 80 hours a week for three years as a janitor and a truck driver, Rosado subleased and then bought a humble little bookshop amid a honeycomb of stalls – including shops that sell Mexican crafts and candy, a carniceria and a botanical shop – that were designed as a kind of love letter to Mexico. Eventually he purchased a restaurant on the top floor.
Around 1988, Rosado controlled the majority of shares of the market and he became the proud owner of El Mercado, also known as "El Mercadito," or little market.
Rosado died of cancer in December and management fell to his children – who unlike their father grew up with more American tastes that went beyond the confines of an iconic Eastside marketplace that had grown along with a boom in immigration from Mexico.
When Rosado's son, Tony, 25, beholds El Mercado, his mind races to the possibility of changes, including tequila tasting events and a bar that would sell craft beer, while uttering words that likely never crossed his father's lips: "Something that hipsters are into."
Rosado said he hopes to expand tourism to the market and advertise more in English to attract a more diverse crowd, including people from the Westside.
His vision embodies the idea of gentefication, a term coined to describe a change driven not by whites but by Latinos with higher incomes and education levels who often have connections to the neighborhood. But the mulled-over future of El Mercado also speaks to a demographic shift that has ramifications for how the second largest group in the U.S. sees its neighborhoods remade.
With a decline of immigration from Latin America, the Latino community is increasingly being defined by its American-born population. In Los Angeles County, the number of foreign-born Latinos dropped from 49% in 2000 to 41% in 2014, according to census data.
That echoes the broader trend in the U.S., where 40% of the Latino population was foreign-born in 2000. That number dropped to 35% by 2014.
"These demographics have redefined the market, for groups like El Mercadito," said Raúl Hinojosa-Ojeda, an associate professor with the UCLA department of Chicana and Chicano studies. "The question is, can they [the market] evolve with a new niche without losing what was the initial charm?"
In some cities, including Baldwin Park and Santa Ana, some Latinos have argued that in the past there has been an over-concentration of businesses geared toward immigrants, and not the subsequent generations of Latinos. Huntington Park leaders said they want to reinvent the Pacific Boulevard shopping district to make it more appealing to younger Latinos, while preserving its cultural past.
Once the home to Jewish, Italian, Japanese and diverse other people, Boyle Heights by the time that El Mercado was born was increasingly becoming a predominantly Mexican American neighborhood. Some activist groups have taken increasingly harder and louder stands against certain kinds of developments – including art galleries – that they see as opening the door to gentrification.
In Boyle Heights, the most striking examples of change have surfaced on the western side of the neighborhood closer to downtown L.A. – near Mariachi Plaza and a Gold Line station – where a wine bar, coffeehouse and bakery draw young, American-born Latinos.
Boyle Heights has not seen anything remotely like the gentrification that other neighborhoods, including Silver Lake and Highland Park, have experienced. But many of the residents have long felt that it's a neighborhood on the brink of a major change; For years there has been talk about transforming the 14-story Art Deco Sears, Roebuck & Co. building on Olympic Boulevard into a complex of condos, retail space and restaurants.
The shopping destination on East 1st street near Lorena Street has not been without its problems. Over the years, people complained about traffic congestion, trash, noise and public drunkenness. Eight years ago, neighbors opposed the elder Rosado's plans to expand the complex by acquiring a full liquor license and adding a dance floor and sports bar to the third floor. They said that El Mercado got rowdy at night and on weekends.
Tony Rosado said that what he envisions is not a radical change. He would preserve the core of the shopping center, he said. But Rosado said the crowds are no longer what they used to be, being mostly confined to the weekends, especially Sunday.
Rosado said pending getting a liquor license, the third-floor restaurant he oversees could evolve to have a broader appeal – with tequila tasting events that are broadcast over social media and a bar that sells craft beer.
See the most-read stories in Local News this hour >>
"We're going to try and evolve with the tastes of our customers, but at the same time stay true to our identity as an authentic Mexican place," Rosado said. "Us as managers here, the fact that we had that kind of upbringing, it parallels kind of that same strategy of staying true to our cultural identity, but at the same time evolving and changing things to meet the needs of these new customers."
Rosado said that hanging out with his friends, who mostly share his Mexican heritage, he sees that their tastes are distinct from those of their parents.
"I have some friends ... who are always looking for the hole-in-the- wall, hip place to go to," he said. "We're part of the next generation. We're moving forward from where our parents left off."
El Mercado began as a community-sponsored market, with brothers Ben and Arturo Chayra, door knocking in the Eastside, collecting donations and selling $1 shares.
The seed money helped the two secure a federal small-business loan to open the market during a time when the number of Mexican immigrants coming to the U.S. and Los Angeles – and especially neighborhoods like Boyle Heights – was growing.
At the corner of the market's parking lot is a large shrine for the Virgin of Guadalupe, where the devout leave candles and prayers for the brown-skinned icon.
Inside is a world of piñatas, sombreros, huaraches, folklorico dresses the colors of the Mexican flag, tortillas, cheeses, cowboy hats and countless Virgin Mary portraits. The first and second floor are devoid of sunlight, illuminated instead by the fluorescent lights that ramp up to temperatures that conjure sweat from customers. Songs from Mexican artists, like the legendary Vicente Fernandez, play over vendors' speakers. In the Botanica Reina de Mexico shop, customers can buy perfume touted for its ability to bring success, an oil to help bring back a lost lover and Te Nervios – a tea for stress.
Rigoberto Ascencio has worked in the market for 26 years, his father starting the Charreria Don Chava – a Mexican cowboy apparel shop. Standing underneath saddles hanging overhead, he said business has been tougher of late.
"The past two or three years, business has dropped," he said, though he added that "for me it hasn't dropped the same as the vendors around me."
The owner of the carniceria, Jose Luis Rojas, said business has gone down about 50% in recent years. He used to have four employees, and his stall used to be larger, he said. But Rojas said he could no longer afford the larger space – or the workers.
Maria Martinez, 54, has worked in the market for 24 years. She and her husband were selling in the street and the police chased them away and they came to the market and asked for permission to sell there. The couple sells CDs and also hats featuring the different states of Mexico.
"Ten years ago, you started to feel it," she said. "Business isn't like it was before."
She said she thinks several things, including competition, have caused business to drop. Martinez said she's not optimistic that changes drawing a more diverse crowd would help a lot.
"Americans only look, but they don't buy," she said.
As they walked through the second floor, after grabbing a meal, Sergio Flores, 28, and Alberto Tlatoa, 30, conceded they didn't visit El Mercado as much as they did when they were younger and their parents brought them a couple of times a month. Flores said he liked the idea of tequila tasting.
Tlatoa said he liked that El Mercado was still a familiar place from his childhood, unlike Grand Central Market in downtown L.A.. But change was inevitable, he said.
"The same traditions my family follows, I don't follow all the time," Tlatoa said. "We're taking little bits of each culture and melting it into one big thing. That's our generation. We take a little bit of everything."
Times staff writer Sandra Poindexter contributed to this report.
MORE LOCAL NEWS
Ex-sheriff's deputy suspected of having sex with women at Joshua Tree jail
Protesters with Black Lives Matter rally in Inglewood shut down 405 Freeway
How black-market OxyContin spurred a town's descent into crime, addiction and heartbreak
---
Life is stressful. Our weekly mental wellness newsletter can help.
You may occasionally receive promotional content from the Los Angeles Times.