Jurors hear closing arguments in McStay family murder trial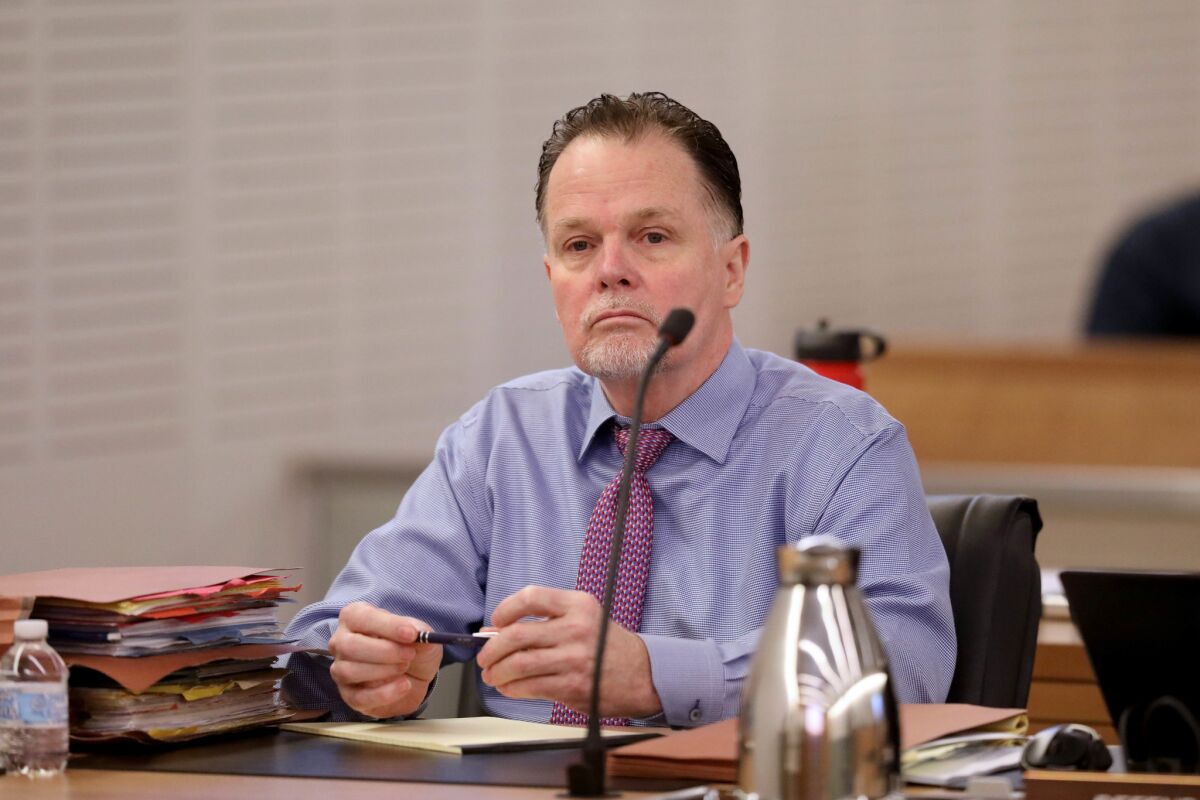 Reporting from San Bernardino —
Days before Joseph McStay and his family mysteriously vanished in February 2010, he accused his business partner of owing him thousands of dollars.
On Tuesday, a prosecutor in the McStay family murder trial recounted for jurors the events that followed.
The partner, Charles "Chase" Merritt, allegedly forged checks to himself from McStay's QuickBooks account, then tried to erase the paper trail. When speaking with detectives, Merritt referred to McStay in the past tense. For several days after the family's disappearance, Merritt's phone went dark for hours at a time.
"Where was the defendant?" San Bernardino County Deputy Dist. Atty. Britt Imes asked jurors, referring to one particular six-hour stretch of no phone activity. "What could the defendant do in six hours? Clean up a crime scene? Hide evidence? Move evidence?"
Imes offered the narrative in closing arguments that marked the culmination of Merritt's five-month trial in San Bernardino on charges that he bludgeoned Joseph and Summer McStay and their two boys, Gianni, 4, and Joseph Jr., 3, and buried them in shallow graves in the Mojave Desert.
He told jurors that Merritt was motivated by greed and self-interest — Merritt owed McStay $42,845, he said. Prosecutors have acknowledged that the case is built almost entirely on circumstantial evidence, but called it "overwhelmingly convincing."
"No matter which way you look at it, no matter which way you turn the wheel, it always come back to" Merritt, Imes said.
Merritt leaned back in his chair during the summation, occasionally taking notes. He has pleaded not guilty to the charges and maintains his innocence.
At the time, the McStay family's disappearance transfixed the nation and puzzled police. Their Fallbrook home showed signs of a swift departure: uneaten bowls of popcorn on the futon, vegetables left out to rot.
Within days, the family's Isuzu Trooper was towed from the parking lot of a strip mall near the Mexican border. A check of the family's computer revealed searches suggesting an international trip, including "What documents do children need for traveling to Mexico?" Detectives initially thought the family might have crossed the border.
But in the fall of 2013, an off-road motorcyclist discovered parts of a skull in the desert off Interstate 15 in Victorville, about an hour north of the family's home. The remains of McStay, 40, were found buried with Joey Jr. A second grave contained the remains of Summer McStay, 43, and Gianni along with a rusty sledgehammer.
Joseph McStay's skull was shattered, while his wife sustained a blow to the jaw. Both boys had skull fractures. Prosecutors believe the children were collateral damage, killed presumably because they could have identified Merritt as the killer in what Imes called "senseless" slayings.
"It was blow, after blow, after blow to a child's skull," Imes said, slamming his hand on a podium for emphasis.
Merritt worked as a subcontractor for McStay's company, Earth Inspired Products, which sold water fountains. Prosecutors said Merritt was being cut out for doing sloppy work.
Imes played video and audio clips for jurors of Merritt's interviews with CNN and with investigators. In one, a reporter asks Merritt if he was the last person to see Joseph McStay.
"I'm definitely the last person he saw," he replies.
In another, an investigator questions Merritt on why he refers to McStay in the past tense.
"Oh," he said. "I did … I don't know why."
At one point, Merritt searched the internet for how to change his identity, Imes said.
Merritt, was arrested and charged with four counts of murder in 2014.
Still, many questions remain. It's unknown where and when the family was killed. "You can have a murder case without answering those questions," Imes argued.
He later added, "Something happened in that house … What exactly happened in that house? Only one person knows. The killer."
The defense team, which began its closing argument Tuesday afternoon, argued that prosecutors failed to offer evidence that Merritt was linked to the murders and put forward a contrived story about motive.
"Justice will not be given when you convict an innocent man," James McGee, an attorney representing Merritt, told jurors. "They tried his character, and not the facts of this case. … They want you to focus on hatred and emotion — hate Mr. Merritt and have sympathy for the family."
Closing arguments are expected to continue on Wednesday.
alene.tchekmedyian@latimes.com
Twitter: @AleneTchek
---
Life is stressful. Our weekly mental wellness newsletter can help.
You may occasionally receive promotional content from the Los Angeles Times.