Michael Hastings wrestled with demons, but legacy remains intact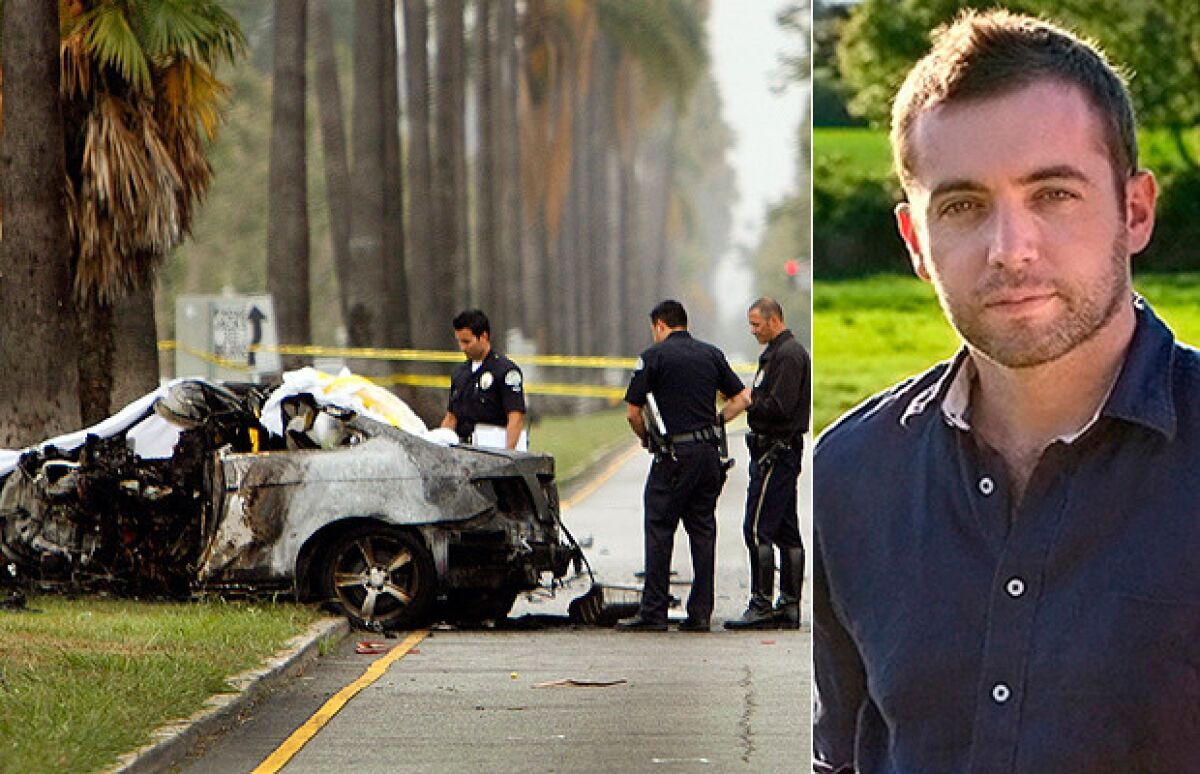 As many people who knew him suspected, the fiery death of the young journalist Michael Hastings in a single car crash was the result of tragic circumstances, not a government plot to get rid of an inconvenient truth teller.
As my colleagues Andrew Blankstein and Richard Winton have reported, Hastings had traces of marijuana and amphetamine in his system when he crashed his car into a tree on Highland Avenue around 4:20 a.m. on June 18. The impact was so intense that the engine of Hasting's 2013 Mercedes Benz C25 was found half a block away. He is believed to have died within seconds.
Wednesday, the LA Weekly published an account of Hastings' life and career, including his decision to move to Los Angeles to cover Hollywood for the website BuzzFeed. At the time of his death, he'd been working on a profile of CIA Director John Brennan for Rolling Stone, where he was a contributing editor.
The Weekly piece portrays Hastings, who was 33 when he died, as depressed and fearful that he was being targeted by the government for his reporting. A Hollywood neighbor who befriended him said than an agitated Hastings tried to borrow her car on the night he died, telling her that he believed his car had been tampered with. He also believed that the helicopters in the skies above the Hollywood Hills, a common sight, were keeping track of him.
Though the autopsy said that a person who was staying with Hastings at his Hollywood home — identified by the L.A. Weekly as his brother, who had come to town in hopes of staging an intervention — told authorities that Hastings had been "passed out" between 12:30 a.m. and 1 a.m., a few hours before the crash. He did not have alcohol in his system when he died, and coroner's officials said the drugs likely did not play a role in the crash.
Hastings had written before about his episodes of drug use and many years of sobriety.
The coroner reported that Hastings had begun using drugs again about a month before he died, and that he had obtained a medical marijuana card to help with the effects of post-traumatic stress disorder. Hastings had reported in war zones, including Afghanistan and Iraq. His first book, "I lost My Love in Baghdad," was about the violent death of his then-fiancee, who also worked in Iraq.
The coroner noted that Hastings had been involved in another single-car accident a few years ago, in which he was suspected of having misused Ritalin, the widely abused drug often prescribed for young people diagnosed with attention deficit problems. Around 1999, the report said, he was "institutionalized" for "rehabilitative care."
An unidentified person, whose name was whited out in the coroner's report but who appears to be the brother, told the authorities that he would not be surprised to find cocaine in Hastings' residence and reported that Hastings "was currently using" a hallucinogenic drug called DMT.
Hasting's body was so badly burned he was not a candidate for tissue donation.
In the aftermath of the crash, there was a brief media tussle when Hastings' widow Elise Jordan complained about the tenor of his obituary in the New York Times. She felt the obituary had incorrectly characterized a government report about Hastings' famous Rolling Stone profile of Gen. Stanley McChrystal. The profile depicted the top commander of the U.S. forces in Afghanistan and his aides as insubordinate to their commander in chief, and it forced the general into an early retirement.
The New York Times public editor agreed that the Times, while not incorrect, had been insensitive.
Hastings may have been in the grip of an emotional deterioration, and he may have made some terrible decisions on the night he died.
But the circumstances of his untimely and tragic death tarnish his legacy only a little. In an all too short career, Michael Hastings accomplished more than many journalists do in a lifetime.
ALSO:
Slain transgender woman starred in YouTube reality show
Michael Hastings' family reportedly planned 'detox' at time of crash
Twitter: @robinabcarian
The stories shaping California
Get up to speed with our Essential California newsletter, sent six days a week.
You may occasionally receive promotional content from the Los Angeles Times.