Olympic skater Mirai Nagasu was a familiar figure at her parents' Arcadia restaurant when she was growing up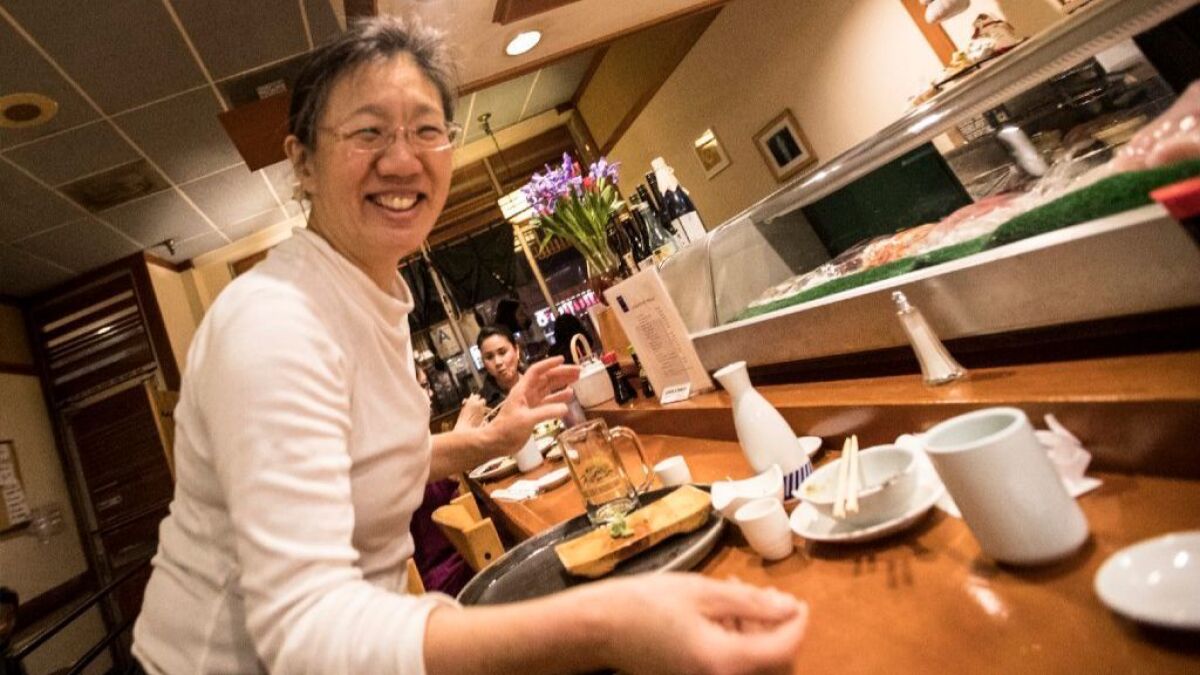 The woman wearing spectacles, clutching an order pad, quietly glided up to diners and bowed. "Please, where do you prefer?" she asked, her voice a whisper. "So sorry we don't have much space."
It was dinnertime at Sushi Kiyosuzu in Arcadia — with servers offering Saturday night specials of sautéed squid and jellyfish — and every spot at the bar was taken. Near the entrance, longtime customers had reserved a table for nine for a private celebration.
Owner Ikuko Nagasu led the newcomers to the last open spot, next to the big table, then bustled off to get menus.
The weekend before, her daughter, Mirai, 24, had landed a historic triple axel at the Pyeongchang Olympics — propelling the U.S. figure skating team to a bronze medal. She'd been the first American and just the third female to pull off the jump on Olympic ice.
"Wow, can you believe it? Her child wins a medal and she's still here — working, working," said Helen Lee as she grabbed a slice of mackerel with her chopsticks. "It's surprising, but I really respect that she stays with her responsibilities, running a business," added the judicial assistant for Los Angeles Superior Court. "A restaurant never really closes."
On Monday night, Nagasu and her husband, Kiyoto, took a rare break from work to fly to South Korea so they could see their only child compete for an individual medal.
Mirai Nagasu is skating in the short program Tuesday night; if she does well enough, she'll be in the running for the gold Thursday night (Pacific time).
"I am very, very nervous to see it in person," her mother said. "I do not know what can happen on the ice."
In South Korea, the skater reflected on how much she was influenced by the time she spent in the family's sushi restaurant.
"I used to sleep there," she said. "I used to basically live there."
She washed dishes, occasionally receiving quarters from her mother as payment for her labor.
"I'm great at dishwashing," Nagasu joked.
Her father missed many of her skating competitions because he refused to take vacations. Born and raised in an obligation-based society, he felt a responsibility to his employees, who would not be paid if he closed the establishment. An exception was made when his daughter skated at her first Olympics in 2010. Another was made this week.
"I have a great work ethic because I've watched my parents work super hard," the skater said.
That work ethic was on display at the restaurant last weekend — a magnet not only for longtime, loyal customers like Lee, but for fans of the Olympics as well.
One first-time customer who came in drawn by Mirai's skating fame observed her father, 60, working quickly and cheerfully, and described him as an Energizer bunny. "You like something?" Kiyoto asked the newcomer. "I make it right away."
When his daughter was 2½, Kiyoto Nagasu said, he started taking Mirai out to play golf, and "she was quite, quite good. I was hoping, you know, that she can be a professional and I can be her caddy."
But one day when she was 5, it was raining and she went ice skating instead. "That was it. Done," he said, extending his arm with a mock flourish. "My dream, crushed."
Growing up, Mirai, a two-time World Junior medalist and seven-time U.S. national medalist, was a familiar figure at the tiny family restaurant.
"As a kid, she used to play in the back room, and when we saw her on TV, I said, 'Oh my God, the little girl came out of the back room and is now in the Olympics,' " said Fiona Lee, a journalist from the Bay Area who was dining at Sushi Kiyosuzu with her sister, Helen, and their mother.
Once, Olympic gold medalist Kristi Yamaguchi came to the restaurant on a visit with Mirai, said the Lees, who have been coming to the restaurant for 20 years.
Customer Fred Stephens, an oral and maxillofacial surgeon, remembers Mirai sitting in a corner at the bar, doing homework.
"Her parents told us, 'She ice-skates,' but ... we never knew until we saw a clipping of her winning the nationals. Then we said, 'She really ice-skates,' " Stephens said.
The Nagasus renamed one of their signature rolls, oozing with baked salmon and mountain yam, the Mirai roll. But Stephens' wife, Sonya, said Mirai's parents are not apt to brag. There are no ribbons or medals displayed at the restaurant. When visitors offer congratulations, they thank them softly.
When Sonya Stephens had knee surgery and couldn't leave her Sierra Madre home, Ikuko Nagasu brought sushi to her house, she said. "They are really, really good people and I pray they get a boost from this."
Twitter: @newsterrier
Do reported from Los Angeles and Hernandez from South Korea.
---
UPDATES:
3:35 p.m.: This article has been updated with comments from Nagasu in South Korea.
This article originally published at 7 a.m.
---
The stories shaping California
Get up to speed with our Essential California newsletter, sent six days a week.
You may occasionally receive promotional content from the Los Angeles Times.