Lawsuit says new L.A. streets plan creates more air pollution, not less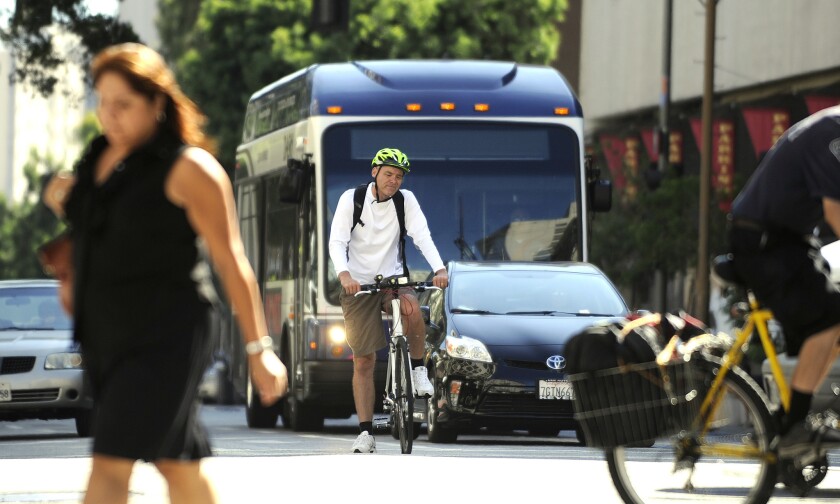 A Westside-based nonprofit group went to court Wednesday to overturn Los Angeles' sweeping new 20-year transportation plan, saying officials failed to properly examine its effects on public safety, air pollution and other aspects of city
life.
In its lawsuit, the advocacy group Fix the City said Mobility Plan 2035, which calls for the addition of hundreds of miles of new bus- and bike-only lanes, will lead to increased tailpipe emissions as drivers confront fewer car lanes and greater traffic congestion.
The plan, approved by the City Council last month, puts a major emphasis on safety, calling for key streets to be redesigned in ways that rein in traffic speeds. Fix the City contends that public safety would in fact be threatened, with emergency responders struggling to make their way through traffic.
"People don't really know about this plan, and they're going to learn the hard way when it comes to their neighborhood," said Laura Lake, an activist who serves on the group's board. The plan's projects will bring "a huge sacrifice in air quality, a huge sacrifice in first-responder times, in lost time from work, lost time from family."
Lake said the council should put the plan up for a public vote, saying it would easily be defeated.
Councilman Mike Bonin, a supporter of the plan, said the lawsuit simply acknowledges that Angelenos are "desperate to get out of mind-numbing traffic."
"The best way to do that," he said in a statement, "is by providing people a range of transportation choices so they are not forced into using an automobile on gridlocked streets."
Wednesday's lawsuit is only the latest in a series of legal challenges to the city's high-profile planning decisions. In 2013, Fix the City was part of a coalition that succeeded in striking down the Hollywood Community Plan, which sought to allow taller, denser residential towers near transit stops. New environmental documents are being prepared on that plan.
In April, a judge overturned the city's approval of the Millennium Project, a pair of skyscrapers planned in Hollywood, saying traffic circulation had not been properly examined. And on Wednesday, a three-judge panel upheld a decision invalidating permits for the 299-unit Sunset and Gordon apartment tower, also in Hollywood.
That ruling raises the prospect that the building's tenants would be forced out, at least temporarily, as developer CIM Group seeks new permits. A CIM Group executive said he had not yet reviewed the decision.
Rob Wilcox, spokesman for City Atty. Mike Feuer, said CIM Group could still pursue a review of the ruling or an appeal to the state Supreme Court. He had no comment on the mobility plan lawsuit, saying the city had not yet been served.
Backers of the mobility plan say L.A. lacks the space and money to continue widening streets or adding freeways. The plan's projects are expected to increase walking by 38%, transit use by 56% and bicycling by 170%, if completed by 2035.
The mobility plan is the first major overhaul of the city's transportation policies since 1999. It calls for an additional 300 miles of protected bike lanes, the kind separated from traffic by curbs or other physical barriers, and 117 miles of bus-only lanes. An additional 120 miles of bus lanes would be created for rush-hour-only use.
Some corridors, including Sunset, Venice and Lankershim boulevards, would receive both bus-only lanes and protected bike lanes — an arrangement that could reduce space for cars.
In its lawsuit, Fix the City contends that the city relied on outdated data on population, traffic and municipal services when analyzing the mobility plan. The group also questioned a key finding of the plan's environmental review: that greenhouse gas emissions would decrease as Angelenos get out of their cars and turn to other forms of travel: walking, bicycling and public transit.
"This conclusion is not backed by any rational or meaningful analysis," the lawsuit states. Because drivers will be stuck in traffic for longer periods of time, "increased idling time will increase fuel consumption and generate more greenhouse gases and air pollution."
Naomi Iwasaki, a supporter of the mobility plan, said Fix the City's lawsuit wrongly assumes that a significant number of Angelenos won't switch to other forms of travel once L.A.'s streets are restriped.
"Obviously, people in Los Angeles are tired of staying in their cars," said Iwasaki, a policy analyst with the nonprofit Community Health Councils.
The city's environmental impact report said the plan's projects would double the percentage of major streets that are heavily congested during the evening rush hour. Nearly 36% of major street segments would be heavily congested in 2035, up from 18% currently, the report said. The same analysis found that if the mobility plan were not approved, the number would reach only 22% in 2035.
Backers of the plan, including council members, say those numbers were based on overly conservative assumptions. They also say the plan's various projects are needed to help L.A. achieve its goal of reducing the number of vehicle fatalities to zero by 2035.
Follow @DavidZahniser for what's happening at Los Angeles City Hall.
ALSO
FAA extends public comment period for air traffic control proposals
3 boys found fatally stabbed in South L.A. were brothers; man in custody
9 Andy Warhol prints stolen from an L.A. business and replaced with fakes
---
The stories shaping California
Get up to speed with our Essential California newsletter, sent six days a week.
You may occasionally receive promotional content from the Los Angeles Times.