State budget plan includes $10 billion more for schools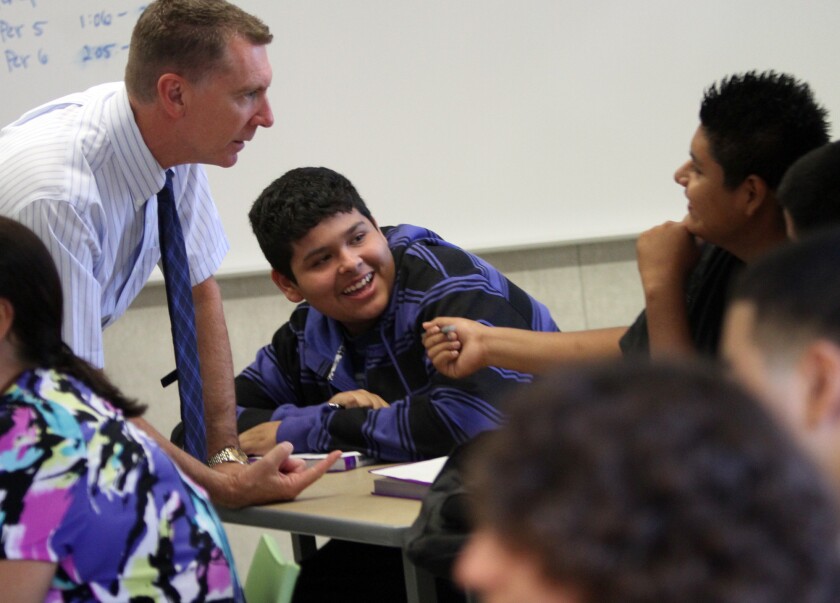 An improving economy and a voter-approved tax increase will pay faster dividends for California schools than expected, resulting in a $10-billion funding boost over last year under the governor's proposed budget.
The increase is especially welcome for the Los Angeles Unified School District, the state's largest school system, which will receive a greater share of dollars under a new state funding formula.
The state's budget for school districts and community colleges is expected to reach $61.6 billion next year, an increase of $6.3 billion when compared with the funding formula for the current academic year.
Some of the increase results from voter-approved Proposition 30, a temporary tax increase that first spared school systems from further deep budget cuts. That measure is helping to fuel a financial upturn.
School districts will soon have the task of determining which programs to restore or inaugurate. Employees and unions already are advocating for salary increases and the return of laid-off coworkers.
More than $3 billion of the increase is one-time funding, so school systems will be reluctant to tie those funds to a permanent rise in wages. Under the new funding process, school districts must conclude that higher pay is part of a sound strategy to serve the academic needs of foster children, low-income students and those who speak limited English.
Districts with more of those students get an extra share of funding, which should benefit L.A. Unified. The money could eliminate a structural deficit of about $350 million without further layoffs, said L.A. schools Supt. John Deasy, who praised the governor and his proposal.
"For all the good news, however, we are still many millions of dollars below the 2008 funding level, when the state budget crisis officially began," Deasy added. "During the past five years, the LAUSD has continued to pay for vital programs with fewer resources."
Positive reviews also came from numerous educator and activist groups.
There also were notes of concern, even from groups with general praise for the governor's proposal, including Local 99 of the Service Employees International Union.
"What's disappointing in this year's initial proposal, given the significant increase in state resources, is the further elimination of children from quality child-care programs," said Local 99 executive director Courtni Pugh. "Governor Brown's school funding formula introduced last year, which ensures our neediest schools receive more funding, will never accomplish its goals if California continues to neglect its early education system."
The governor's aides said Brown would consider additional money to benefit younger students if a specific proposal was brought to him.
The governor also wants a portion of education funding in flush years to go into a rainy day school fund, to avoid sharp cuts during lean years.
The new state funding rules also are supposed to assist the growth of online education and hybrid models that combine computer time with more traditional classwork.
The governor will unveil an updated budget proposal in May to the Legislature, which then would pass a spending package to send back to Brown for his signature.
Twitter: @howardblume
---
For reporting and exclusive analysis from bureau chief John Myers, get our California Politics newsletter.
You may occasionally receive promotional content from the Los Angeles Times.