25 arrested in operation targeting MS-13 gang in Central Valley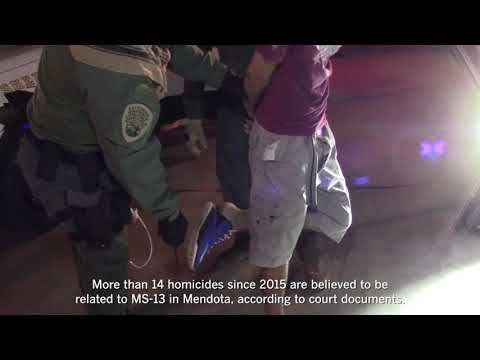 An operation targeting the MS-13 gang in the Central Valley yields 14 arrests. (Fresno County Sheriff's Department).
More than two dozen suspected MS-13 gang members operating in a Central Valley town west of Fresno as well as in Los Angeles were arrested in a months-long multiagency operation that culminated this week, authorities said.
Suspected members of the transnational criminal organization were arrested on charges including murder, assault, kidnapping and drug trafficking, according to federal authorities and court documents unsealed Thursday.
Fifteen people were charged with participating in a drug-trafficking conspiracy, while the others were charged with a variety of crimes, including stabbing a rival gang member, U.S. Atty. McGregor W. Scott said Friday at a news conference in Fresno.
Two men have been charged with the 2017 slaying of a man in Fresno County, Scott said.
During their investigation, law enforcement investigators seized seven guns, 56 knives and 10 machetes in addition to cellphones and drugs from inside 11 prisons, he said.
At least two MS-13 "cliques" affiliated with the Los Angeles branch of the gang operate in the small Central Valley town of Mendota west of Fresno, according to two federal indictments unsealed Thursday. More than 14 homicides since 2015 are believed to be related to MS-13 in Mendota, according to court documents.
Scott said that a team of local, state and federal investigators uncovered evidence of more than 30 homicides and assaults from Las Vegas to New York that have been tied to the gang.
"If you want to commit crime in California, we will find you," state Atty. Gen. Xavier Becerra said. "If you want to terrorize our families and our communities, we will get you.
"If you traffic human beings or drugs, you're in our sights," he said. "If you illegally possess firearms, you're in our sights, and if you terrorize families through criminal gang activities, you are in our sights."
Two alleged gang members — Israel Rivas Gomez, known as "Pirra," and a John Doe known as "Marcos Castro" — were charged by a grand jury in January with murder in connection with the Dec. 18 death of a person known as "A.R." in Fresno County. The new court records say the two men used the slaying to increase their position within the MS-13 gang.
Three other men — Luis Reynaldo Reyes Castillo, known as "Molesto"; Jose Audon Reyes Barrera, known as "Calacas"; and Nilson Israel Reyes Mendoza — were charged in April by a grand jury with assault with a deadly weapon in an attack on suspected rival gang members in May 2017.
Three people, including Lorenzo Amador, were charged with stabbing a rival gang member in the back at an intersection in Mendota last month. The victim was transported to the hospital, underwent surgery and survived, authorities said.
Federal prosecutors also allege that Denis Barrera-Palma, Ever Membreno and Edgar Torres-Amador participated in the gang-related assault of a man walking near an elementary school, in which one gang member beat the victim with a metal pipe.
The two MS-13 subsets in Mendota are known as the Vatos Locos Salvatruchos and Park View Locos Salvatruchos and often receive instructions from higher-ranking gang members in Los Angeles, Santa Maria and Oakland, federal prosecutors said.
The gang was started in Los Angeles in the mid-1980s by immigrants fleeing the civil war in El Salvador and was then known as Mara Salvatrucha. The group grew into an international gang over the ensuing years and now operates in at least 10 states and Washington, D.C., with more than 10,000 members, prosecutors say.
The Mendota gang members and their associates also traffic in marijuana, methamphetamine and prescription drugs, prosecutors say.
The gang's primary rivals in the town of 11,418 people are called the Bulldogs, and MS-13 members regularly patrol the town to attack them, according to court documents. Mid-ranking MS-13 gang members called chequeos respond to requests through social media from Salvadorans who are being intimidated by rival gang members, prosecutors said.
Times staff writer Ruben Vives contributed to this report.
---
UPDATES:
12:55 p.m.: This article was updated with additional details from federal prosecutors.
12:15 p.m.: This article was updated with details from a news conference.
This article was originally published at 11:10 a.m.
Sign up for Essential California for news, features and recommendations from the L.A. Times and beyond in your inbox six days a week.
You may occasionally receive promotional content from the Los Angeles Times.