Names of 'deported' Mexicans read aloud decades after crash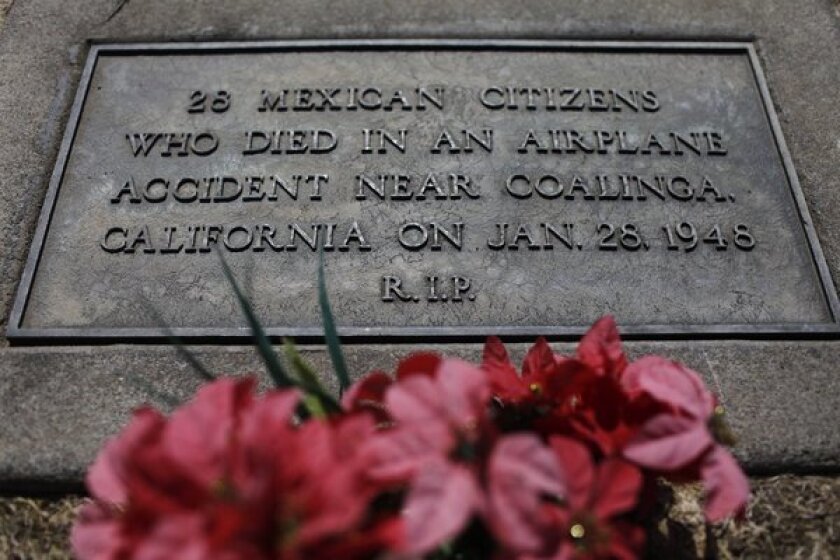 FRESNO -- In 1948, a plane chartered by U.S. Immigration Services went down in Los Gatos Canyon, in the hills above Coalinga.
All 32 aboard were killed in a fiery crash, including 28 farmworkers, many of whom were part of the former bracero work program. The workers were buried unnamed in a mass grave in Fresno.
Stricken by the anonymity of the grave and the plight of farmworkers in general, Woody Guthrie wrote the poem "Plane Crash at Los Gatos." It was later set to music by schoolteacher Martin Hoffman and the song lived on, recorded by a string of artists, including Bruce Springsteen and Johnny Cash.
In 2009, writer Tim Z. Hernandez began a search for the names of "the deportees." Once he had the beginnings of a list, the Roman Catholic Diocese of Fresno teamed with him to raise $14,000 for a memorial scroll.
On Monday, the once unnamed deportees' names were unveiled, written in stone. The names of the 28 Mexican nationals killed in a plane crash were read at a Mass.
An unexpected moment came when the large crowd spontaneously repeated each name as it was read.
Salvador Cruz Bolanos, 91, sped his mechanized wheelchair over to the stone while it was still wrapped in a serape.
His daughters had read a newspaper article about the search for the deportees' names. They translated it into Spanish for Bolanos, a former bracero.
"We read the names out loud, and all my father could do was bow his head deeper and deeper," said Norma Bolanos of Fresno. "It was very important for us to be here today."
The crowd came from across the United States and from Mexico. Nuns in blue habits, priests in white robes, Aztec dancers in pink head-dresses and folk-music aficionados in "Peace" T-shirts mingled with parishioners, small children and the few family members of deportees who have been located.
Jaime Ramirez -- the grandson of crash victim Ramon Paredes, who had crossed into California to earn money for corn seed for his farm, and the great-nephew of Guadalupe Ramirez Lara, who came to raise money for an irrigation system for his village -- read the final names.
With each name the crowd grew louder, repeating after him.
They also sang along with folk singer John McCutcheon as he performed "Plane Wreck at Los Gatos."
After the song's most familiar line "and all they will call you will be deportees," he said, "Let's sing that again, because never, ever again will they be known as just deportees."
ALSO:
Rick Caruso gets permit to moor mega-yacht in Newport Beach
Infant who drowned in a bathtub is identified; autopsy pending
Rim fire: Pot-growing operation near Yosemite may have sparked blaze
---
The stories shaping California
Get up to speed with our Essential California newsletter, sent six days a week.
You may occasionally receive promotional content from the Los Angeles Times.