Newport Harbor's last gondola operator may be forced to say 'arrivederci'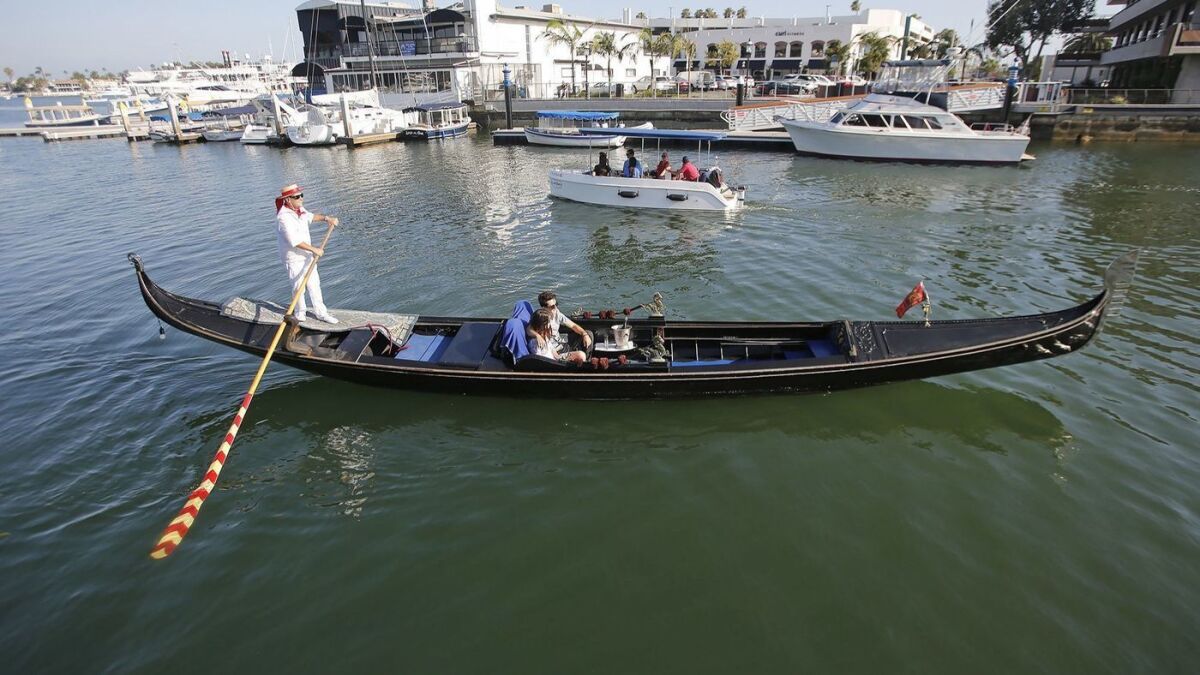 Newport Harbor's gondolas, icons of Venice that have found a home in Orange County, could be adrift as the city's last remaining outfitter runs out of time on its lease — and its owners are unsure where else they can dock.
Gondola Adventures, which has been operating at 3101 W. Coast Highway for 25 years, will have to move in November, when the building's owners undertake a complete remodel that could take two years.
Greg Mohr, who owns the company with his wife, Elisa, said the current location in the northwest corner of the harbor is ideal, as it's convenient to the freeway and is near the narrow channels around Newport Island, which best mimic the tight waterways of Venice.
It isn't just a matter of personal preference. Mohr said not all of the bridges along the harbor have the clearance to safely accommodate the vessels during high tide.
Also, many out-of-towners book cruises for once-in-a-lifetime moments like marriage proposals or intimate wedding ceremonies. Though the harbor has relatively limited commercial frontage, there are other waterfront commercial nodes, like Balboa Village or the Rhine Channel.
But a congested route like Balboa Boulevard, or a labyrinthine web of side streets to the boatyard areas along the Lido Peninsula, could frustrate clients on days when everything needs to go just right.
"We create perfect moments that become great memories," said Mohr, who is also president of the Gondola Society of America. "A perfect moment is a very fleeting thing."
The low-slung, canoe-like gondolas immediately evoke Old World charm with the toothed fèrros on their prows and festively attired gondoliers rowing from a standing position atop the stern. Sometimes, these operators serenade their passengers. Mohr said the acoustics under the Newport Boulevard bridge are especially good.
Elisa Mohr said the couple is having a hard time getting dock managers and leasing agents to return their calls; as a family-run niche business, she figures the company is seen as "small potatoes." She said their real estate agent is also striking out trying to find a dock-office combination.
Gondola Adventures started in 1993 as Adventures at Sea Yacht Charters, which happened to have a gondola in its eclectic fleet. The Mohrs became fonder of the gondolas over time, and in 2004 decided to sell off their bigger boats and focus on their favorites. They now have a fleet of 14 here, plus a sister operation in Dallas.
The company partners with local restaurants for dining cruises, picks up and drops off at harborfront hotels and cafés, and orders from local florists for its proposal and wedding rides.
Greg Mohr said he understands that they may need to downsize or store some boats offsite. They might even consolidate to just the Texas location if they can't find another Newport home.
But this is where Gondola Adventures was born. And it was in this corner of the harbor where Greg Mohr , aboard a gondola, proposed to his wife.
He said residents facing their route greet them in Italian — buongiorno or buonasera, depending on the time of day — and he's heard that real estate agents use proximity to the cruise routes as a selling point.
The typical voyage heads west from the docks, past Lido Marina Village and under the Newport Boulevard bridge, then hangs left to lap the triangular perimeter of Newport Island before returning to its home slips.
"When I'm in the dentist chair and need to find my happy place," Mohr said, "I picture myself rowing in this canal."
Davis writes for the Daily Pilot.
---
The stories shaping California
Get up to speed with our Essential California newsletter, sent six days a week.
You may occasionally receive promotional content from the Los Angeles Times.