Ex-NFL player Jonathan Martin can stand trial for threats involving Harvard-Westlake, judge rules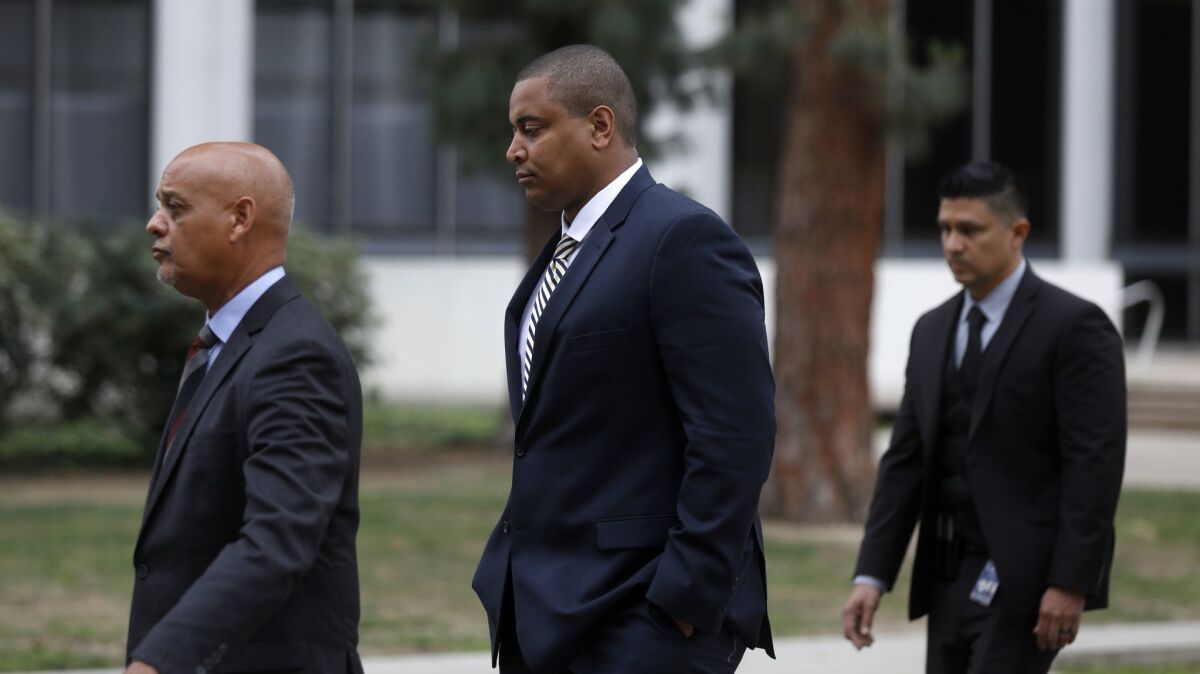 A judge Wednesday ruled there is enough evidence for a former NFL player to stand trial on charges he made criminal threats online last year by posting an image of a shotgun and a reference to Harvard-Westlake, where he went to high school.
Jonathan Martin, a former Miami Dolphins offensive lineman, was charged in March with four felony counts of making criminal threats — one for each of the people he tagged in an Instagram post that included an image of a shotgun. He was also charged with one count of carrying a loaded firearm in public.
One criminal-threats count was dismissed Wednesday, said Greg Risling, a spokesman for the Los Angeles County district attorney's office. Martin's attorney Winston McKesson said the count was dismissed because the target, Mike Pouncey, said in an interview that he was "not concerned" with the post.
The February 2018 post included the social media handles of high school classmates James Dunleavy and Durall "T.J." Taylor and former Dolphins teammates Pouncey and Richie Incognito. Martin was the target of a high-profile bullying scandal in the league in 2013. A year later, an investigation commissioned by the NFL highlighted harassment inside the Dolphins locker room and alleged that Martin was bullied by teammates, including Incognito and Pouncey.
Martin graduated from Harvard-Westlake, a private prep school, in 2008 and joined the Dolphins in 2012. A few weeks before Martin was charged, the school's two campuses were closed after an image posted to a verified Instagram account belonging to Martin showed "#HarvardWestlake" superimposed in white letters over the barrel of a shotgun.
"When you're a bully victim & a coward, your options are suicide, or revenge," the text read. It was posted around the same time as a series of other internet threats sparked police responses at several Southern California schools. On Feb. 14, 2018 — nine days before the Instagram post — a gunman killed 17 people at a high school in Parkland, Fla.
McKesson, Martin's lawyer, said he doesn't believe his client's post constituted criminal threats because the message was ambiguous.
"It's not a threat … it was a cry for help," McKesson said, adding that his client checked himself into a hospital soon after posting the image last year.
Martin, now 29, retired from the NFL in 2015 after a back injury. That same year, he wrote publicly about his struggles growing up in Los Angeles and about how he had attempted suicide during his years in the NFL. He also said he often felt uncomfortable as "one of just a handful of minorities in elite private schools."
"You learn to tone down your size & blackness by becoming shy, introverted, friendly, so you won't scare the little rich white kids or their parents," he wrote.
Martin is scheduled to appear in court Jan. 30 for a pretrial hearing in Van Nuys.
For more news from the Los Angeles County courts, follow me on Twitter: @marisagerber
---
The stories shaping California
Get up to speed with our Essential California newsletter, sent six days a week.
You may occasionally receive promotional content from the Los Angeles Times.