Florida shooting unleashed flood of internet threats against L.A.-area schools, with police struggling to keep up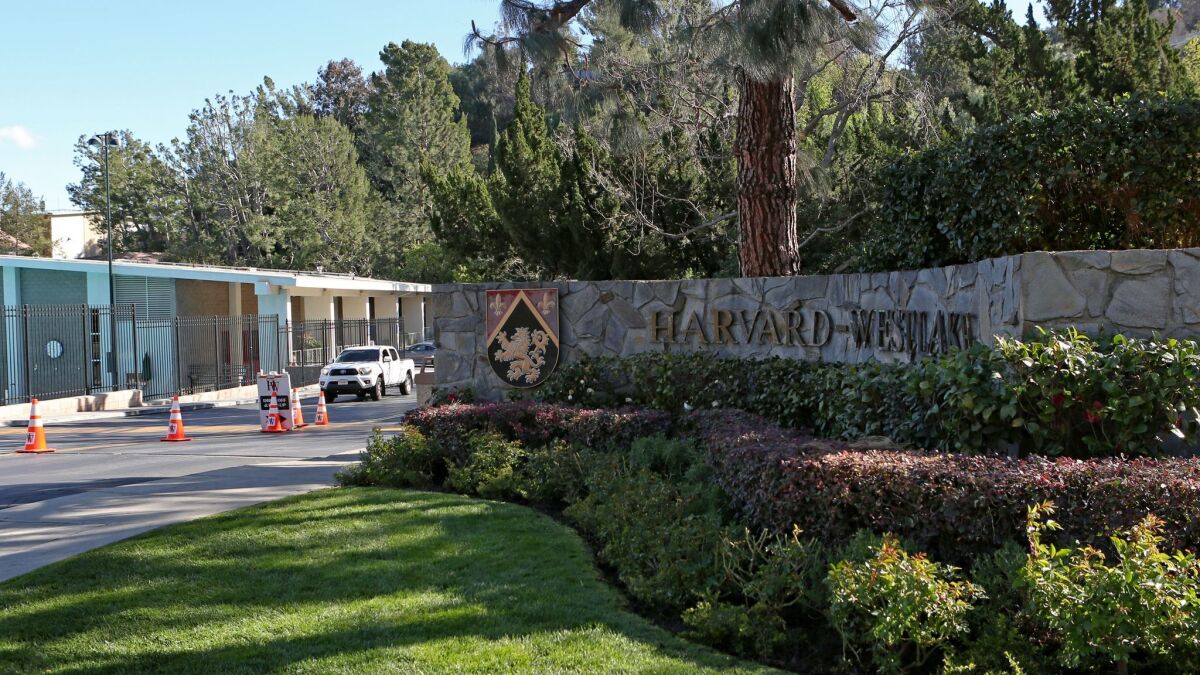 Students at the elite prep school Harvard-Westlake got a troubling alert as they headed to class Friday morning — their campuses had been closed because of a security threat.
A disturbing post on Instagram showing ammunition and a shotgun with the words "#HarvardWestlake" written across the barrel had come to school officials' attention. The account belonged to Jonathan Martin, a former Miami Dolphins' offensive lineman who was the victim of a high-profile bullying scandal in 2013, and is a Harvard-Westlake alumnus.
"When you're a bully victim & a coward, your options are suicide, or revenge," read the text of an Instagram story posted on Martin's account. Martin was taken into custody Friday, and police said they do not believe he posed a threat to the school.
These types of threats have become a fact of life in the nine days since the Valentine's Day shooting that left 17 students and teachers dead in a Florida high school. Almost every day this week brought a new report that sent law enforcement scrambling to decipher the meaning and intent of teenagers' social media posts and comments to friends. School district officials said they were taking even the vaguest of threats seriously, too afraid to do otherwise.
Some law enforcement officials said teenagers' ability to hide their identities and locations online had made it increasingly difficult to gauge the seriousness of threats, particularly when they're made over social media.
"We cannot afford to not act on any threat," said Los Angeles County Sheriff Jim McDonnell. "You have to be hypervigilant on them because, God forbid, if one of them is an actual someone willing to do something. You cannot take that chance."
Some of the threats appear to be hoaxes while others have involved students with easy access to guns. But given the climate — and FBI's acknowledgment that it ignored warnings about an accused Florida shooter — police say they are not taking any chances.
Since Feb. 14, the Sheriff's Department's criminal investigations bureau has received 19 tips about possible threats against Los Angeles County schools, compared with 52 in all of 2017, McDonnell said.
The Los Angeles Police Department has set up a special team to quickly assess threats 24 hours a day as they come in.
The Los Angeles Unified School District's police force has received 160 calls related to a "possible criminal threat" since the Parkland shooting, ranging from threats against an individual student to those directed at an entire school. Nine people younger than age 18 have been arrested, officials said, though how many are L.A. Unified students is unclear.
One of the tips fielded by the Sheriff's Department led deputies to arrest a 17-year-old student at El Camino High School in Whittier last week who is accused of threatening "shoot up" the school after a teacher took away his earphones.
A school resource officer overheard the comment on Feb. 16 and intervened. The student said he was only joking, but deputies found two semiautomatic rifles, two handguns and 90 high-capacity magazines at the student's home later that day. The teenager was accused of making criminal threats and his older brother, a 28-year-old Army veteran who said the weapons belonged to him, was also arrested.
Police in Riverside County arrested Jacob Ryan McBain, 27, of Norco on Tuesday after he allegedly posted on Facebook that he intended to shoot people at a local community college. A search of his home turned up two loaded AR-15 rifles, two loaded handguns and a large amount of ammunition, authorities said.
Not every threat has been as specific or as credible.
On Tuesday, Inglewood Police beefed up their presence at schools after they became aware of a social media post "indicating that students attending a specific Inglewood school were at risk of being targeted by a shooter," according to a news release. Police detained the student suspected of making the threat, but it was ultimately found "not credible," said Lillian Grant, a spokeswoman for the Inglewood Unified School District.
"We still took the appropriate safety measures so our parents were at ease," Grant said. Citing the ongoing investigation, she declined to say whether the student had been allowed to return to school.
Long Beach police investigated incidents at three schools this week and, over the course of two days, arrested three teenage students on suspicion of threatening harm. Two were high school students and one was an eighth-grader. It remains unclear whether any of them had access to weapons.
In San Diego, police became aware of comments made by a 14-year-old high school student at Torrey Pines High School on Wednesday, conducted a "threat assessment" and arrested the student within 24 hours.
"You will likely see police cars on or near our campuses every day as they maintain a regular, visible presence," Eric Dill, superintendent of the San Dieguito Union High School District, wrote to parents on Friday. He added that the district plans to install new security measures, including fencing and surveillance equipment.
"We have teams coming in overnight to assess the threats. When a threat comes in at 12:30 in the morning we need to be able to assess it immediately," said LAPD Dep. Chief Horace Frank, who oversees the counterterrorism and special operations bureau.
Nationwide, schools are dealing with a surge of alarming allegations and threats as parents and students become more vigilant and less inclined to let a comment go, said Michael Dorn, director of Safe Havens International in Macon, Ga., a safety consultant to schools.
"Kids who saw or heard something before and ignored it are now reporting what classmates say," Dorn said. "Then you have the people who are triggered by the attack and make a threat or express some fear that others believe is a threat."
Advances in technology have made it increasingly difficult for law enforcement to determine the seriousness of a threat and where it came from. Recent concerns about "swatting," the act of making a hoax phone call designed to prompt a SWAT team raid, have also muddied the waters.
A "swatting" phone call from L.A. sparked a confrontation in Wichita, Kan., that resulting in police to shooting and killing an unarmed man late last year. This week, a similarly made-up 911 call led police to a Beverly Hills hotel, where they believed a hostage situation was taking place. (It was not.)
"Someone could be doing it half a world away with no capability … you still have to treat it until, you find out otherwise, as a serious threat," McDonnell said. "Particularly with these onion routers where it may show they are somewhere else in the world but they are actually next door. That creates a lot of challenges."
Even when police decide the person levying the threat is in no position to carry it out, they may still take steps to intervene in the hopes of heading off a future tragedy, Frank said. Many have criticized the FBI and police in Florida for ignoring warnings signs about Nikolas Cruz, the 19-year-old accused of opening fire in Parkland. The FBI has said it failed to properly investigate a tip about the danger posed by Cruz in January, and the Broward County Sheriff's Office also said it has received at least 20 previous calls regarding the suspect before the attack took place.
The Harvard-Westlake scare is an example of how difficult it can be to weigh the evidence. Martin's Instagram account suggested he had a gun, and the former Dolphins player has struggled with mental illness in the past. In an online post from 2015, Martin said he had attempted suicide during his NFL career. But though the post referenced Harvard-Westlake, it did not make a specific threat.
"They may not have the means to attack today, but what is to say they won't in the future?" Frank asked.
Times staff writers Eric Sondheimer and Joseph Serna contributed to this report.
Follow @LACrimes, @JamesQueallyLAT and @annamphillips for police and crime news in Southern California.
---
The stories shaping California
Get up to speed with our Essential California newsletter, sent six days a week.
You may occasionally receive promotional content from the Los Angeles Times.