L.A. County to pay $3.6 million in wrongful death case stemming from 2015 Sheriff's Department shooting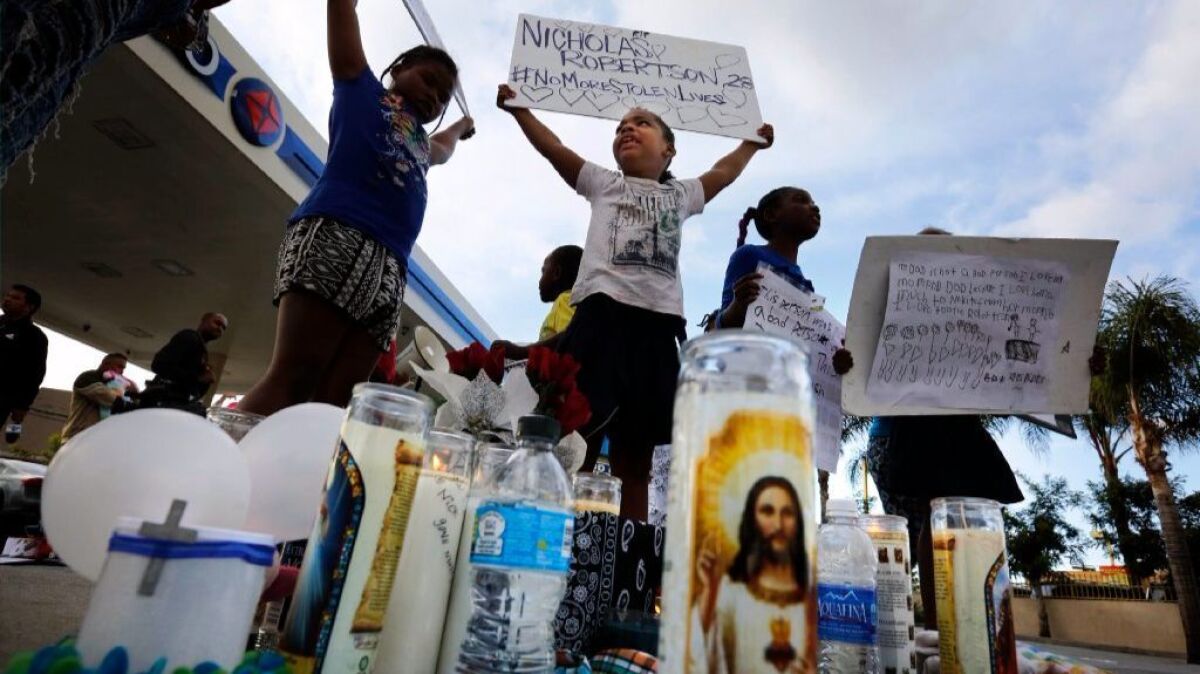 A Los Angeles County jury awarded $3.6 million to the family of a 28-year-old man who was killed by sheriff's deputies in a controversial videotaped shooting that drew widespread attention in 2015, attorneys said Wednesday.
The unanimous verdict was returned Monday in federal court in favor of the children of Nicholas Robertson nearly two years after he was shot and killed by deputies in Lynwood, according to a statement released by the Cochran Firm, which represented the family.
Robertson was carrying an unloaded handgun in December 2015 when he was confronted by deputies as he walked toward an Arco gas station near Long Beach Boulevard and Magnolia Avenue. Police have said Robertson ignored commands to drop his weapon prior to the deputies' decision to open fire.
Footage of the shooting appears to show Robertson walking, and then crawling, away from the deputies as they let off repeated bursts of gunfire. Robertson, a married father of three, died a short time later.
Brian Dunn, an attorney with the Cochran Firm, said in a statement that the deputies fired 33 rounds, striking Robertson more than a dozen times. Only the last two shots proved fatal, he said.
"He could have lived if they had just not kept shooting him again and again and again and again. He could have lived because he suffered 15 non-life-threatening gunshot wounds and only two fatal and they were at the very end," Dunn said in the statement. "We looked at the sheriff's training. They are trained to shoot in two or three round bursts and then reassess. They did not do that here."
An email to the Sheriff's Department seeking comment was not immediately returned.
The Los Angeles County district attorney's office found that the deputies who opened fire, Richard Ochoa-Garcia and Jasen Tapia, acted in self-defense and declined to prosecute, according to a memorandum made public this year.
Both deputies said Robertson pointed the weapon at them before they opened fire, and one said he found Robertson holding live rounds in his hand after he was shot, according to the memorandum.
An autopsy found that Robertson was shot 16 times and was under the influence of marijuana and PCP at the time of the incident, according to the memorandum.
Follow @JamesQueallyLAT for crime and police news in California.
The stories shaping California
Get up to speed with our Essential California newsletter, sent six days a week.
You may occasionally receive promotional content from the Los Angeles Times.