Biggest oarfish seen at Catalina Island in years washes ashore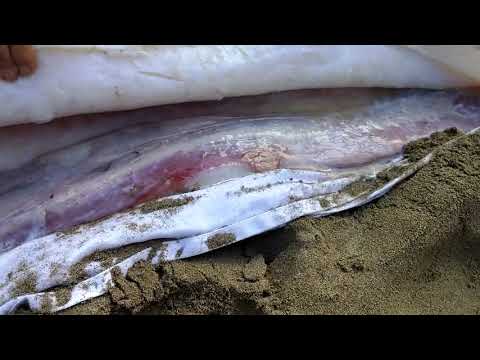 Annie MacAulay of Mountain and Sea Educational Adventures describes a 15 1/2 foot oarfish that washed ashore at Santa Catalina Island.
A dead oarfish with a belly full of krill washed up on Santa Catalina Island this week, marking a rare sighting of the deep-sea creature and the largest to appear on the island in years, experts say.
The beast likely weighed from 150 to 200 pounds and was 24 feet long when it was alive, said Annie MacAulay, a marine biologist and president of Mountain and Sea Educational Adventures, who dissected it Monday.
Someone found the fish about 6:30 a.m. Monday at Pebbly Beach near Avalon with its tail severed off -- which oarfish have been known to do to shed weight and save energy, she said.
Interested in the stories shaping California? Sign up for the free Essential California newsletter >>
The fish was about 15 1/2 feet when it washed ashore but because of its girth, MacAulay and her colleagues guess it was about nine feet longer with the tail.
Oarfish swim far out in the ocean and at great depths, around 3,000 feet, making sightings extremely rare. The first sighting of a live oarfish was in 2001, and scientists speculate they could be the source for sea serpent legends.
Oarfish are the world's biggest bony fish and have been rumored to grow up to 50 feet in length, though that's never been verified, MacAulay said.
The one found Monday had an empty pocket in its stomach, which MacAulay said could mean it recently stopped eating, a potential sign of distress or sickness.
Scientists have guessed that a handful of oarfish that have washed up on California's coasts in recent years were sick, disoriented because of a storm or even responding to underwater seismic activity.
"That's why we're doing our due diligence," MacAulay said. "There's so little known about oarfish… They only come to shore when they're going to die."
Besides krill, oarfish also feed on shrimp and other small fish, according to experts.
In 2013, another big oarfish washed on shore at Catalina.
For breaking California news, follow @JosephSerna.
ALSO:
Exide cleanup: Toxic lead removal could be California's biggest yet
Brush fire near San Luis Obispo grows to 2,000 acres as firefighters gain on 3 other blazes
Man arrested after hidden camera found in a Starbucks restroom in Orange County
Sign up for Essential California for news, features and recommendations from the L.A. Times and beyond in your inbox six days a week.
You may occasionally receive promotional content from the Los Angeles Times.