In politically conservative Orange County, a vigil for Orlando in a Santa Ana gay nightclub
The comfort of words flowed, as smooth as their spirits.
A vigil for the victims of the Orlando mass shooting, the largest in U.S. history, took place in a gay nightclub in Santa Ana — the seat of famously conservative Orange County.
"This is the church of the LGBTQ community, our safe space," Sian Wiltshire of Orange Coast Unitarian Universalist Church said Wednesday night, standing under rainbow-colored spotlights at the Velvet Lounge.
About 100 people, many of them holding flickering candles, intoned the names of the dead.
FULL COVERAGE: Orlando nightclub shooting »
The Rev. Bobbi Becker of the InSpirit Center for Spiritual Living in Mission Viejo called the gathering an "affirmation of love."
"We're not talking about tolerance. We're talking about full affirmation," Becker said. "We take responsibility for the past, for those who have been hurt and targeted, and we welcome everyone, for we all have gifts and we should accept each other."
She called the attack at the Pulse gay nightclub in Orlando "a crime against love" and introduced Kaleidoscope OC, a group she helped form in January — an alliance of 56 Orange County faith leaders supporting and celebrating the lesbian, gay, bisexual, transgender and questioning community.
Raised Mormon, Becker came out 30 years ago as a lesbian and was ex-communicated.
"What I know is we are all divine, and we want to have a greater voice," she said.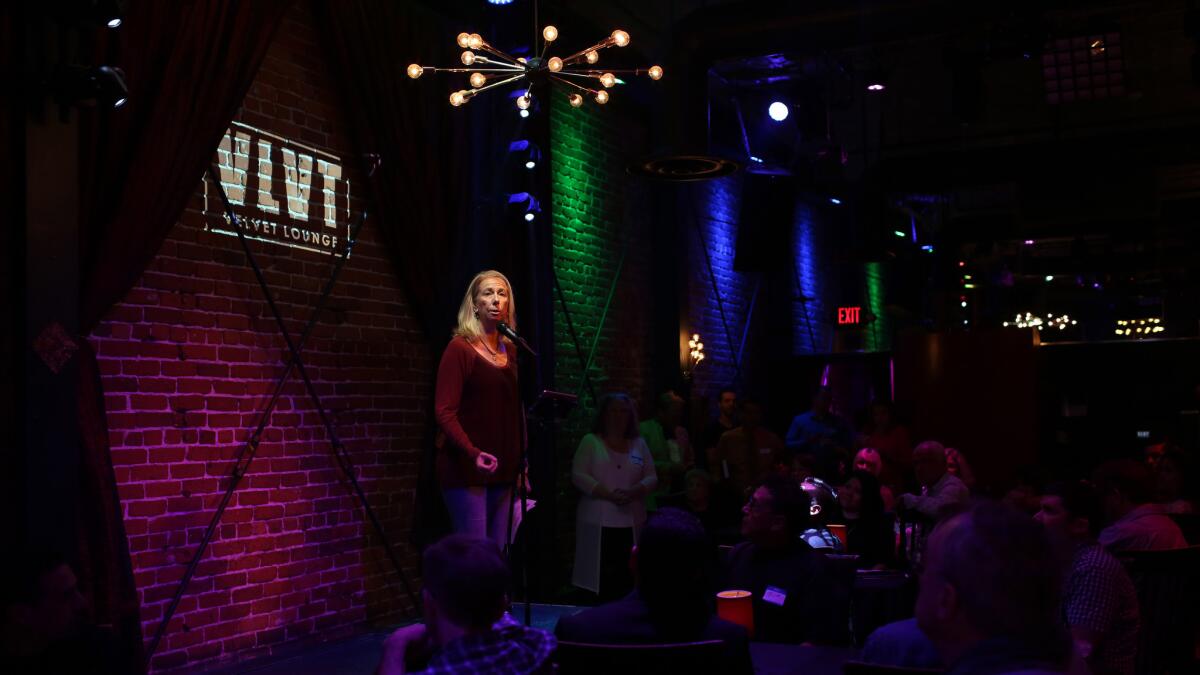 Wiltshire told those in attendance that Kaleidoscope OC would "stand with all our human family who have been hurt by churches, synagogues, spiritual centers, clergy, dogma and a judgmental theology, in direct opposition to the loving message of all great religions."
Zach Moos, co-owner of the Velvet Lounge, said that after the Orlando shooting — in which Omar Mateen killed 49 people and wounded 53 — "I put the word out: 'Hey, what can we do?' "
Wednesday's club-goers sipped wine and cocktails as they shared their feelings about the role that gay nightclubs play as safe havens.
"He shattered a veneer of safety that we all had constructed. I feel like we have to go back and reclaim that," said the Rev. Kent Doss of Tapestry Unitarian Universalist Congregation in Mission Viejo. "I wouldn't be surprised if this coming weekend those clubs are the most crowded clubs in America."
"Amen," voices in the audience shouted back.
Michael Chen, an attorney from Santa Ana, said he's a regular at the Velvet Lounge, stopping by twice a month.
"Sometimes, you feel so isolated," he said. "But when you see an event like this, it swells your heart."
What happened in Orlando "struck a chord with me. It could easily have been me, one of my friends, anyone I care about," Chen said. "For me, this is healing, just being able to commune."
Sandy Moore, a founding minister at the InSpirit Center who works with Becker, said she had never been inside a gay club.
"This is a community that's been deeply wounded, and we must make amends. Besides the spiritual, we should focus on the physical: We need to actually go to where they are," she urged. "Any wall we build will be a wall of oneness. We teach this — and it's time to live it."
Twitter: @newsterrier
ALSO
Victims of the Orlando nightclub massacre: Who they were
Video: San Bernardino honors shooting victims at stadium vigil
'You aren't prepared for something like this': Loved ones cope with loss in Orlando massacre
Sign up for Essential California for news, features and recommendations from the L.A. Times and beyond in your inbox six days a week.
You may occasionally receive promotional content from the Los Angeles Times.