Orange County district attorney race turns into political mud wrestling between former colleagues turned foes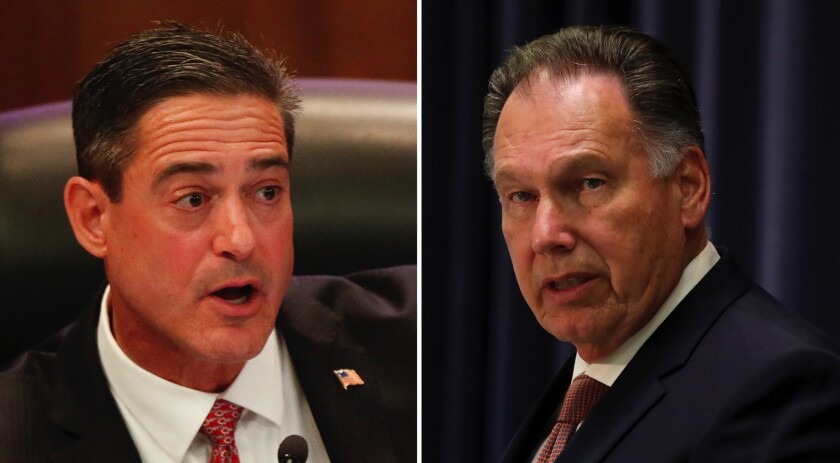 Longtime Orange County Dist. Atty. Tony Rackauckas stood before television cameras last month to announce charges in the sensational case of a Newport Beach doctor and former reality TV star accused of drugging and raping women.
But his opponent for reelection wasn't going to let Rackauckas get his photo op without a challenge. So Todd Spitzer held his own news conference outside the D.A.'s office, blasting the incumbent for taking nine months to file the charges once a search warrant was served.
A week later, when Rackauckas filed more charges in the case, Spitzer appeared outside a courthouse again handing out copies of the warrant.
The spat turned into a name-calling legal battle when a judge ordered reporters to give back the search warrant — before reversing himself after news organizations protested. Spitzer said he got the warrant before it was sealed. But the district attorney said his challenger was endangering the case by his actions.
It was just one measure of how ugly and bizarre the race for Orange County's top prosecutor has become. Rackauckas has called Spitzer "a self-promoter" without "any moral compass."
Spitzer, an Orange County supervisor and former assemblyman, accuses Rackauckas of subverting the criminal justice system for political gain by waiting to file a high-profile rape case just before voters go to the polls.
Rackauckas has held the job for two decades, enduring several scandals that in a less law-and-order county might threaten him politically. The biggest involves allegations that his office was complicit in the use of jailhouse informants to obtain confessions. There has been a steady stream of headlines about prosecutorial misconduct that affected high-profile murder cases. The state attorney general's office and the U.S. Department of Justice are investigating the matter.
An independent panel established by Rackauckas released a highly critical report saying that a "failure of leadership" in his office led to the scandal.
But for all of Rackauckas' problems, Spitzer is also a highly polarizing figure. A longtime Republican leader, Spitzer has led the effort to remove homeless people from the Santa Ana River.
There was some debate about whether Rackauckas, after two decades in office, would seek reelection. Orange County Sheriff Sandra Hutchens, who was also tarnished by the informant scandal, decided against another run. Some political observers believe Rackauckas could not stand the idea of Spitzer succeeding him.
Rackauckas, 75, last won reelection with 73.3% of the vote in 2014. But Spitzer, whose campaign has spent more than $2.2 million, emerged from the June primary as a serious threat, garnering 35% of the vote to the incumbent's 38%.
The bad blood between the men runs deep.
Spitzer, 57, an ex-Los Angeles reserve police officer and former assistant district attorney who worked under Rackauckas, at one time seemed his heir apparent.
As a rising political star in the Assembly, he first considered running for the seat as early as 2006. But in 2010, Rackauckas accused Spitzer of misconduct and fired him. As Spitzer tells it, he was unceremoniously walked out of the office.
Spitzer said he innocently made inquiries about elder abuse to the public guardian's office after a complaint. But the public guardian at the time said Spitzer overstepped his authority to get information to which he was not entitled.
Two years later, Spitzer was elected to the county Board of Supervisors and began politically stalking his former boss. In announcing his challenge last year, Spitzer said: "I refuse to stand by as Tony Rackauckas destroys the district attorney's office and uses it as his personal fiefdom for he and his cronies while the public's safety suffers."
The jailhouse snitch scandal has tarnished Rackauckas' image. The independent report he commissioned criticized a "win-at-all-costs mentality," pursuing convictions even in the face of possible violations of defendants' constitutional rights.
A judge kicked Rackauckas' office off the case of Scott Dekraai, who pleaded guilty to killing eight people at a Seal Beach salon in 2011.
The district attorney's office was pursuing the death penalty, but Superior Court Judge Thomas Goethals handed the case to the state's attorney general. Goethals made the dramatic move after growing increasingly impatient with sheriff's jailers and prosecutors, who resisted repeated orders to fully disclose the role of an informant in the case and to hand over records about the informant program. An appeals court upheld the decision, saying there was ample evidence of wrongdoing.
The discoveries in the Dekraai case have upended several other murder cases. In February, a Superior Court judge ordered a new trial for a convicted killer on the grounds that authorities failed to reveal that a key witness was an informant.
Not since the fall of former Orange County Sheriff Mike Carona nearly a decade ago has local law enforcement been under such scrutiny.
But Spitzer hasn't been without his own problems. Unnerved by a man "preaching the word of God" to him during a lunch hour and suspiciously eyeing a knife in a Wahoo's Fish Taco restaurant in Foothill Ranch in 2015, Spitzer retrieved a handgun and handcuffs he carried in his car and cuffed the man. He would later argue that his decade of LAPD reserve officer experience led to his reaction. A sheriff's deputy described it as a butter knife, but Spitzer said it was a serrated steak knife.
Officials found that he acted lawfully based on a perceived threat. But Rackauckas said the incident showed a lack of judgment.
Last year, Spitzer settled a lawsuit for $150,000 with a former member of his staff who alleged several labor law violations, including working shifts of up to 24 hours.
Rackauckas won his first term as district attorney in 1998, riding a wave of frustration with his predecessor, Mike Capizzi, who found himself in the crosshairs of the county's Republican Party after he began to focus on public corruption cases.
He is the son of a Navy man and a Mexican American mother whose first few years were spent in East L.A., where he primarily spoke Spanish. He was a paratrooper in the 101st Airborne Division and also worked as a social worker before turning to a legal career. Rackauckas was appointed to the judiciary in 1990, where he earned some notoriety for showing leniency to nonviolent defendants facing lengthy jail terms under the state's three-strikes law. As district attorney, he's been a leader in the use of DNA analysis to apprehend violent criminals.
Rackauckas has endorsements from three county supervisors, several Orange County congressional representatives and Hutchens. He has raised more than $1.2 million, while the Assn. of Orange County Deputy Sheriffs has spent about $250,000 on his behalf.
As a top prosecutor, Spitzer had more than 100 trials under his belt. As a state lawmaker, he was closely tied to the victims' rights movement, and was a supporter proponent of Marsy's Law in 2008.
Spitzer is courting Democrats with promises of bringing nonprofits such as the American Civil Liberties Union to the table to help reform the district attorney's office.
Twitter: @lacrimes
---
The perils of parenting through a pandemic
What's going on with school? What do kids need? Get 8 to 3, a newsletter dedicated to the questions that keep California families up at night.
You may occasionally receive promotional content from the Los Angeles Times.