Former Compton Mayor Omar Bradley sentenced to 36 months' probation for misappropriating public funds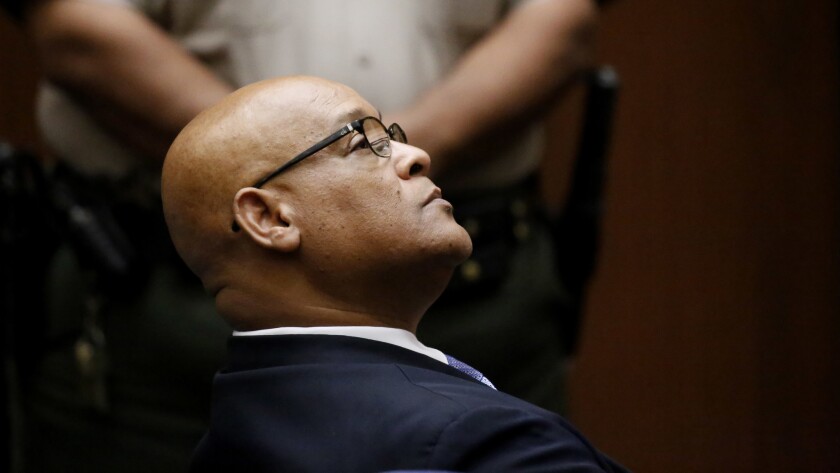 Former Compton Mayor Omar Bradley was sentenced to 36 months' probation Wednesday for misappropriating public funds.
Late last month, Bradley was convicted for the second time on two counts of misappropriating public funds. His first conviction, returned in February 2004, was thrown out by a state appellate court in 2012.
The former mayor was also sentenced to a year in county jail, but Judge George Lomeli granted Bradley credit for time served, sparing the former official more time behind bars.
Bradley declined to make a statement before the sentence was handed down, but as he left the courtroom he waved at the judge and said, "Your honor, bless you."
During the proceedings, Deputy Public Defender Robert J. Hill said Bradley planned to appeal.
Perhaps the biggest consequence of Bradley's conviction is that he is now barred from holding elected office.
Outside the courtroom, dressed in a sharp dark suit with blue tie, Bradley said his family was hurt by the verdict, but he was thankful that he wouldn't have to serve additional time behind bars.
"[My family] was still under the illusion that poor folks and black folks can get justice in America," he said.
The prosecution alleged that between 1999 and 2001, Bradley used a city-issued credit card for personal items and "double dipped" by taking cash advances for city business expenses and then charging the items to his city credit card. He denied the charges.
During the trial, Los Angeles County prosecutors had again argued that Bradley understood the rules and that his spending of public funds had "no public benefit."
Bradley decried the district attorney's long-running pursuit of the case, which had gone on for years. During that period, he ran for mayor twice, in 2013 and 2017, and lost both times to Aja Brown.
"In my opinion the justice system has gotten way off track — certainly with the money that's been expended to make a point with me," Bradley said. "Simply because I'm an outspoken African American who doesn't bite his tongue. It could've been spent on some really important things."
Bradley was born and raised in Compton and was a star football player at Centennial High. From 1993 to 2001 he was the city's undisputed political boss.
Some of the same qualities that made him popular — including his brash talk — also made him controversial.
He touted his close relationship with the late Eazy-E of N.W.A and also once attacked rap music's love affair with Compton, claiming it was part of an effort by Jewish record executives to make money off blacks. He later apologized for those comments.
He didn't indicate exactly when he he'd file his appeal, saying that was up to his lawyer, but that move will be yet another chapter in the legal back-and-forth over a case that's lasted longer than his career in elected office.
---
The stories shaping California
Get up to speed with our Essential California newsletter, sent six days a week.
You may occasionally receive promotional content from the Los Angeles Times.