In Orange County, immigrant voters could be key in this county supervisor race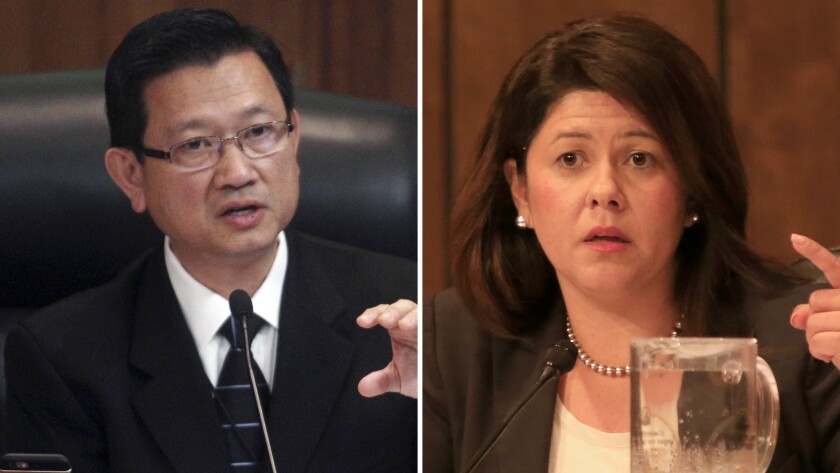 The incumbent was a refugee from Vietnam who arrived in the U.S. clinging to French and English dictionaries that he and his parents hoped would help them find their footing in a new home.
The challenger, a councilwoman raised in Santa Ana, ascended to public office as one of the youngest elected leaders in city history, after being the first person in her family to earn a college degree.
Next week, Andrew Do or Michele Martinez will claim the first district seat on the Orange County Board of Supervisors — and victory will depend substantially on how many immigrant U.S. citizens from the burgeoning Vietnamese and Latino communities they can get to cast votes.
If either candidate can win enough support from the other's cultural base, it could make the difference in one of Orange County's most hotly contested races.
"Has Do reached out effectively beyond his traditional base? Has Martinez ventured away from familiar neighborhoods? The proof will be how hard each of them works to gain recognition," said Jodi Palma, a political science professor from Fullerton College.
Experts say the competition between Do and Martinez reflects the changing demographics of central Orange County, where candidates must look well beyond traditionally white voters to win — and where they increasingly have to leverage their cultural connections to many of the residents they seek to represent.
As the incumbent, Do would presumably have the advantage, including in name recognition. But in a year in which Republican presidential candidate Donald Trump has angered many Latinos with his political rhetoric — including talk about Mexican immigrant "rapists" and massive border walls — turnout from that community could help Martinez.
"In this case, a Democrat like Martinez might have an advantage," said Palma.
The first district spans a diverse area that includes Garden Grove, Fountain Valley, Santa Ana and Westminster — all of which have significant Vietnamese American populations. In 2015, Do edged former state Sen. Lou Correa (D-Santa Ana) by a mere 43 votes in a special election for the supervisor's seat after an energetic voter registration drive in that community.
The race between Do and Martinez has been costly.
Do budgeted six figures to buy television ads airing in English and Vietnamese, said John Thomas, president of Thomas Partners Strategies and Do's top campaign strategist. The father of two has raised $740,000 — compared to Martinez with more than $241,000.
The spending has made this contest one of the most expensive local supervisor races in the past two decades, experts say.
In the June primary, Do trailed Martinez: She got 38.1% of the vote compared with 34.3% for Do. Before the primary, about 37% of the district's voters identified as Latino, while 25% identified as Vietnamese, according to Political Data Inc.
Countywide, the first district is known as the most liberal among five supervisor districts, with Democrats holding a nearly 18% lead over Republicans in voter registration, according to the Registrar of Voters. That translates to 37,000 more Democratic voters.
If Martinez wins, she will be the first Latina to join the county supervisors and the only current Democrat.
Do said he's been working relentlessly in past months — and has reached well beyond the Vietnamese American community.
"I don't really talk about my chances. And I don't let what other people do influence me. I'm busy with outreach — and the best outreach is district activities, doing the things that reflect everyday life," he said, citing his participation in community fairs with cultural groups such as Latino Health Access and Healthy Smiles for Kids.
"I represent my district — period," Do added. "I don't distinguish between cultures."
Thomas cites Do's leadership in the past two months in turning a county-owned bus terminal into a temporary shelter for the homeless who have been camping at the Santa Ana Civic Center.
"The homeless situation has been growing out of control while Santa Ana leaders did nothing about it," Thomas said. "He really understands the nuts and bolts of this job and loves, loves doing it. And his fundraising reflects the fact that many, many people support him."
Martinez pointed to Do's backing from "the establishment" and said grass-roots campaigning better matches her style.
"With social media today you can reach your voters for less dollars and of course, walking door to door as the candidate does not cost much. I spend my money wisely," she said.
She takes credit for pushing the Santa Ana council to declare the city's homeless encampment a "public health crisis" in September, while attacking county government for its inaction on homelessness. Martinez and her colleagues approved $1.3 million to clean up the Civic Center with regular power-washings and beefed-up police patrols.
"I've supported her from the very beginning and we align with her and the Democrats because she understands the lifestyle for immigrants," says Valerie Amezcua, a supervising probation officer for the county who credits Martinez with mentoring her for her successful Santa Ana Unified school board run in 2014.
While experts say the two candidates have to successfully entice a variety of voters to cast ballots for them to win, Do and Martinez will have to dominate their core constituencies among the Vietnamese American and Latino communities.
"The communities where the candidates come from will have a say in who wins," Palma said. "Andrew Do and Michele Martinez know that and they have to mine that to be supervisor."
ALSO
Assemblywoman's Orange County campaign office burglarized; voter data stolen
At a time of ambivalence to immigration, attorneys gather in Tijuana help those desperate to enter U.S. legally
L.A.'s traffic battle plan: More rail, but also Uber, bicycles, cars and a lot more dense development
---
For reporting and exclusive analysis from bureau chief John Myers, get our California Politics newsletter.
You may occasionally receive promotional content from the Los Angeles Times.