A bitter rivalry between two mayors helps spawn corruption scandal in Antelope Valley
Explainer on public corruption allegations in Palmdale, involving Mayor James Ledford.
Lancaster and Palmdale have long battled for supremacy in the Antelope Valley, and the rivalry extends to the cities' mayors, R. Rex Parris and James Ledford.
Five years ago, Parris, Lancaster's mayor and a well-known litigator, heard about a lawsuit filed by a civil rights group aimed at forcing nearby Palmdale to shift from at-large to district elections in an effort to elect more nonwhite candidates.
Parris eventually decided to provide legal help to the plaintiffs and, in the process, got a chance to depose Ledford.
So on a February morning in 2013, Parris peppered the Palmdale mayor with questions for hours — asking him about politics, city affairs as well as details of his own life and work.
Now, issues raised in the deposition have become part of a public corruption investigation into Ledford by the Los Angeles County district attorney's office. Last month, prosecutors charged Ledford, 64, with illegally receiving nearly $500,000 from local consultants and failing to publicly disclose the income on economic statements.
Ledford could enter a plea as early as Wednesday. He did not reply to several requests for comment. His attorney has urged the public to not pass judgment, noting the accusations made by the district attorney have not been proven.
Parris said he had no idea his tough questions would play a role in the scandal — but knows others might think differently.
"I knew how it would look," Parris said. "It would look like a personal vendetta. It really wasn't."
The case has heightened the already well-known feud between Palmdale and Lancaster, the two biggest cities in the fast-growing high desert region at the northern edge of Los Angeles County.
The cities have battled over Wal-Marts, Costcos, a power plant and car dealerships.
"It was like the Hatfields and McCoys, where you don't know exactly how the fighting all started," said David Childs, who served as Palmdale city manager from 2012 until he retired in June 2015. "This rivalry is not the only one that occurs, but it was certainly a distraction."
Many trace the so-called "Cactus Curtain" rivalry between the cities back to 1962, when Palmdale broke away from Lancaster and became incorporated.
Others cite a high school rivalry and also a stretch during the 1980s and early 1990s, when the cities fought over investment money that washed into the valley.
In 2012, Parris held a doll during a local television news interview and pretended it was Ledford. A year later, the Palmdale mayor said of the rivalry:
"The curtain exists, but our side is nice and smooth. It's their side that's all prickly."
Parris' response: "We've attempted to talk. But they've given us the finger."
In 2012, Malibu attorney Kevin Shenkman sued Palmdale, arguing that at-large seats on city councils disenfranchise minorities. Palmdale's lawyers had lined up expert witnesses who seemed prepared for a long slog of litigation, he said.
Shenkman said he was spending tens of thousands of dollars and needed legal and financial assistance. For months he tried to get Parris to help him.
"I tried to avoid the case because I knew how it would look," Parris said. "I'm the mayor of Lancaster. There is a war between the two cities."
The Lancaster mayor said he was eventually persuaded by a history of litigation between his city and Palmdale.
"So I just didn't feel any constraints that I might have normally felt," Parris said.
Parris said his firm spent $234,717 on the case.
He insists he had nothing personal against Ledford.
"We have a lot in common. We went to the same high school. We went to Antelope Valley College," Parris said.
On the morning of the deposition, Parris said Ledford arrived with about a half-dozen attorneys. So the Lancaster mayor said he left the room to get backup. "I went and got six of my lawyers," Parris said.
Shenkman said Parris actually earned his keep in the first two hours of questioning. Then he just let the Lancaster mayor and veteran litigator keep asking questions.
"I was really just an observer looking on, not in disbelief but amusement," Shenkman said. Video of the deposition shows Parris launching an array of questions at Ledford.
"We'll be talking about their wives and kids and I'll ask them a question about the case," Parris said. "It's very disconcerting for people."
Ledford's attorneys objected repeatedly, but short of pulling the mayor from the deposition, there was not much they could do. It wasn't as if Parris went in with a plan to blow open a case against Ledford.
The questions that ultimately proved problematic for Ledford centered on how he made a living.
During a particularly heated part of the deposition, Parris alleged that Ledford was getting money from a "no-show" job, saying the Palmdale mayor was receiving $2,600 every two weeks "for doing what appears [to be] absolutely nothing."
Ledford did not respond, but his attorney had objected to the line of questioning — at one point referring to it as a "fishing expedition."
In the end, the lawsuit was successful, extracting changes on how voters in Palmdale would choose elected officials. As part of the settlement, Palmdale agreed to pay $4.5 million to the plaintiffs' attorneys, including Shenkman and Parris.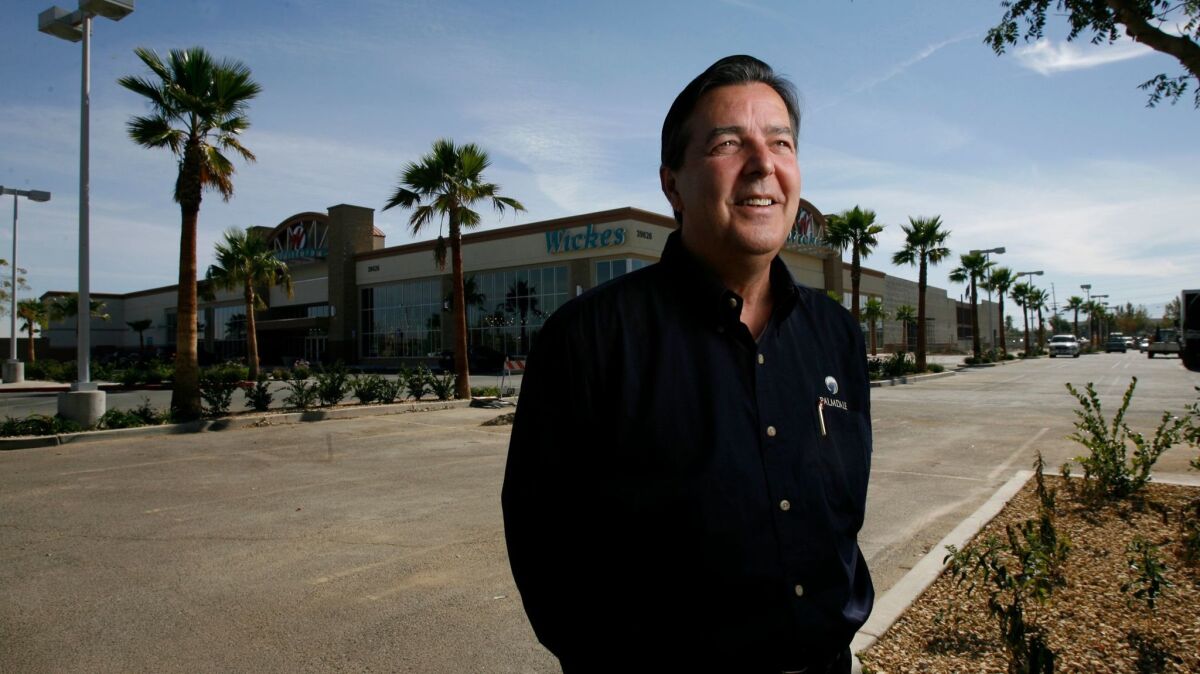 Then in May, almost exactly four years after the deposition, officials from the L.A. County district attorney office's Bureau of Investigations descended on six locations, including Ledford's home, office and a local nonprofit called the Aero Institute.
That month, the mayor's former campaign manager Kamal Al-Khatib, insisted the investigation was a politically motivated witch hunt driven by Parris and other Ledford enemies.
"Mayor Ledford is honest man and loved by his residents, that [is] why he was elected as a Mayor for 13 terms," Al-Khatib said in a written statement.
Prosecutors alleged that over the course of about seven years Ledford had received about $491,000 from the arrangement with two consultants, Kimberly Shaw and Susan Miller. The consultants, Shaw, 61, and Miller, 68, each face charges of conspiracy, embezzlement and misappropriation of public funds.
The indictment says that money was funneled to Ledford from the Aero Institute through a series of companies controlled by Miller and Shaw, who both hold leadership positions at the institute, which is almost exclusively funded by NASA.
Shaw also had been paid $1.4 million as a consultant to the city of Palmdale between 2007 and February of this year, according to invoices provided by the city.
Shaw's lawyer Stanley L. Friedman said the financial transactions were open and aboveboard.
"She maintains her innocence and intends to prove it in court," Friedman said.
Miller's lawyer Allen J. Bell declined to comment.
On June 21, Ledford briefly appeared in court and delayed entering a plea. His lawyer Anthony Falangetti said that "these right now are accusations" that have yet to be tested in a court of law.
He added that the payments to Ledford were completely appropriate, saying, "[Ledford] got paid to do some work, and he declared who paid him."
Ledford, Miller and Shaw all delayed entering a plea at a Wednesday morning court appearance. They're now all scheduled to be arraigned Oct. 19.
Despite a call by a member of the Palmdale City Council for him to step aside until the case is resolved, Ledford continues to serve as mayor. A local newspaper conducted what it called an "unscientific but utterly democratic" poll asking whether he should step down.
The poll's finding: "37.5% said he should stay in office while fighting the accusations." Just over 44% said he should resign.
On a recent evening this month, Ledford presided over a council meeting at Palmdale City Hall.
One of the issues on the agenda: Whether Palmdale should become part of the energy cooperative run by its neighbor, and rival, Lancaster.
Times staff writers Richard Winton and James Queally contributed to this report.
---
UPDATES:
11:30 a.m.: This article was updated with additional details about Ledford, Shaw and Miller's next court appearance.
This article was originally published at 5:00 a.m.
---
Life is stressful. Our weekly mental wellness newsletter can help.
You may occasionally receive promotional content from the Los Angeles Times.