Suspect in 1980 slaying of pregnant newlywed identified, police say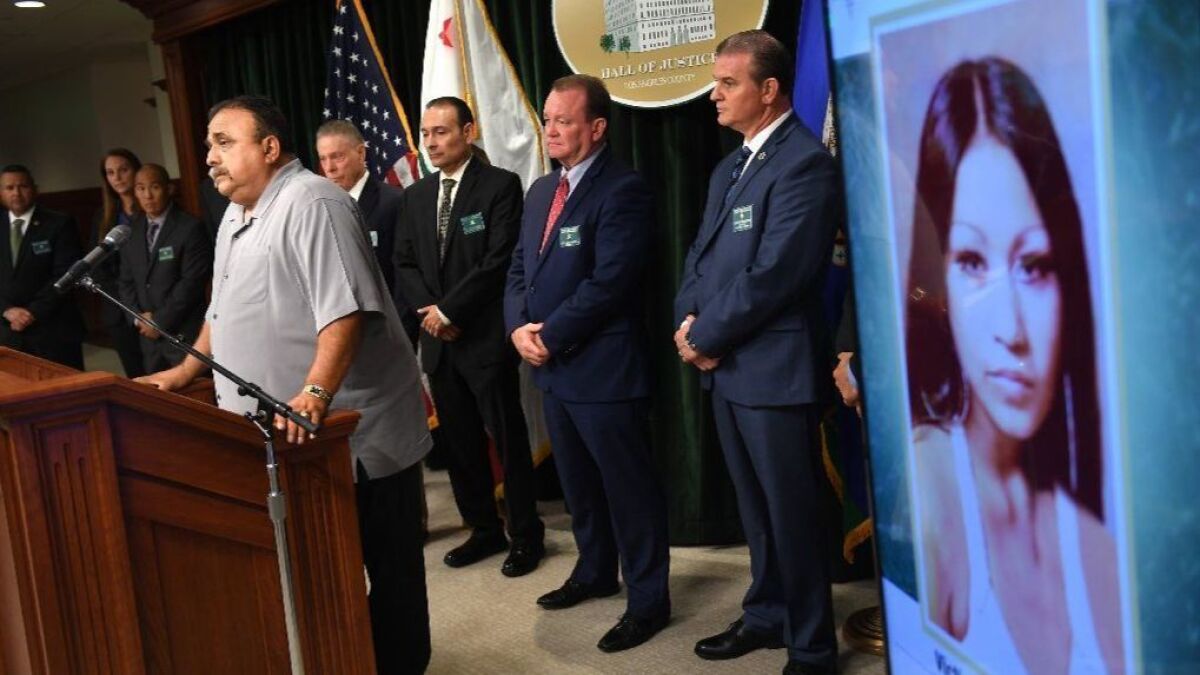 The night before Teresa Broudreaux was killed, she got into a spat with her husband and walked to her sister's home. The 20-year-old newlywed, who was pregnant, left a short time later and was never seen alive again.
Her nude body was found on the morning of March 4, 1980, on a rocky beach at Malaga Cove in Palos Verdes Estates. Broudreaux, who also had a 4-year-old daughter, died of blunt-force trauma to the head, authorities said.
For nearly four decades, her husband, Ronnie Fematt, endured suspicious stares, rumors from neighbors and gossiping co-workers who thought he was responsible for the death of his wife.
"I felt like a suspect," said Fematt, who was 23 at the time. "I wasn't the one."
On Friday, Los Angeles County sheriff's detectives announced that they had made an arrest in Broudreaux's killing, the result of a DNA match. Robert Yniguez, 65, a registered sex offender, was arrested Thursday outside his San Pedro home.
Detectives believe Yniguez did not know Broudreaux.
Yniguez, a construction worker, is due in court Monday, authorities said. He is being held in lieu of $1-million bail.
"I've waited a long time for this day," Fematt said through tears at a news conference held to announce the arrest. "It has been a long time, what I've been through, the uncertainty of not knowing why or how."
Investigators remained tight-lipped Friday about the circumstances of the crime, but said they believed the motive was sexual assault.
Authorities said that DNA collected at the scene led to the arrest. Yniguez had a conviction for rape in the 1980s and served time in prison, Det. Ralph Hernandez said.
The original detectives assigned to the case collected several pieces of evidence and followed up on numerous leads, but they were never able to identify a suspect and the case went cold, sheriff's officials said.
When the detectives retired, the case was filed as "unsolved."
Many years later, investigator Harry Lewin was able to use new DNA technology to develop leads from evidence collected.
"Often these cases wait for a powerful combination of a detective who never gives up, a witness with a guilty conscience, or a suspect with a self-serving interest, or in this case, new DNA technology," Sheriff Jim McDonnell said.
Sheriff's Capt. Christopher Bergner, of the homicide bureau, agreed.
"Unsolved cases date back to 1927, they have no statute of limitations, and in this case, we caught a break, he said.
Fematt said he had been married to Broudreaux for only five months.
His wife worked at a Jack in the Box and loved music. The two enjoyed driving to different record stores to hunt for oldies music.
Fematt said he was "haunted" that a person could kill a pregnant woman.
He named the unborn child Sofia, and she was buried with her mother.
Times staff writer Joseph Serna contributed to this report.
For breaking California news, follow @nicolesantacruz on Twitter.
---
UPDATES:
7:05 p.m.: This article has been updated with new information from sheriff's officials.
This article was originally posted at 8:55 a.m.
The stories shaping California
Get up to speed with our Essential California newsletter, sent six days a week.
You may occasionally receive promotional content from the Los Angeles Times.