Fire survivors must relocate again after FEMA pressures Paradise to reverse RV rules
After the Camp fire destroyed their home in Paradise, Calif., last November, Anastasia Skinner, 26, her husband and their three young children left their community and moved in with a relative in Nevada. But the schools there didn't offer two of her special-needs children the care they required.
So it was welcome news when Skinner, who was pregnant when she fled the fire, heard that officials were allowing residents to move back and live on their fire-scarred properties in temporary dwellings. With the insurance money they collected, Skinner and her husband purchased a used RV for $10,000 and headed back to Paradise.
For about a month, they made a home of their small RV. Money was tight, and they spent more on water, propane and gas than what they paid for the monthly mortgage on their now-destroyed house of six years. But, unlike thousands of others, at least the Skinners had a home.
Then Paradise and Butte County officials changed their minds.
After the Federal Emergency Management Agency announced last month that $1.7 billion in federal aid was in jeopardy if the city and county continued to allow residents to live on blackened and toxic land, officials passed an ordinance that reversed their initial decision to allow people to move back to burn areas. That meant at least 130 people with so-called utility pull permits, which allow for a utility hookup, would be displaced once again.
Skinner is one of potentially hundreds of more residents who are uncounted because they do not have such permits.
"We're in a lot of trouble," Skinner said after hearing the news. "We're worried about losing our children at this point. Our family is what we have left. It feels like we're losing everything."
The Camp fire, which began Nov. 8, destroyed nearly 19,000 structures, killed 86 people and leveled much of Paradise, a sleepy town of 27,000 nestled in the foothills of the Sierra Nevada. The fire is the deadliest on record in California.
Some argue that displacing residents a second time from their community was entirely preventable and that the decision was the result of poor governance by local, state and federal leaders. Poor communication continues to plague the town, exasperating those who are now being asked to leave.
Many residents spent thousands of dollars purchasing RVs and mobile homes so they could return, leaving them short on cash to spend on moving out. The housing shortage caused by the Camp fire also continues to be a major obstacle for some, and many RV parks are full.
Nov. 11, three days after the Camp fire broke out, a county public health official issued an advisory warning people that the debris left from the fire may contain high levels of lead, mercury, dioxin, arsenic and other carcinogens or radioactive materials.
Skinner said she knows of the risks but, like many others, had no other options. Butte County and Paradise knew it too, but in a state of desperation after the fire, officials decided it would be best to give residents the chance to gain their livelihoods again. It was a decision made with the best of intentions, officials said.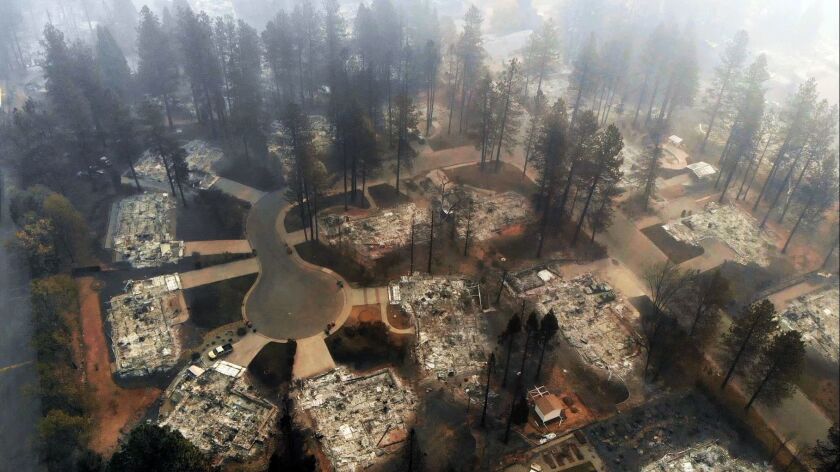 In December, Paradise and Butte County each passed ordinances allowing residents to move back to their burned properties. The county required residents to have a 1-acre property and station themselves at least 100 feet away from fire debris. They also had to leave the property if cleaning crews were on site.
FEMA and the California Office of Emergency Services were aware of the ordinances and the public health official's advisory. They did not protest or threaten to cut funding at that time, so Butte County and Paradise began issuing utility pull permits, said Casey Hatcher, a spokeswoman for Butte County.
Skinner and her husband, Daniel Skinner, who works from home as a county employee, spend the day with their children. Zayde, 7, has autism and gets urges to run suddenly, requiring keen supervision. Zeth, 8, has a brain tumor and ADHD. Their youngest, 2-month-old Zoel, was named after a paramedic that helped Anastasia Skinner evacuate as the wildfire roared through the town.
Every morning, Skinner, accompanied by her other three children, drives Zayde to school in Chico. She stops by a water filling machine to fill up four or five gallons of water and purchase propane and gasoline when needed. After breakfast, Skinner and her children spend the day studying, watching movies or visiting a park nearby. In the afternoon, they get ready to pick up Zayde from school.
It is a difficult and uncomfortable life compared with what the family enjoyed before. Skinner was an active mother. She was a frequent volunteer and was attentive to the needs of her children.
"We were self-sufficient," she said. "They were well taken care of."
In late January, the Paradise City Council was scheduled to discuss amendments to its first ordinance allowing residents back, because some complained that the rules were confusing. An RV wasn't allowed to be within 100 feet of debris on a burned property, but standing homes were OK being 10 feet away.
Then FEMA suddenly asked local officials to pull the agenda item.
At the time, a FEMA representative was in town. But Jan. 24, FEMA coordinating officer David Samaniego wrote a letter to the California Office of Emergency Services expressing concern about the RVs. It referenced the health advisory issued in November.
"Butte County and Paradise allowing its residents to re-occupy their property prior to fire debris and hazardous materials being removed is in contrast to Dr. Miller's warning," Samaniego wrote. This action "may impact the justification" for disaster relief and federal reimbursement of those costs.
The town of Paradise called an emergency meeting Feb. 4, an emotional 1½-hour session that fueled residents' disappointment. But it was clear there was nothing to be done.
"This meeting tore at me and I'm still pissed about it … by far the most emotional," Councilman Michael Zuccolillo wrote in a Facebook post. "I felt as if we had a financial gun to our heads."
Local leaders and residents were left to wonder, why didn't FEMA step in sooner and avoid the ensuing crisis?
"Where's the FEMA boss?" one resident asked during the Feb. 4 meeting. "Where is he? He's not at this meeting."
In an interview with the Chico Enterprise-Record, Butte County Supervisor Doug Teeter said a FEMA representative was consulted when the decision was made to let residents return to their properties, "and he was fine with it."
"It's pretty rotten that we worked with one" representative, he said, "and another comes and changes" the action.
Ken Higginbotham, spokesman for FEMA, said the agency's job is to simply pay the bill, not act as police for local officials failing to enforce rules.
"The people that are maneuvering this or administering this program are from the county of Butte and the town of Paradise," he said. "We just pick up the tab. But in order to provide federal funding they have to adhere to federal regulation. We are here to protect taxpayer dollars. Your taxpayer dollars."
Higginbotham initially cited violations in federal requirements as the reason FEMA officials stepped in. He later conceded that actions taken by federal, local and state officials in good faith "possibly went a little too far."
"But we can't dwell on that," Higginbotham said. "There is no one to blame."
Since last week, Skinner and her family have searched desperately for a place to go. They have traveled near the Oregon border several times hunting for properties. They have searched all RV parks in the area, most of which they cannot afford. And their 50 pound golden retriever-Labrador therapy dog, Hunny, isn't welcomed everywhere.
No matter where they go, Skinner laments, they have to leave the town their family has lived in for six generations.
Butte County has distributed a list of housing alternatives and worked with property owners and churches to establish temporary RV parks.
FEMA had already been working to find RV parks for Paradise and Magalia residents before the ordinance reversal. The Chico City Council met last week to discuss a proposal that would allow FEMA to sign a one-year lease for the Hegan Lane Business Park.
Skinner learned Friday that the owner of a dance studio her daughter attends is lending the lot to displaced RV residents. She's working to secure a spot there. But there's no guarantee, given the demand.
Dejected, Skinner said she blames local officials for letting the disaster happen.
"They made this situation that was already bad a million times worse," she said, "with no solutions."
alejandra.reyesvelarde@latimes.com
Twitter: @r_valejandra
---
Get breaking news, investigations, analysis and more signature journalism from the Los Angeles Times in your inbox.
You may occasionally receive promotional content from the Los Angeles Times.