L.A. city councilman lauds Magic Johnson's South L.A. businesses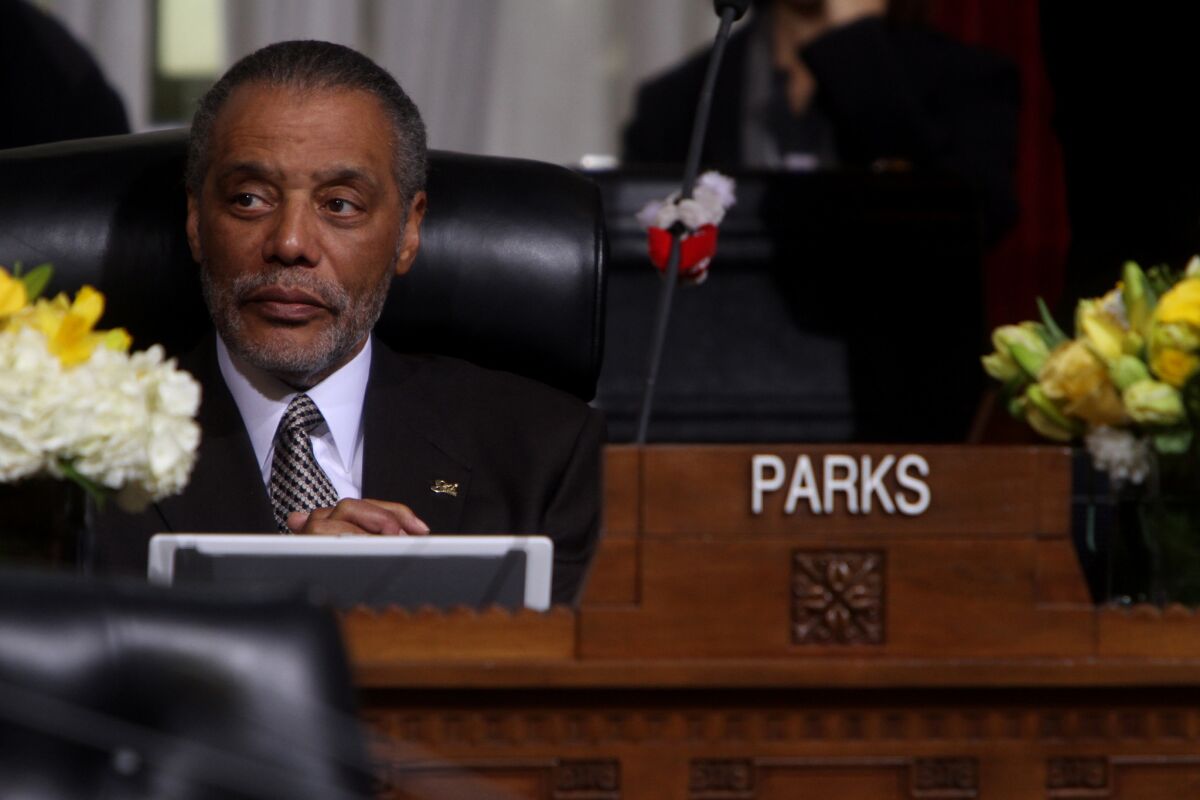 The day after Donald Sterling criticized Earvin "Magic" Johnson during a nationally televised interview, Los Angeles City Councilman Bernard C. Parks defended the Lakers great, saying his investments in South Los Angeles were crucial to the area's economic development.
Parks, whose district covers much of South L.A., said Johnson's investments helped save shopping malls in Ladera Heights and Baldwin Hills that were at risk of closing.
"Although I don't feel that Magic Johnson needs to be defended, I think his activities, his investments, his presence in this city -- his adopted city -- is more than sufficient to show what his commitment has been," Parks told reporters Tuesday. "The amount of impact he's made on young people and the employment of young people has been significant."
In an interview with CNN's Anderson Cooper on Monday night, Sterling accused Johnson of setting a poor example for children and failing to help African Americans in Los Angeles.
"What does he do for the black people? He doesn't do anything," Sterling said during the interview, which was conducted at the billionaire's Beverly Hills home. At another point, he added: "Can you tell me, big Magic Johnson, what has he done?"
What Johnson has done, Parks said, was help create jobs for young South L.A. residents and save a struggling shopping center. When Johnson opened the Magic Johnson Theater at the Baldwin Hills Crenshaw Plaza in 1995, Parks said, about 40% of the tenants had already moved out.
In the two decades since, Johnson's theater and other investments, including a Starbucks, have "stabilized" the mall and helped to attract millions of dollars in recent investments, Parks said. The mall now counts among its tenants a Walmart, the Debbie Allen Dance Academy and the restaurant Post & Beam.
"The Magic Johnson Theater actually saved that shopping center," Parks said. "He has shown corporate America that if you invest in minority communities, they will reward you with a significant amount of return."
Johnson has owned 124 Starbucks across the country, as well as a chain of urban movie theaters, his agent told the Los Angeles Times.
Parks also referenced Johnson's annual charity exhibition games, called "A Midsummer Night's Magic," that raised millions of dollars in scholarship money for low-income students.
"The funds they created went directly into the hands of young people that were going to college," Parks said. "Every year he'd bring these students back to monitor their progress and continue to support them."
The stories shaping California
Get up to speed with our Essential California newsletter, sent six days a week.
You may occasionally receive promotional content from the Los Angeles Times.