Scuffles break out during far-right march in Berkeley; at least 3 arrested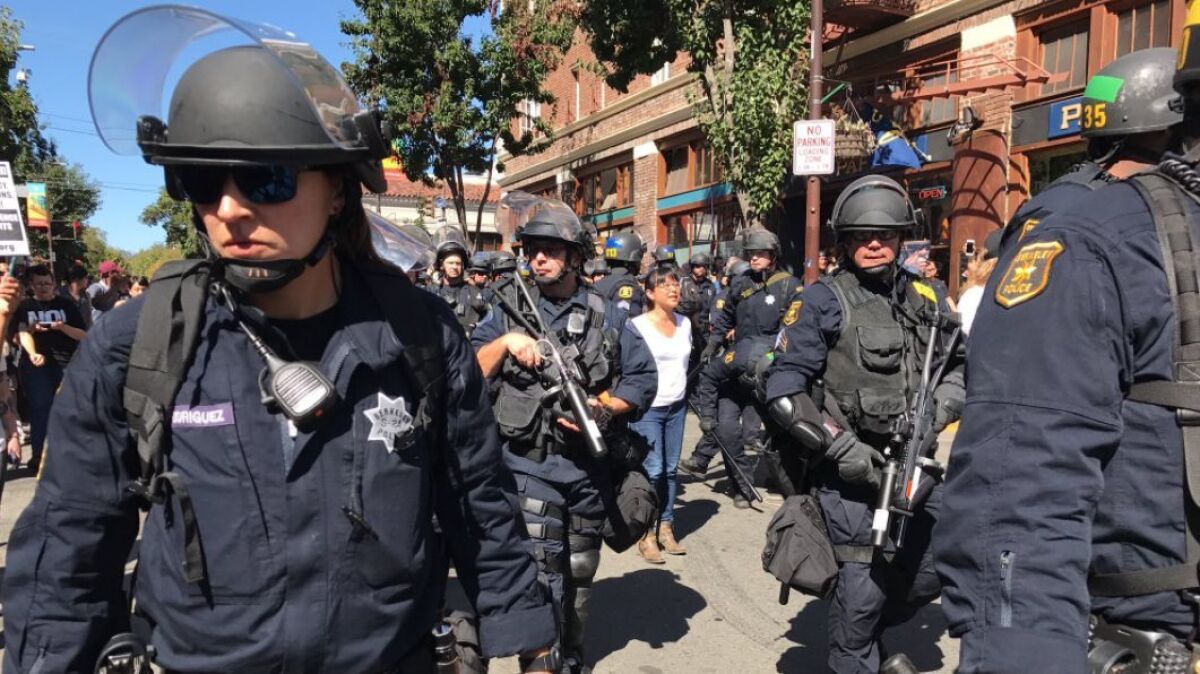 Berkeley —
Far-right activist Joey Gibson, who planned and canceled a much-hyped rally at San Francisco's Crissy Field last month amid threats of violence, finally got a chance to speak in the Bay Area on Tuesday — though not many were around to hear it.
Gibson and at least 50 supporters of President Trump met at UC Berkeley's Sproul Plaza along with curious students going about their day and a heavy contingent of reporters, videographers and photographers. A few counter-protesters from the the liberal group By Any Means Necessary confronted and shouted at the Trump supporters. Scuffles broke out.
At least three people were arrested as the crowd marched from the campus to People's Park. Among them was Yvette Felarca, an organizer with By Any Means Necessary.
Trump supporters cheered at the arrests and continued to People's Park, where Gibson climbed onto a wooden stage and spoke to the crowd without interruption.
He declared that he and his group, Patriot Prayer, would keep returning to Berkeley until they "respect free speech."
Kyle Chapman, who goes by the moniker "Based Stickman" on Twitter and gained internet notoriety for fighting anti-fascists in the streets of Berkeley, also spoke to the crowd.
Chapman was captured on video fighting with anti-fascists while carrying a shield and staff this year, and Alameda County prosecutors charged him last month with possession of a "leaded cane/billy club." He has a history of weapons-related charges.
Chapman talked about a "war against whites" and vowed to return to Berkeley.
"I am far from done; I am not going to quit," he said. "I am not out here looking for views; I am not here looking for friends. I am out here looking to fight for the freedoms of our country."
After a few speakers finished on stage, sporadic arguments broke out among the crowd between the Trump supporters and students and residents gathered in the park, which is home to several homeless people.
Tuesday's protest is the latest in a string of politically charged demonstrations to roil the community and the UC campus.
The protest comes after the cancellation of Milo Yiannopoulos' planned "Free Speech Week" at the campus. The 32-year-old right-wing provocateur spoke briefly Sunday amid protests before leaving town.
Tuesday's event grated on the nerves of students.
David Marquis, a 24-year-old senior in Near Eastern studies and archaic languages, watched the protesters scrum around and asked no one in particular, "Do any of these people even live in Berkeley?"
Marquis said his math discussion and other classes had been canceled for the week.
"This whole crowd should not be here," he said. "I am very confused."
Edwin Fulch sat nearby in what he calls his "empathy tent," where he's been preaching the gospel of mediation and understanding since Occupy Wall Street protests rocked the country. It's the reason he brought Gibson and a liberal documentarian named Rod Webber into the tent.
Shouting on all sides made the dialogue impossible. The tent was nearly toppled, and police officers had to rush in.
"It's tough, but we do what we can to foster a dialogue," Fulch said. Over shouting, he added: "They brought the crowd and the yelling and the media. We asked the media to not chase violence but listen and mediate different sides."
As Fulch predicted, once Gibson moved on, the media and the large crowd followed him.
Twitter: @boreskes
Twitter: @jpanzar
---
UPDATES:
7:15 p.m.: This article was updated throughout with arrest details and other information.
2:35 p.m.: This article was updated with reports of scuffles breaking out and two arrests.
This article was originally published at 11:30 a.m.
The stories shaping California
Get up to speed with our Essential California newsletter, sent six days a week.
You may occasionally receive promotional content from the Los Angeles Times.