He charged tuition for help getting student visas in 'pay-to-stay' scheme. A judge gave him 15 months in prison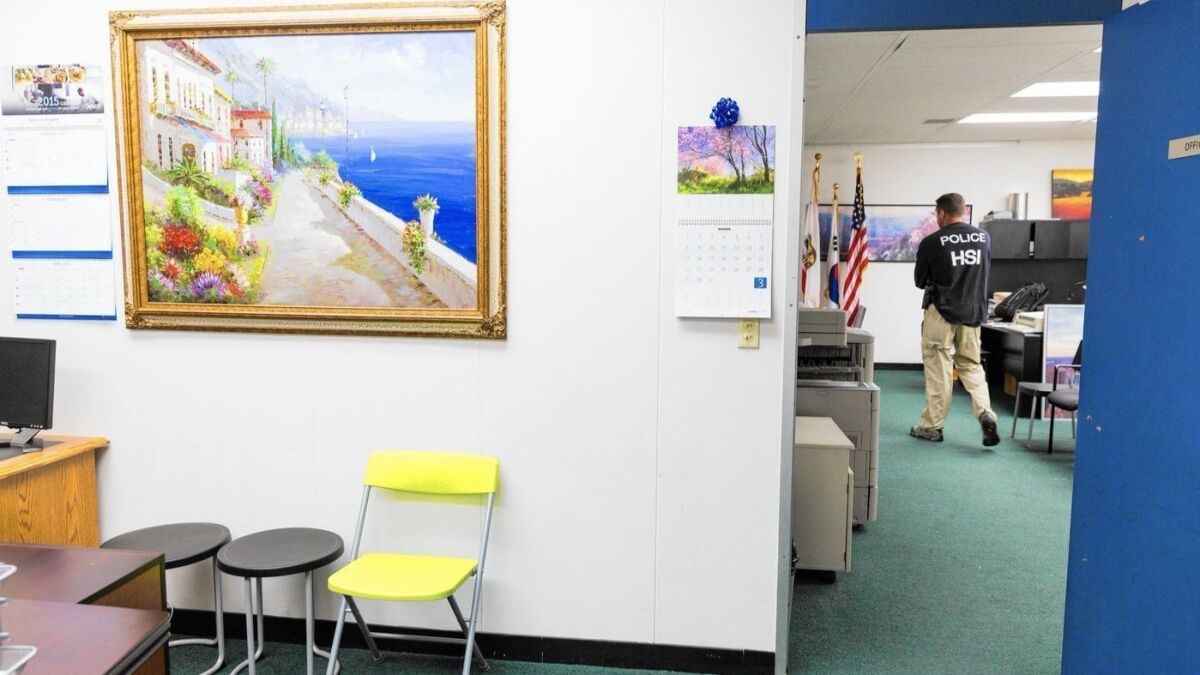 The four schools enrolled hundreds of foreign nationals and gave them immigration documents that helped them secure student visas.
Students paid thousands in tuition, federal prosecutors said, but many of them rarely, or never, showed up to class.
The discrepancy led investigators to uncover a sophisticated "pay-to-stay" scheme operating in Koreatown and Alhambra, where the leaders of the four schools collected tuition from people who were not actual students but wanted to remain in the U.S.
On Thursday, a federal judge sentenced the owner of the schools, Hancock Park resident Hee Sun Shim, to 15 months in federal prison and ordered him to forfeit more than $450,000, according to the U.S. attorney's office.
The investigation began in 2011, after federal immigration authorities showed up, unannounced, to Prodee University's main campus in Koreatown. They noticed just one English class of three students. But records showed that almost 1,000 foreign students were enrolled at the school's two campuses.
That same day, authorities also showed up to the American College of Forensic Studies and found just one religion class in session. Only one student was there, officials said, but more than 300 foreigners were actively enrolled.
The other two schools are Walter Jay M.D. Institute, an educational center in Koreatown, and the Likie Fashion and Technology College in Alhambra.
Investigators found that the schools were fraudulently distributing eligibility forms that allow foreign nationals to obtain student visas. Some of the students lived as far as New York and Washington, areas across the country where prosecutors say it would have been impossible to commute.
In some cases, school operators created — and charged fees for — fake transcripts or attendance records to submit, on request, to the Department of Homeland Security. Prosecutors believe tuition cost those enrolled at least $1,200 every six months.
Shim pleaded guilty last year to one count each of conspiracy to commit immigration fraud and immigration document fraud, officials said. He was ordered to begin serving his sentence in 60 days.
Two other people charged in this case — Hyung Chan Moon and Eun Young Choi — have also pleaded guilty to conspiracy and immigration document fraud, officials said. They are both scheduled to be sentenced in coming months.
alene.tchekmedyian@latimes.com
Twitter: @AleneTchek
---
The stories shaping California
Get up to speed with our Essential California newsletter, sent six days a week.
You may occasionally receive promotional content from the Los Angeles Times.