Pico Rivera councilman who bashed military members urged to resign: 'He's disgraced us'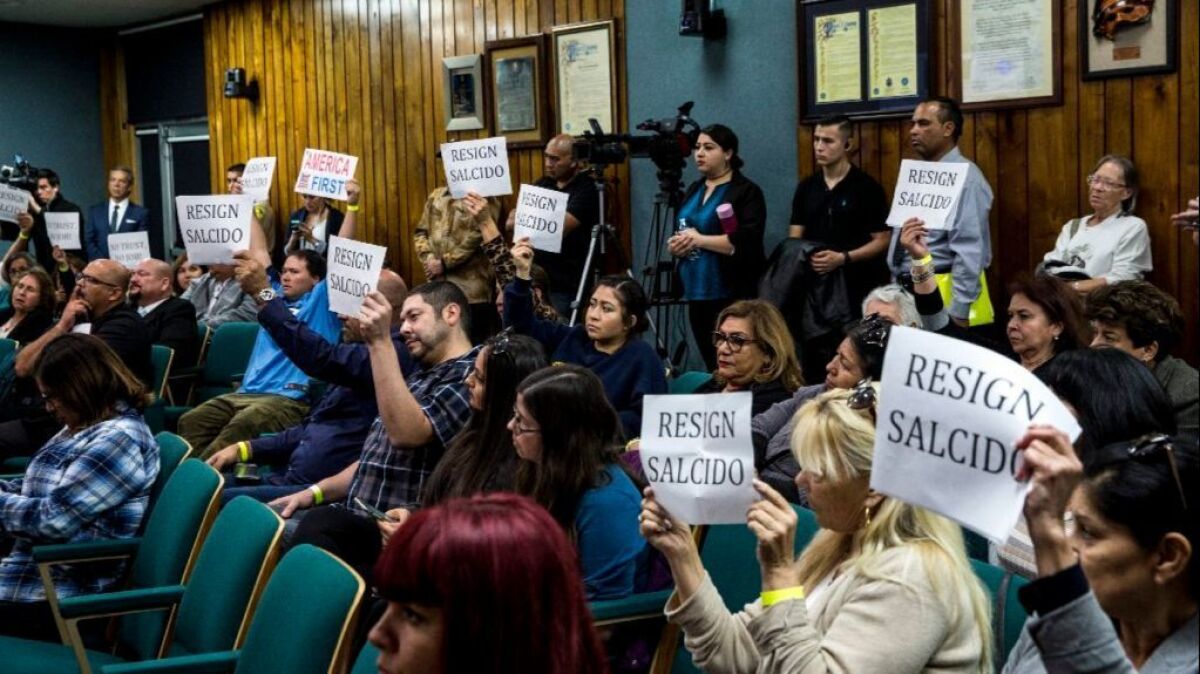 When Gregory Salcido walked into the Pico Rivera City Council chamber, where he's spent many Tuesday evenings since he was elected in 1999, one person booed. Others waved signs calling for his resignation.
The councilman looked straight ahead, expressionless, as his peers on the dais blasted his recent diatribe against U.S. military service members, caught on video Jan. 26 while he taught at a high school. Later, they approved a resolution, in a 3-1 vote, calling on him to resign. Salcido voted against the motion and said he did not intend to step down. The mayor pro tem abstained.
"He's disgraced us, disgraced this city, disgraced this nation," said Councilman Bob Archuleta, the council's only veteran, who also has two sons in the military on active duty.
The controversy thrust the small, working-class city in southeast Los Angeles County into the national limelight, even catching the attention of White House Chief of Staff John F. Kelly, a retired Marine general who lost his son in combat, who said Salcido "ought to go to hell."
During the rant, Salcido called members of the military the "lowest of our low."
"We've got a bunch of dumb … over there," Salcido says in the recording, using an expletive. "Think about the people who you know who are over there — your freaking stupid Uncle Louie or whatever — they're dumb…. They're not like high-level thinkers, they're not academic people, they're not intellectual people. They're the freaking lowest of our low."
On Tuesday, about 80 people, some in uniform, packed the chamber, while about 100 more watched from outside. They had to pass through metal detectors to attend the meeting, which was being monitored by eight Los Angeles County sheriff's officials.
One by one, dozens took the podium for three minutes each, often sharing their own military history. A couple of critics alleged that during the pledge of allegiance, they did not see Salcido place his hand over his heart or recite the words.
"I'm shaking right now because I'm pissed off and angry," said Irvine resident Eric Martinez, who grew up in Pico Rivera. "I just thank God that I can refrain from jumping over this podium to get you."
Shortly after 9 p.m., Salcido addressed the meeting, saying that since the videos became public, people have threatened to kill him, rape his wife and leave his son an orphan.
"And for what? For what you expressed out here tonight? That said, the first thing that I think is important here is to apologize if it means something though," he said.
But he also reiterated, more diplomatically, what he said in the classroom: that he thought students with lower academic standing typically end up in the military.
"I don't think it's all a revelation to anybody that those who aren't stellar students usually find the military a better option ... that's not a criticism of anybody. Anything I said had nothing to do with their moral character," he said.
He told reporters during a break in the meeting that "this is probably the most exaggerated situation I've ever seen," and he said he apologizes if he offended anyone.
"I do believe the military is not the best option for my students.… That does not mean I'm anti-military, because I'm not," he said.
During Tuesday's meeting, Mayor Gustavo Camacho read aloud the names of some veterans buried at area cemeteries.
"They should not be mocked or made to feel like they were the lowest of the low," Camacho said. "Instead we should be paying tribute and honoring their memories and contributions, and we should be thanking their families every day."
Mayor Pro Tem Brent Tercero, a grandson of a Navy veteran, denounced Salcido's remarks but said he would abstain from voting on the resolution.
"It is a political statement and it lacks enforcement, it lacks teeth," Tercero said. He did, however, volunteer to sign — and donate $250 toward — a recall petition.
Meanwhile, a couple of speakers came to Salcido's defense. Jeovany Zavala, a former student, thanked Salcido for showing him an option other than the military.
"You taught me that I could be the best that I could be in school and in life without having to risk my life or to pursue what I thought was my only option," he said. "You taught me more than that and I'd like to thank you. I know I might stand alone in that decision tonight."
Before the meeting, Art Sanchez, an East L.A. resident, put up flags to commemorate veterans who had lost their lives. Sanchez spent 30 years in the U.S. Army, joining when he was 18.
"I didn't get to first sergeant without any school," Sanchez said. "We're not idiots."
Anthony Dovali, who served in the U.S. Marine Corps for eight years, said he hoped Salcido would address what prompted his comments.
"He thinks we're stupid. I went to college. As soon as I came out I got my AA and I got my bachelor's," Dovali said, wearing a Vietnam Semper Fi hat. "We want to let him know that it's not fair for him to speak the way he spoke, especially in a high school where he's teaching all the young people."
Inside, many held paper signs that read, "Resign Salcido" and "No Trust, No job!"
Raul Rodriguez Jr. sat in the first row, wearing an Army uniform similar to the one he wore when he served. He enlisted when he was 18 and served for three years and three months.
"Salcido has disgraced not only the military but the American people by making the remarks he did about the military," Rodriguez said, adding that both his father and son served.
"We have so many things to be thankful for, the fact that the military are the ones that are really paying for us to have our freedoms and our rights," he said. "It's important that we speak out and say that this is a shameful individual."
Rodriguez, a resident of Apple Valley, said he thinks Salcido should resign.
"I was disgusted that a person with an education like him would make a remark like that about the military," he said. "I don't know why he even made those remarks. Whatever the reason was, he's a disgrace."
Salcido's rant appears to have been in reaction to a student wearing a Marines shirt or sweatshirt. The El Rancho Unified School District put him on administrative leave.
The videos of Salcido went viral after they were posted on Twitter and Facebook by a woman who identified herself as a friend of the student's mother. The Facebook post has garnered more than 96,000 shares and 24,000 comments.
The resolution states that Salcido's comments placed the city "under intense national scrutiny, and have placed our city under a cloud of dishonor, disparagement, suspicion and criticism."
Taking this step, the resolution states, is "an effort to restore the positive image of our city and to reaffirm the City Council's support of our government institutions, our military, our veterans, our students and the many Pico Rivera residents who have proudly served our country and continue to serve our great nation."
---
UPDATES:
9:55 p.m.: This article was updated with comments from Salcido.
9:20 p.m.: This article was updated with statements made at the meeting.
This article was originally published at 7 p.m.
---
The stories shaping California
Get up to speed with our Essential California newsletter, sent six days a week.
You may occasionally receive promotional content from the Los Angeles Times.