'You may NOT access our jail': Police and fire official air grievances over 'Pokemon Go'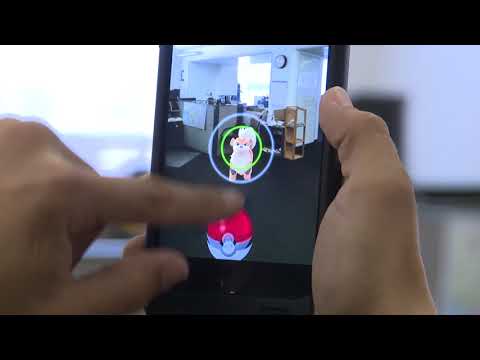 With the success of "Pokemon Go," we set out to discover if any of the little monsters were hiding within the walls of our own L.A. Times newsroom.
"Pokemon Go" players will go anywhere to catch a virtual fictional character, even if it's a trip to jail.
The augmented reality game is the latest craze sweeping the nation, but not everybody is happy about it.
Using GPS mapping on their smartphones, the app allows "Go" players to hunt for the characters while out and about in their neighborhoods. Stops and landmarks have been established throughout the game, allowing players to collect loot and battle others.
But that aspect of the game is part of the problem, officials said, and it's causing headaches for public safety agencies in Los Angeles County.
In just the past two days, fire dispatchers received about 100 calls from app users saying they couldn't get into certain fire stations because they were closed when firefighters were responding to calls, said fire Inspector Richard Licon.
'They couldn't get in and called 911, asking if they could gain access," he said.
At the request of fire dispatchers, the Fire Department released a tweet asking "Pokemon" users not to call 911 for gaming questions.
Soon thereafter, the calls stopped, Licon said.
Licon's message to "Go" gamers: "Although it's not your emergency, it's someone else's emergency you are slowing down," he said.
Even more mind-boggling is the fact some players are trying to get into jail.
The Covina Police Department on Thursday received two calls from "Pokemon Go" players, asking if they could visit the jail because it was a "target-rich environment," Sgt. Trevor Gaumer said.
And to one request, Gaumer responded: "Absolutely not."
The two calls were enough to prompt Lt. Tim Doonan to put out a tweet, advising "Go" players they could not access their jail.
In a post-9/11 environment, Gaumer said police departments and fire stations are not accessible to the public due to increased security measures.
"It just can't happen," he said. "It's a little naive to think you can have access to a government building in this day and age."
Across police headquarters in the 400 block of Citrus Avenue, Gaumer said he sees up to 40 players daily glued to their smartphones searching for characters at a small concrete park. The players are usually in their teens to early '20s.
On Friday about 4:15 a.m., there were a handful of "Go" players already at the park fixated on the game, he said.
While some law enforcement agencies have complained about the game's unintended consequences, other departments have taken the concept and run with it. They see the game as an opportunity to connect with their community.
Coronado officials placed a electronic traffic sign near San Diego-Coronado Bridge with the message: "No Pokemon and driving."
In Fairfield, the police department hosted a "Pokemon Go" hunt on Friday morning and invited players to help them "catch them all."
Officer Kathryn McCormick told players she picked up the game three days ago and is still learning. But she noted she has taken some funny photographs showing the fictional characters.
McCormick used the opportunity to advise players about the risks that come with playing "Pokemon."
"This kind of gives us a chance to come and hang out and have fun and hopefully to get to know some of you guys and you guys get to know us," she said. "Realize we are people just like you. We are not scary. You can come up and talk to us anytime you want to."
For breaking news in California, follow VeronicaRochaLA on Twitter.
ALSO
'Pokemon Go' players find corpse in San Diego park
Chinese go to great lengths to get 'Pokemon Go' — and make a knockoff
Rio mayor hopes 'Pokemon Go' makes its way to Brazil before Olympics
Sign up for Essential California for news, features and recommendations from the L.A. Times and beyond in your inbox six days a week.
You may occasionally receive promotional content from the Los Angeles Times.