Utilities in fire-weary California strategize for the long, hot summer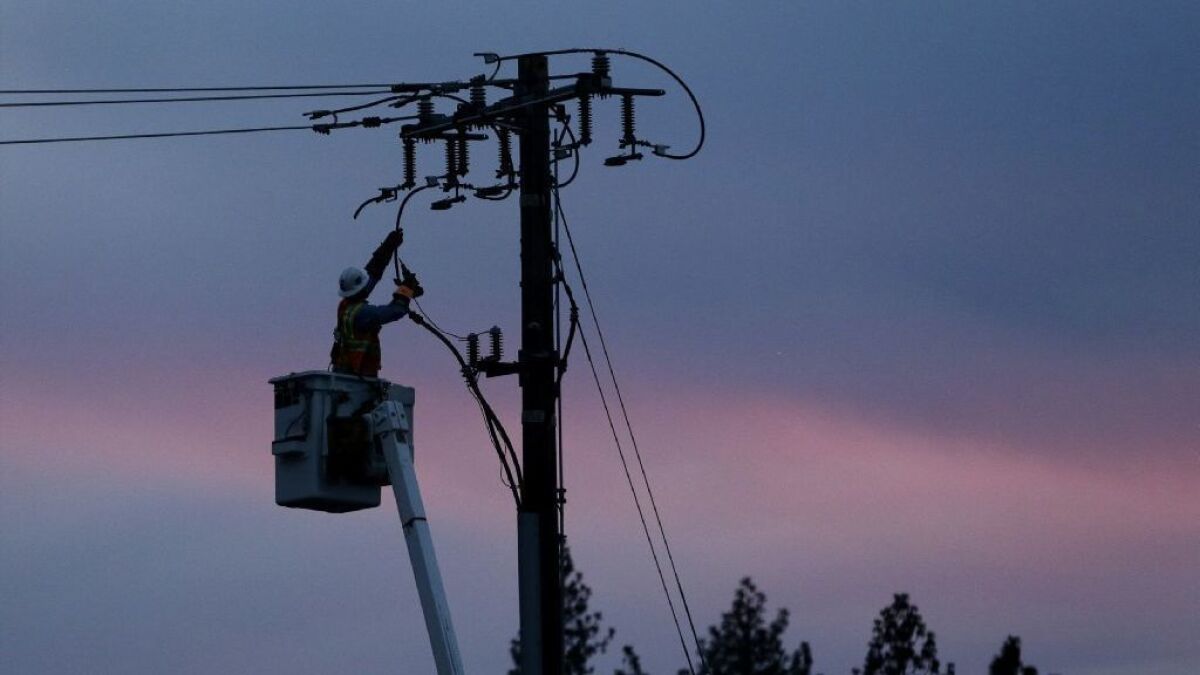 With temperatures soaring and strong winds blowing through forests across Northern California over the weekend, rural areas in the Sierra Nevada foothills plunged into darkness after Pacific Gas & Electric Co. shut off high-voltage transmission lines to avoid sparking wildfires.
The first formal deployment of its new "public safety power shutoff" rules left more than 20,500 PG&E customers in portions of Butte and Yuba counties without power as 260 utility personnel conducted safety patrols, repaired electrical infrastructure and inspected 800 miles of transmission and distribution lines, officials said.
The aggressive power shutoffs began at 9 p.m. Saturday and continued through Sunday. "We're asking impacted customers to be prepared for a 24- to 48-hour outage," Karly Hernandez, a spokeswoman for the utility, said in an interview Sunday.
Working collaboratively with the California Department of Forestry and Fire Protection, local agencies and the state Office of Emergency Services, the utility continued to monitor weather conditions in areas including Nevada, El Dorado and Placer counties, and warned it may de-energize high-power transmission lines in those areas overnight.
The utility opened two Community Resource Centers on Sunday to support customers across the Sierra foothills. The centers in the communities of Grass Valley and Oroville each offered restrooms, bottled water, electronic device charging and air-conditioned seating for up to 100 customers.
"We ask that people look out for their neighbors, elderly and anyone with special needs who might need to use these community resource centers," said Michael Lewis, senior vice president of electric operations at PG&E.
Meanwhile, the Sand fire in rural Yolo County had spread to 2,200 acres by Sunday afternoon, prompting the Bay Area Air Quality Management District on Sunday to declare its first smog alert of 2019. The fire is 20% contained.
More than 500 firefighters struggled through steep, brush-covered terrain to battle the wildfire that has driven more than 125 residents from their homes since it broke out about 2:50 p.m. Saturday.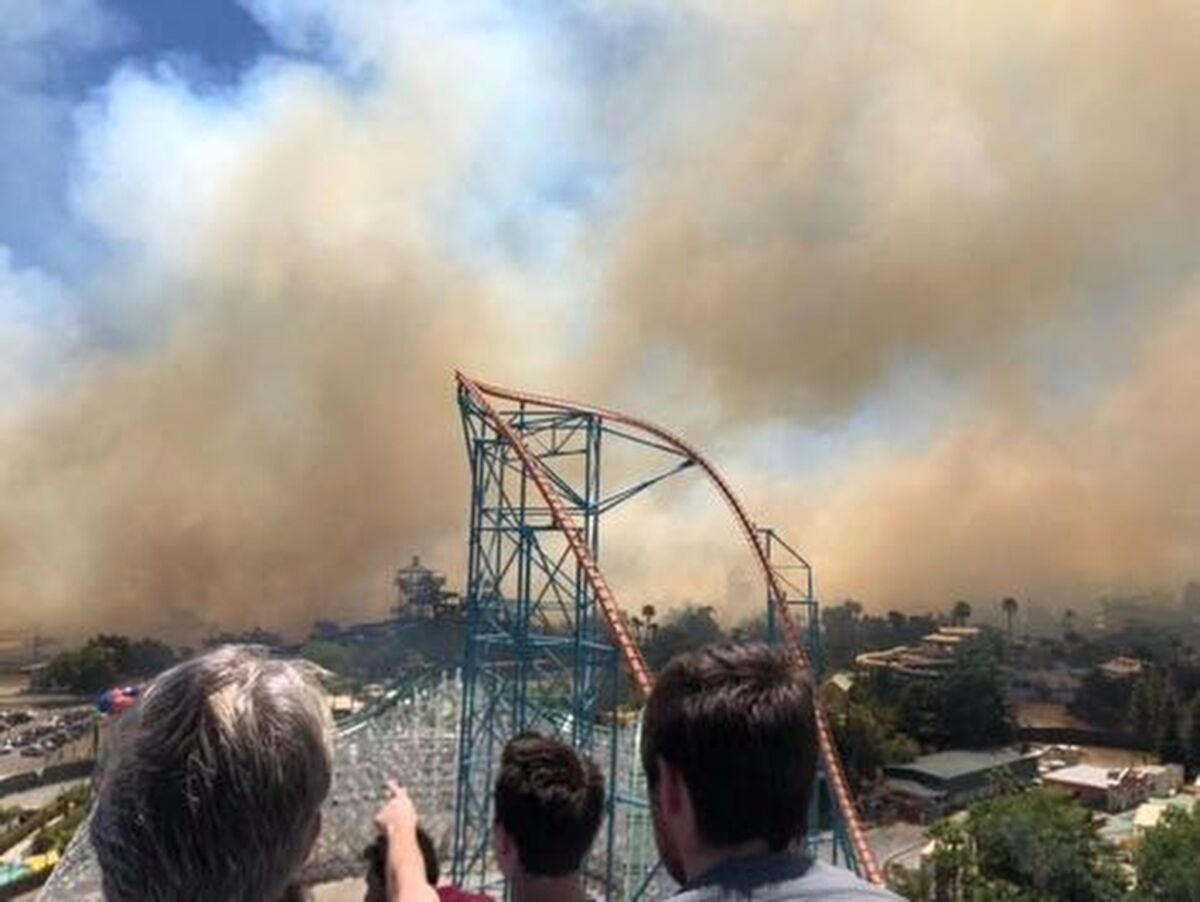 At the request of state fire authorities, PG&E said it turned off power to about 1,600 customers in the vicinity of the Sand fire. No structures had burned, and the power was restored Saturday evening.
As of Sunday afternoon, "we still have 49 customers without power," Hernandez said. PG&E officials said they review a combination of criteria in order to determine whether to shut off power, including whether the National Weather Service has issued a red flag warning, which occurs with humidity levels of 20% or below, sustained winds above 25 mph and wind gusts in excess of 45 mph.
The strategy had been infrequently deployed in past years. But after two years of catastrophic wildfires ignited by downed power lines, the California Public Utilities Commission approved public safety power shutoff rules for the state's three big investor-owned utilities: PG&E, Southern California Edison and San Diego Gas & Electric.
Pacific Gas & Electric Co., a subsidiary of PG&E Corp., is one of the largest combined natural gas and electric energy companies in the United States. Based in San Francisco, with more than 24,000 employees, the company delivers power to nearly 16 million people in Northern and Central California.
Several other Northern California communities saw brush fires erupt over the weekend.
Firefighters in Sutter County were busy battling the West Butte fire, which had burned 1,000 acres and was 60% contained as of Sunday. A 70-acre fire erupted Saturday in Marysville in Yuba County but was contained that day.
"The vegetation in our area is almost cured and has the potential to spread rapidly with high winds," the Marysville Fire Department reported Saturday on its Facebook page. "Already we have been responding to vegetation fires in the city."
Southern California fire and utility officials are also bracing for a long, hot summer.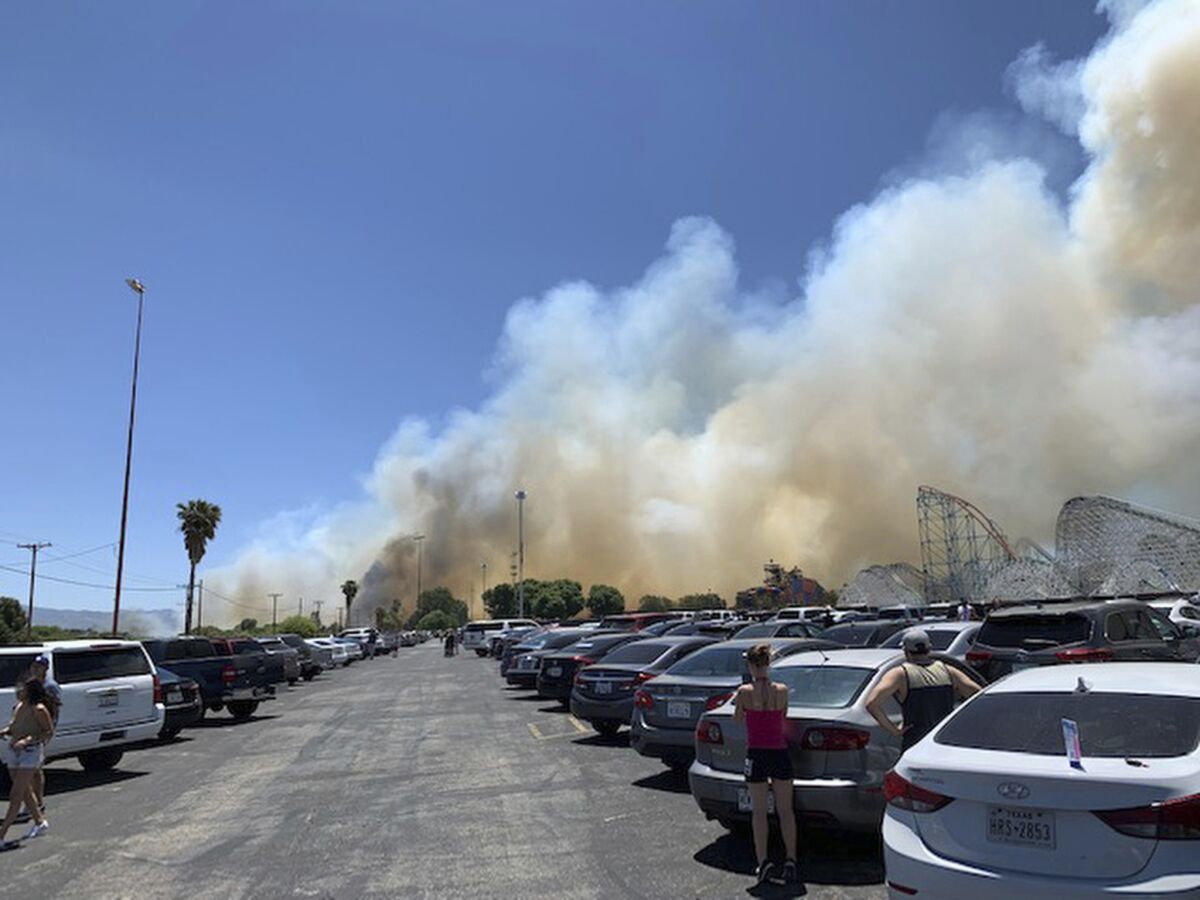 A fast-moving brush fire broke out Sunday afternoon near Six Flags Magic Mountain in Valencia in northern Los Angeles County, spurring evacuation of the amusement park and an adjacent water park as clouds of smoke and ash covered a large swath of the area, officials said.
The fire erupted at noon and was burning near the 5 Freeway along Old Road and Skyview Lane near Magic Mountain Parkway, officials said. By 9:30 p.m. Sunday, the fire had burned 40 acres and was 50% contained.
Magic Mountain voluntarily evacuated its theme parks as a precaution.
"Magic Mountain is evacuating, but they are doing it on their own," said Melanie Flores, supervising dispatcher for the Los Angeles County Fire Department. "We did not tell them to do this."
About 100 county firefighters and 12 fire engines were on scene battling the blaze, and officials said Sunday evening they believed they had stopped the fire's forward progress. No structures were immediately threatened.
"Six Flags Magic Mountain and Hurricane Harbor [water park] are currently being evacuated due to the brush fire," Six Flags officials said in a statement Sunday afternoon. "The safety and well-being of our guests and team members is our top priority."
The parks were expected to reopen at 10:30 a.m. Monday.
Kathy Hoxsie, a meteorologist at the National Weather Service in Oxnard, said the first heat wave of the season arrived Sunday in Southern California.
"Temperatures at Magic Mountain were between 93 and 96," she said. "Overall, we're looking at 10% humidity, gusts up to 35 mph in some places, and temperatures up 10 degrees from yesterday — so, we're definitely hitting critical fire conditions.
"Monday will also be on the warm and dry side — maybe a degree or two warmer in the San Fernando Valley," she said. "And by Tuesday, we're going to be looking at temperatures in the low 100s in the Antelope Valley and Santa Clarita Valley."
Meanwhile, Southern California Edison said it was also taking precautions to reduce the risk of wildfires by preparing to preemptively shut off power, if necessary, to portions of a network of circuits providing power to 15 million people within a 50,000-square-mile area of central, coastal and Southern California.
"It is impossible to anticipate the frequency of a public safety power shutoff event," the utility said Sunday on its website. "Actual frequency of events will depend on various weather and environmental factors, and the decision will be made with the most accurate assessment of real-time information and data available at the time."
But SCE said it expects to become less reliant on power shutoffs as improvements are made over the next five years on infrastructure, including installation of new high-definition cameras, weather stations and miles of insulated power lines. Most of that work will focus on high fire-risk areas including mountainous areas, the utility said.
"As part of SCE's pre-summer readiness program," the utility said, "we have further enhanced our robust wildfire prevention and mitigation program by establishing four dedicated incident management teams to better respond to elevated fire weather."
Times staff writer Jaclyn Cosgrove contributed to this report.
---
The stories shaping California
Get up to speed with our Essential California newsletter, sent six days a week.
You may occasionally receive promotional content from the Los Angeles Times.