Ex-Catholic priest who pleaded guilty to abusing minors is hit with lawsuit alleging he molested two brothers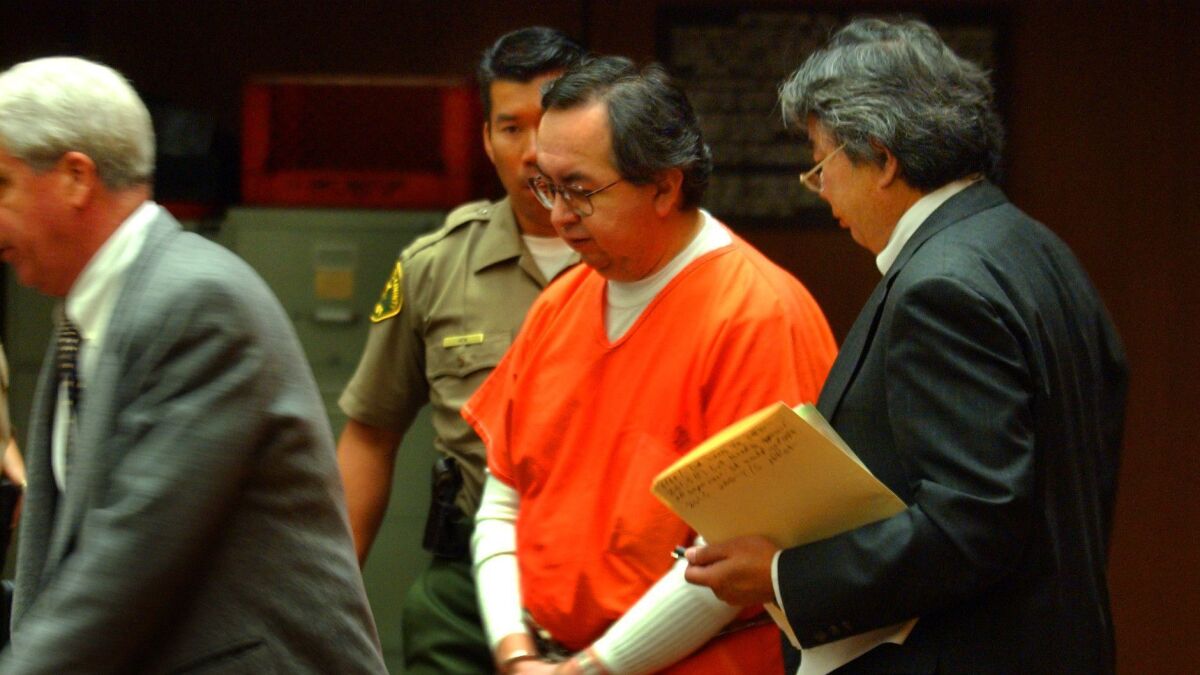 A former Catholic priest who was convicted of sexually abusing minors is the subject of a lawsuit filed by two brothers who say he molested them in the early 1990s while he ministered at a church in Riverside.
Carlos Rene Rodriguez was able to abuse the then 7- and 12-year-old boys because the Catholic Church protected the priest and allowed him to continue serving in the church despite knowing his troubled history, according to the lawsuit filed in Los Angeles County Superior Court on Thursday.
Rodriguez, 62, pleaded guilty in 2004 and was sentenced to eight years in prison for molesting two brothers in Santa Paula a decade earlier. He was released after four years. He now lives in Bakersfield, according to the Megan's Law website that lists the whereabouts of registered sex offenders.
The lawsuit accuses the Archdiocese of Los Angeles of allowing Rodriguez to continue to minister to families despite admitting to a church official that he molested a boy in 1987. Church officials from the Los Angeles Archdiocese and San Bernardino Diocese failed to keep him away from children, according to the suit.
The accusations are particularly alarming because the Diocese of San Bernardino, which is also named in the lawsuit, recently released a list of priests accused of sexual assault that did not include Rodriguez, said attorney Anthony DeMarco, who is representing the two brothers in the lawsuit and settled similar cases by two alleged victims of Rodriguez in 2015. The plaintiffs continue to suffer from mental and emotional distress and are seeking compensatory damages.
"Did the San Bernardino Diocese, when they were creating their list, actually do a thorough job to determine what pedophile priests had ministered in their diocese?" he said. "There's no diligence being done and therefore, any priest with a problem can come in contact with families with children. It's scary and it needs to stop."
The San Bernardino Diocese said it has no record of Rodriguez.
"We can find no one by that name in our files," said John Andrews, spokesman for the Diocese of San Bernardino. "We also have no record of anyone coming forward to the diocese to make an allegation of sexual abuse of a minor by a Father Carlos Rene Rodriguez.
"For those reasons, [Father] Rodriguez's name was not included on our list of priests with credible allegations of sexual abuse of a minor in our diocese [from 1978 to present]. We simply have never received any information from victims or from police on this allegation that would allow us to investigate whether or not it is credible."
The Archdiocese of Los Angeles said it would not comment on the lawsuit because it had not yet officially been served. But spokeswoman Itzel Magaña said that Rodriguez's last assignment in the archdiocese was in 1990 and that he was removed from the priesthood in May 1998.
When the archdiocese learned in 2016 that Rodriguez was ministering at an unaffiliated church as Father Carlos Ramirez, Magaña said church officials informed law enforcement and sent alerts to all parishes informing them that the man was not authorized to act as a Roman Catholic priest.
Magaña also noted that the archdiocese has had a protocol for responding to reports of abuse since 2002.
"The Archdiocese of Los Angeles reaffirms our commitment to the healing of victim-survivors of abuse and protection against abuse and misconduct," she said.
The Congregation of the Mission Western Province, which is also named in the lawsuit, did not immediately respond to a request for comment.
The plaintiffs in the current lawsuit filed their case after one of the men saw a 2016 news segment about Rodriguez ministering at a local parish. The news segment prompted the man to discuss the abuse for the first time with his brother, who revealed he was also molested by Rodriguez, the lawsuit said.
The two men are accusing Rodriguez of molesting them several times in their homes and at Our Lady of Guadalupe Shrine in Riverside, where Rodriguez ministered in the early '90s, DeMarco said.
The lawsuit did not elaborate on the brothers' accusations, but states that the men suppressed the memory of their molestation for decades, which caused them psychological harm and led to drinking problems.
DeMarco said the lawsuit underscores the church's lack of due diligence in screening Rodriguez, given his well-documented past.
"How hard would it be to create a policy [requiring] that before any priest can minister at any parish, there has to be some level of background check?" he said. "Carlos Rodriguez is a danger to children and the only way for him not to be is for him to be behind bars."
When Rodriguez was ordained as a priest in the Congregation of the Mission in 1986, several of his fellow priests grew concerned with his behavior toward minors because he often spent time with them alone in his residence, according to the lawsuit. But their concerns were never reported to law enforcement, the lawsuit states.
While at St. Vincent De Paul Catholic Church in South Los Angeles in 1987, Rodriguez took two boys on a trip to the Grand Canyon, and upon their return, he admitted to a church official that he abused at least one of the boys, the lawsuit alleges.
Church officials urged the boys' parents not to file a police report, the lawsuit states. But when officials learned that a police report would be filed, Rodriguez was sent to a treatment facility for abusive priests in Maryland before he could be interviewed by investigators, according to the lawsuit.
The Congregation of the Mission notified the Archdiocese of Los Angeles about Rodriguez's treatment after the abuse allegations and the two organizations worked together to place him in the archdiocese's Office of Family Life in Santa Barbara when he returned to California in 1988, the lawsuit alleges. There he ministered to Spanish-speaking immigrant families in Ventura, Los Angeles, San Bernardino and Riverside counties.
During this time, several pastors raised concerns about Rodriguez's violating conditions placed on him restricting his close contact with children, according to the lawsuit. He was placed on a temporary leave of absence but the church did not remove him from the priesthood, the lawsuit states.
Despite his leave of absence, Rodriguez continued to minister in the communities for the Office of Family Life, including Our Lady of Guadalupe Shrine in Riverside, which was attended by the family of the plaintiffs, according to the lawsuit. At this time, the church took no action to inform the parishes or the families that Rodriguez no longer had permission to minister.
It was not until 1996, when the Catholic Church learned that Rodriguez had taken residence with a Santa Barbara family with five children, that it began the process of removing him from the priesthood, the lawsuit states. He was removed two years later.
alejandra.reyesvelarde@latimes.com
Twitter: @r_valejandra
The stories shaping California
Get up to speed with our Essential California newsletter, sent six days a week.
You may occasionally receive promotional content from the Los Angeles Times.