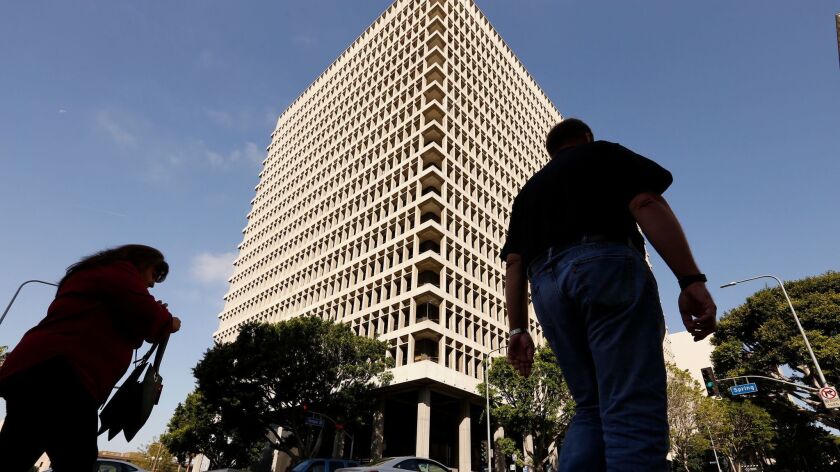 Indigent and other needy criminal defendants in Los Angeles County may soon get a reprieve from the $50 fee they are charged for representation by public defenders or court-appointed lawyers.
The Board of Supervisors is expected to approve a motion Tuesday that would revoke the registration fee, which the county allows these defendants to be charged before they receive any legal services. The motion does not address other fees that defendants might be assessed after a case ends.
The move comes amid growing awareness nationwide of the criminal justice system's disproportionate impact on the poor.
Advocates say that though there has been some reform of the bail system, in which poor people are forced to await trial in jail because they can't post bail, less attention has been paid to the administrative fees and penalties that get tacked on to convictions and fines.
California is one of 43 states that charge some type of public defender fees, according to a 2014 analysis by National Public Radio. The state first authorized counties to impose a $25 registration fee in 1996. L.A. County approved the fee that same year, raising it to $50 in 2010.
"In trying to shift the burden of cost from the state to the counties, and now … to the defendants themselves, we've created user fees, essentially," said Alexes Harris, a University of Washington sociologist who has studied the consequences of legal debts for poor people. "It would be a good business model if the defendants had money, but they don't."
Last year the public defender's office took in approximately $300,000 from the registration fees, the motion said. The office's total budget for the 2016-17 fiscal year was more than $200 million.
The public defender's office declined to comment.
Harris said that a $50 fee may not be significant for a middle-class individual, but it can be unaffordable for a low-income, unemployed or homeless individual.
Civil rights advocates say the fee may interfere with criminal defendants' constitutional right to legal representation. Although California law says defendants cannot be denied legal assistance for failing to pay the fee, some say the law is inconsistently applied, with defendants not always being made aware of their right to waive the fee.
Devon Porter, an attorney with the American Civil Liberties Union of Southern California who authored a forthcoming report about public defender fees, said that in L.A. County defendants who are not yet in custody are typically asked to pay the $50 during their first interaction with a public defender.
"If you walk into a public defender's office and are hit with this fee, our No. 1 concern is that people would go without [counsel] and represent themselves," Porter said.
The issue is of particular concern for immigrants, who may not be aware of the immigration consequences of their criminal cases, Porter added.
Opponents of the fee also say it undermines the relationship between clients and public defenders. Clients often distrust their government-appointed attorneys at the start; immediately asking for money for a service that is supposed to be free only exacerbates that. Porter interviewed several public defenders who said they disliked the practice because it was awkward and impeded their ability to do their jobs.
Even if the registration fee is eliminated, several others will remain in place.
Under California law, defendants may be charged administrative costs related to their booking and arrest, representation and probation services in addition to any criminal fines and penalty assessments.
Twitter: @AgrawalNina
---